Park Model Homes vs Tiny Homes: What is the difference?
While Park Model Homes and Tiny Homes are similar in a lot of ways, there are significant differences that are important to know about. So as you prepare to make the decision about which route you want to take, knowing the differences between the two is a great place to start! Are you looking for a small guest room outback or a well-built vacation home at your favorite spot in the mountains?
While the tiny home movement has taken our society by storm, and more and more people are moving from their large, expensive homes into the more minimalistic lifestyle-friendly "tiny home". Even so, there is still a lot of confusion about what exactly a tiny home is, what qualifies as a tiny home, and especially the differences between park model homes vs tiny homes.
Today, a tiny home is a generic term used to describe many small living spaces and encompasses a large swath of small homes, park models, and RVs. So the major difference between Park model homes vs tiny homes is the regulation, code, and specifications used to build them and their intended use. Park model homes are not intended to be used as full-time residences, while tiny homes usually are. In general, tiny homes aren't technically regulated, Park Model Homes are built to the ANSI A119.5 Code for recreational vehicles, the same set of regulatory codes that is for building RVs. This also means that with your new park model home you will get an RVIA Seal and VIN number.
But the fact that many tiny homes are often built in the "in-between" space between RVs and regular homes makes finding a legal place to park your new "home on wheels" more challenging than you might think.
A popular tiny home manufacturer put it well. "Tiny Homes do not strictly qualify as homes either. There are federal, state, and local laws which require that permanent residences are built to a federal, state, or local building code or standard, and very few Tiny Homes actually meet these criteria."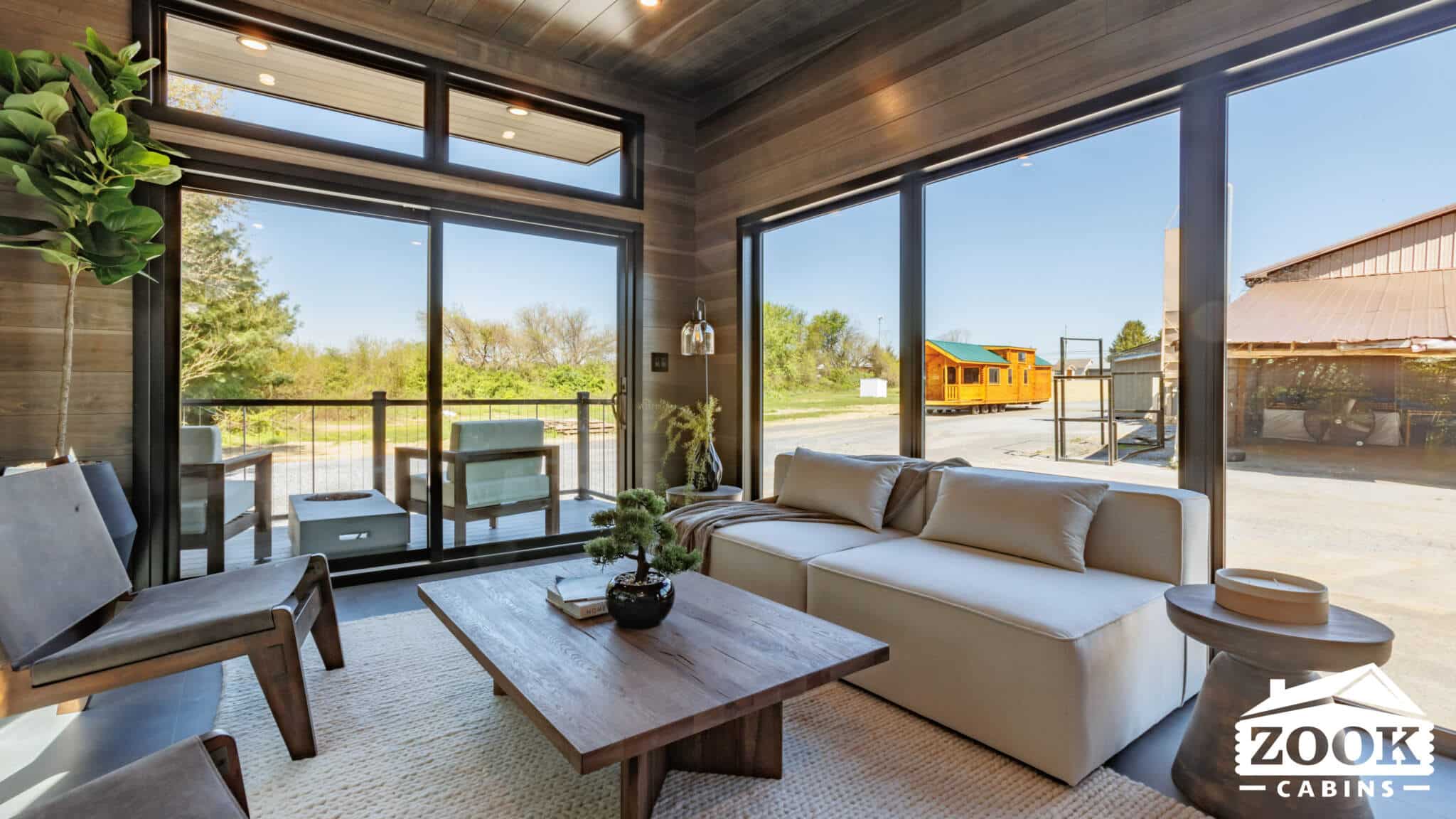 What is the difference between Park Model Homes vs Tiny Homes?
Before we dig into the differences between park model homes vs tiny homes, it's important to know that in a lot of ways, Park models and tiny homes are quite similar. While park model homes are all technically considered tiny homes, not all tiny homes are park models. With interior designs and amenities that are very similar to each other, the differences are more in the method and quality of the build along with the specifications and regulations that are required.
Park Model Homes
Park Models are small homes with less than 400 square feet of living space and are built on a chassis with wheels and can be moved fairly easily. They are required to comply with the ANSI A119.5 standards, the same code that is used to manufacture recreational vehicles (RVs). While this means that you can't get traditional financing for a park model, there are lots of other options, including regular RV loans and insurance. Although, most likely, it will be easier to get financing for park model homes vs tiny homes.
According to the Recreation Vehicle Industry Association (RVIA), "Park model RVs are actually titled and registered just like any other RV. Due to their design, small size, and use as recreation, vacation, and seasonal units, park model RVs are explicitly excluded from being considered or used as a manufactured home under the codes and regulations of the U.S. Department of Housing & Urban Development (HUD), specifically because they are a type of recreation vehicle (Title 24 § 3282.8(g))."
Tiny Homes
As was mentioned, Tiny homes are usually not built to a code or any other regulations. This results in a huge variety of shapes, sizes, and styles. This is why they are an attractive option for the DIY'er that wants to totally customize and personalize their home. If tiny homes are allowed as full-time residences, it's usually as an accessory dwelling unit (ADU) that is placed on a property with another legal residence.
The big concern around tiny homes is who builds them and whether or not they are safe to live in. Building officials are most worried about having homes that people live in full-time that are unregulated and potentially unsafe. If tiny homes are built to any code at all, will be built to the standards of travel trailers, although this is not something that is required.
One potential problem you will experience is that many RV parks and resorts will not accept a tiny home that hasn't been built to any set of code or safety standards. An ideal location for a tiny home is on private land, or as a back property guest home. So if you don't have plans to move your building and want to be in complete control of the design from start to finish, inside and out, then a tiny home could be exactly what you need!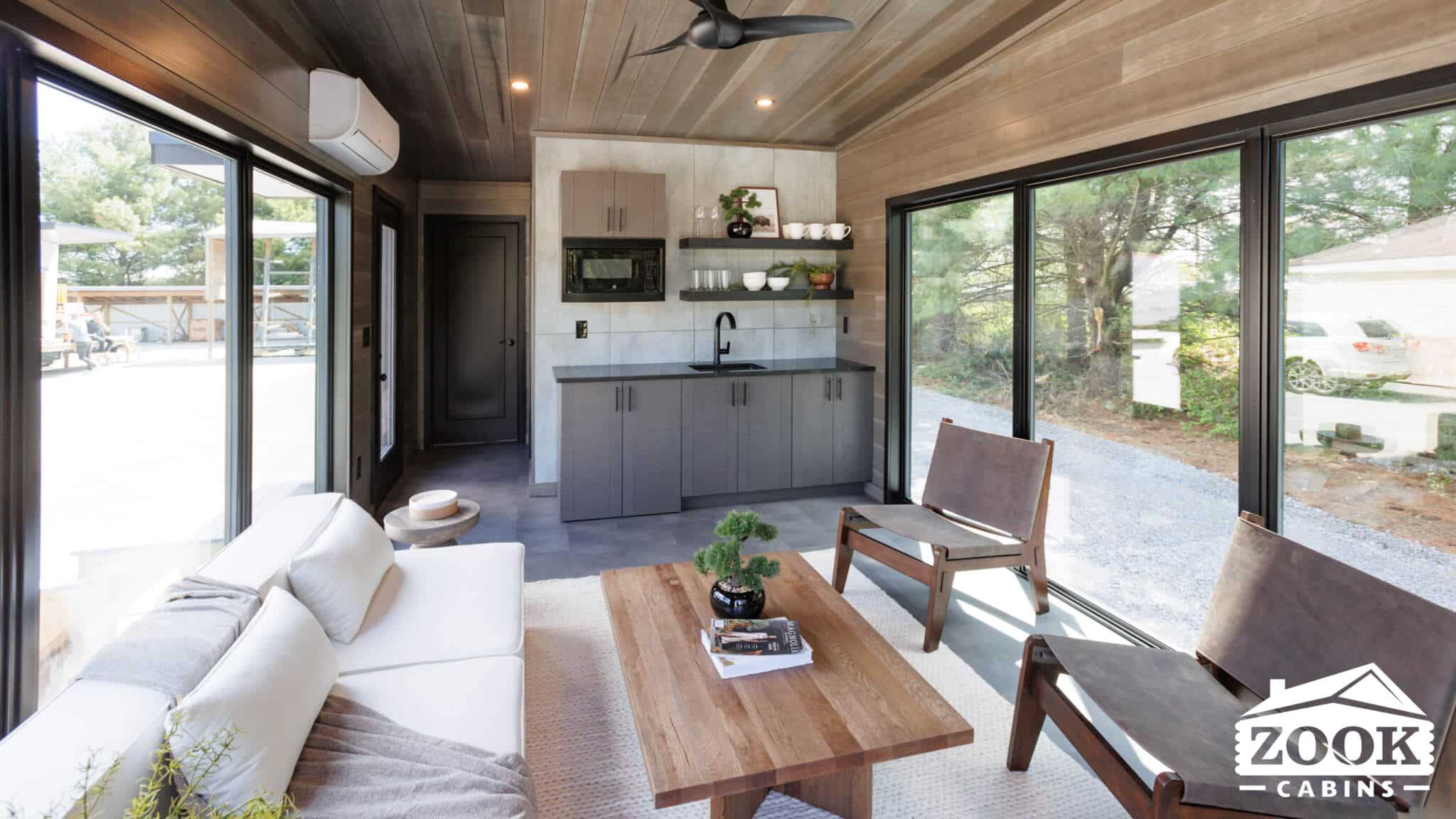 How Much Do Park Model Homes vs Tiny Homes cost?
There are a lot of factors to consider when looking at prices for tiny homes and park models. The cost of a tiny home will be dependent on a lot of things, including how many customizations you want, and how much work you put in yourself.
As for Park Model Homes, to give you an idea of what our Zook Cabins Park Model Homes would potentially cost, here are a few selections. For more information, you can visit the blog we wrote that goes in-depth into Park Model Prices.
The Sierra Park Model delivered to Boulder, CO (zip code area 80301) has a base price of $105,000
The Pocono Park Model delivered to Jackson, TN (zip code area 38301) has a base price of $97,500
*request a free quote to get up-to-date pricing!
Is a Park Model a Good Investment?
Park model homes are a great investment! By investing in a high-quality Park model, you are getting yourself a low-cost, high ROI investment. Whether you are looking for a small vacation home for yourself, want to use it as a guest home, or rent it out on a site like Airbnb or VRBO, a Park Model Home can make a difference in your investment portfolio. If you have more questions about Park Model homes as a short-term investment, we have an article that explores that topic.
Featured Park Model Homes by Zook Cabins
The Pocono Park Model Home
The Pocono Park Model Home is 42 ft long x 11 ft wide and includes a beautiful loft that overlooks the main living area, and the front porch expands the living space into the great outdoors.
This Park Model is finished off with LP Smartside siding, giving it a more modern look without losing the rustic vibe.
The Pocono is built to the latest ANSI A119.5 Code for recreational vehicles and complete with an RVIA Seal and VIN number.
The Rockwood Park Model Home
The Rockwood Park Model Home is a sleek, modern park model with a single sloped roof. The stunning living area is surrounded on three sides by full glass walls and large glass patio doors going out to the front porch. The master bedroom and bath are just a step back from the hall. Experience the beauty of this home for yourself!
The Rockwood is built to the latest ANSI A119.5 Code for recreational vehicles and complete with an RVIA Seal and VIN number.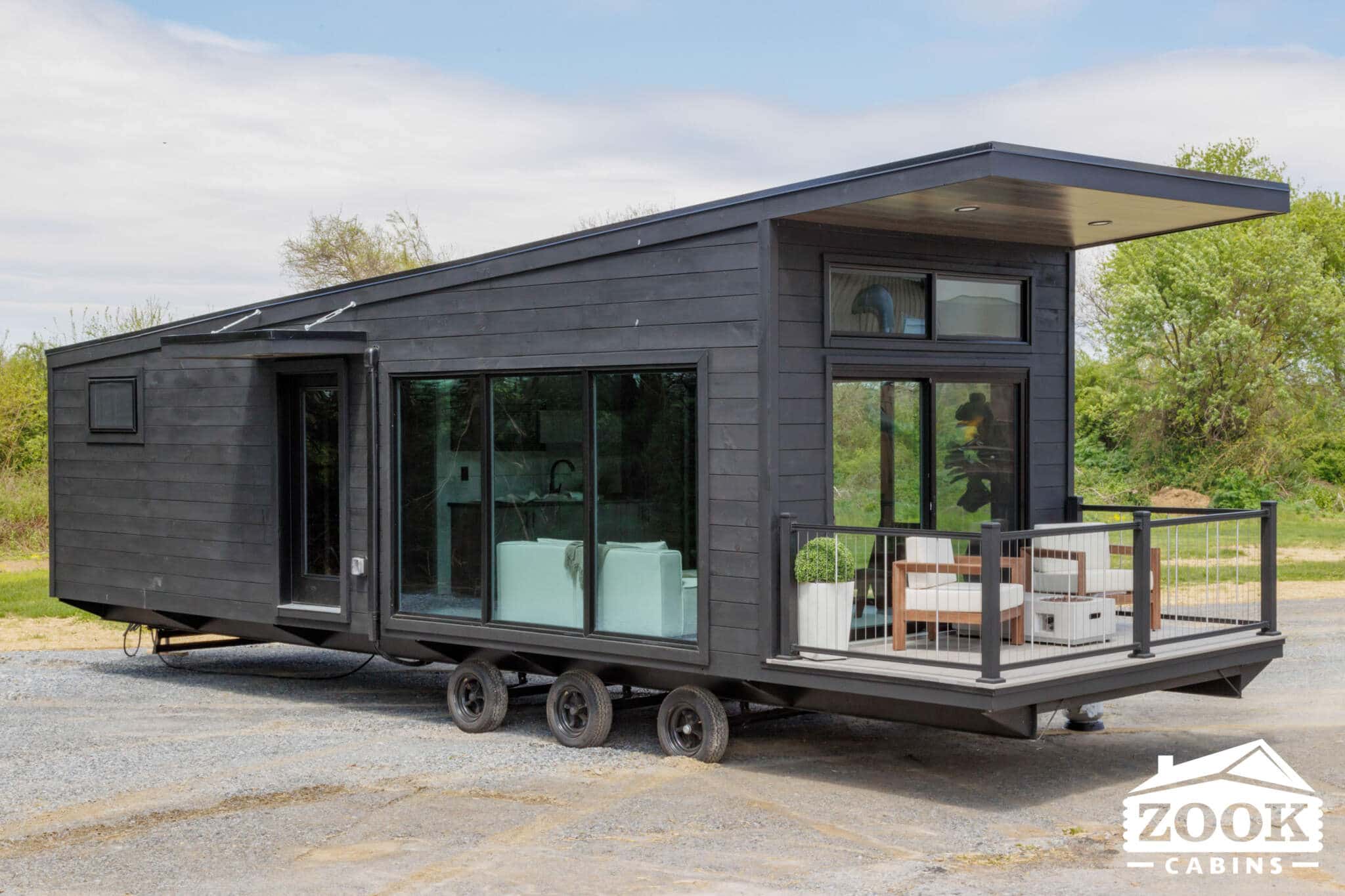 In Conclusion
Knowing the important difference between park model homes vs tiny homes is the place to start. But the decision is up to you and comes down to what you are wanting to accomplish with your new home. If a simple "guest-room-out-back" is the goal, then turning a shed into a tiny home is probably your best bet. But if you are wanting a beautiful guest house or vacation home in an RV park or up in the mountains at your favorite lake, then a Park Model Cabin or Home is a great way to go.
If you are interested in more details about what a Park Model Tiny home has to offer, we'd love to hear from you and answer any questions you might have about park model homes vs tiny homes. Either way, you can take one step closer to having your own dream vacation home today by investing in a park model home!