How To Plan Your Log Cabin Home
In the years gone by, log cabins were simple structures. But today, if you're thinking of building your dream log cabin, Zook Cabins is the place for you! Whether you plan to relax in your retirement or enjoy your own custom home with an active family, building your dream home is a big decision. Or more accurately, it's one big decision with a series of steps along the way. At Zook Cabins, we've been down this road before, helping customers build their dreams for decades. Many of our customers have questions about what it really takes to build their dream log home. That's why we've put together this guide on how to build a log cabin. We want you to have as much information as possible and help you avoid potential pitfalls along the way.
12 Steps To Your Custom Cabin Project
So you want to build your own custom log home? Let's get started!
Step 1: Budget
Whole Project (Land, Building, Utilities)
As you might expect building a new home is about more than simply building the home itself. You need a piece of land to build your log home and you'll want the convenience of modern utilities like electricity, plumbing, heating and cooling. Not to mention new appliances, furniture and more. All of these things will factor into the amount of money you'll need to build your dream.
To get started, we recommend downloading our handy new cabin project budget guide to help you estimate the costs for your new log cabin project and keep track of your expenses along the way.
Financing for your new home
Unless you've been saving for decades or just received a windfall of cash, you'll likely need financing in order to fund your new home project. There are many options to consider from home equity loans and lines of credit to full mortgages. We've outlined some of the most popular ways our customers have financed their dreams on our financing page. We recommend starting here and researching all the options before you decide.
Step 2: Select Land
Selecting the right site for your log cabin is one of the most critical steps you'll take to enjoying your new home.
Modular Access
Consider the accessibility to the site. A remote location is great, but you'll need enough access for a us to get your modular cabin to your site. Our delivery page will give you a lot more information on the amount of space we need in order to deliver our log cabins to your location.
Utilities Available
Find out whether the land you are considering has electric, water and sewer service available. If utilities are not there it is important to know how much it will cost to get those things in place. The more difficult it is to add utilities, the more costly your entire project will be.
Location, Location, Location
Make sure you take into account the location of the property for your log cabin. Even though that seems like common sense, you want to make sure that you are building your new log home in a place where you and your family will love to live. You may want to consider the school district where your children will attend school, the availability of shopping in the area or the location of major roads and highways when choosing a location for your log home.
Step 3: Select Cabin Style
Next, you'll select your log home style. Zook Cabins offers 11 different styles with a variety of amenities and features. We can also customize your chosen style to suit your needs!
11 different styles to choose from
Cost-Effective & Affordable
Each of our log homes is built in our shop using streamlined construction methods, making your new log home more cost-effective than typical stick-built construction. In addition, your log home construction won't be delayed due to sudden cold spells, rain, snow or other weather problems, since all of the construction takes place inside.
Is Modular Right For You?
You have 3 choices when it comes to building your new log home:
Stick Built – building the cabin from the ground up using conventional construction methods.
Cabin Kit – assemble your log cabin from a prefabricated kit
Fully-Assembled Modular – cabin is pre-built and delivered to your site.
Building Your Log Cabin From The Ground Up
Clearly the best option if you have an unlimited budget
Takes many months to complete
Expensive and labor-intensive
Tons of leg work to get the project going
Additional costs for delays: weather, materials, complications
Log Home Kit
If you have absolutely no other way of getting a log cabin to your site, a kit is your only option
Takes a lot of man hours to assemble
Great if there is no access to the site, but you still need to find a way to get all of the materials there
Can be very frustrating to assemble
You need all of the equipment and tools
Kits usually do not come with everything you need and there will be a significant amount of materials that need to be purchased during the build
Fully Assembled Log Cabins By Zook Cabins
Delivered to your site fully-assembled and ready for same day use
Very cost effective
Cabins can be customized to fit your needs.
Our price includes delivery, crane rental, set up crew, equipment and partial project management
Can be easily certified for year-round occupancy
Assuming that you don't want to spend a small fortune or more than 6 months on construction we recommend you choose a modular log home and proceed to Step 4.
Step 4: Customized Floor Plan
Any of our many starter floor plans are customizable
We've put together a series of log home floor plans that are popular with our customers to get you started. We recommend starting with these floor plans and customizing from there. To discuss different floor plans or ideas you have, just give us a call at 610-593-4556!
Don't see a floor plan you like and want to design your own?
Typically, the easiest way for us to design custom homes or cabins is for you to draw up a rough sketch of what you want. Our experts will then put together a preliminary drawing for you that shows your desired layout. We will continue to make the changes until you are 100% satisfied.
Have a floor plan from a different company? We can use that.
You can send us a floor plan from another company to use as the basis for the design of your new log home. We're happy to offer a no hassle, no-obligation quote. Just email info@zookcabins.com with your floor plan or rough sketch. We'll be in touch within 48 hours!
Step 5: Select Your Options
Now that you've chosen your floor plan and customized it for your needs, it's time to select additional options that can make your new log home significantly more comfortable. We offer a wide variety of options to customize your home from the basic color scheme to the flooring, cabinets and fixtures that you'll enjoy every day.
If you need help choosing the options for your new home, our design staff is always available to lend a hand and help you weigh your options!
Flooring
We offer several flooring choices in our modular log cabin homes, from our standard engineered tongue and groove yellow pine, to maple, and our always popular hickory hard wood floor. If you would prefer another type of flooring in your cabin, let us know and we may be able to make that happen.
Cabinets
Outfit your kitchen with one of several styles of wood cabinetry, finished with the stain of your choice.
Color Scheme
Whether you'd like your home to stand out in the neighborhood or settle into the background, we can color-coordinate your roof, shutters and door colors to match perfectly.
Kitchen / Bath Options
Customize your kitchen and bath in style with a variety of faucet choices and countertop styles.
Step 6: Formal Quote
After you have selected your floor plan and options, we'll provide a formal quote for your new log home. There is no charge for this quote.
Your quote will include a detailed break down of your new log home, including any customizations you have made to your floor plan. It will also include any options you have selected, along with the charges for those options.
These details will give you a complete picture of what it will cost to build your new log home down to the penny. We prefer to be upfront with our customers and provide the exact amount of the project costs, rather than working from an estimate like many builders who often run over that budget before the home is complete. The quote you receive from us is the exact amount you will pay without hidden charges or extra taxes!
Step 7: Payment
Lead Time
Our typical lead time for new log homes is about 3 to 5 months, depending on the time of year that you place your order. Spring is typically our busiest season, so we recommend getting your order in as early as possible if you'd like your new log home to be ready for spring or summer delivery.
Payment Schedule
In order to get your cabin into our construction schedule, you will need to place a down payment on the building. Typically, we ask for 50% down. The balance is due upon delivery. However, when we ship larger models more than 500 miles, we will often request a 50% down payment, 25% after completion, but prior to delivery and the balance upon arrival. We also need you to sign off on our terms and conditions prior to delivery.
Log Home Financing
We do not offer financing at this time, but can provide you with any information that you need for your bank or lender. Check out our page on financing, which walks you through a variety of ways you can pay for your log cabin home and how to secure proper financing. Zook Cabins is flexible with terms and we can customize our payment options to fit with the needs of your bank or finance company.
Engineered Drawings
After we have received your down payment we will get to work on the engineered drawings for your building. These drawings are state certified, state sealed documents that will be approved by an engineer to conform to all codes in your state. Engineered drawings are included in the price of your log home.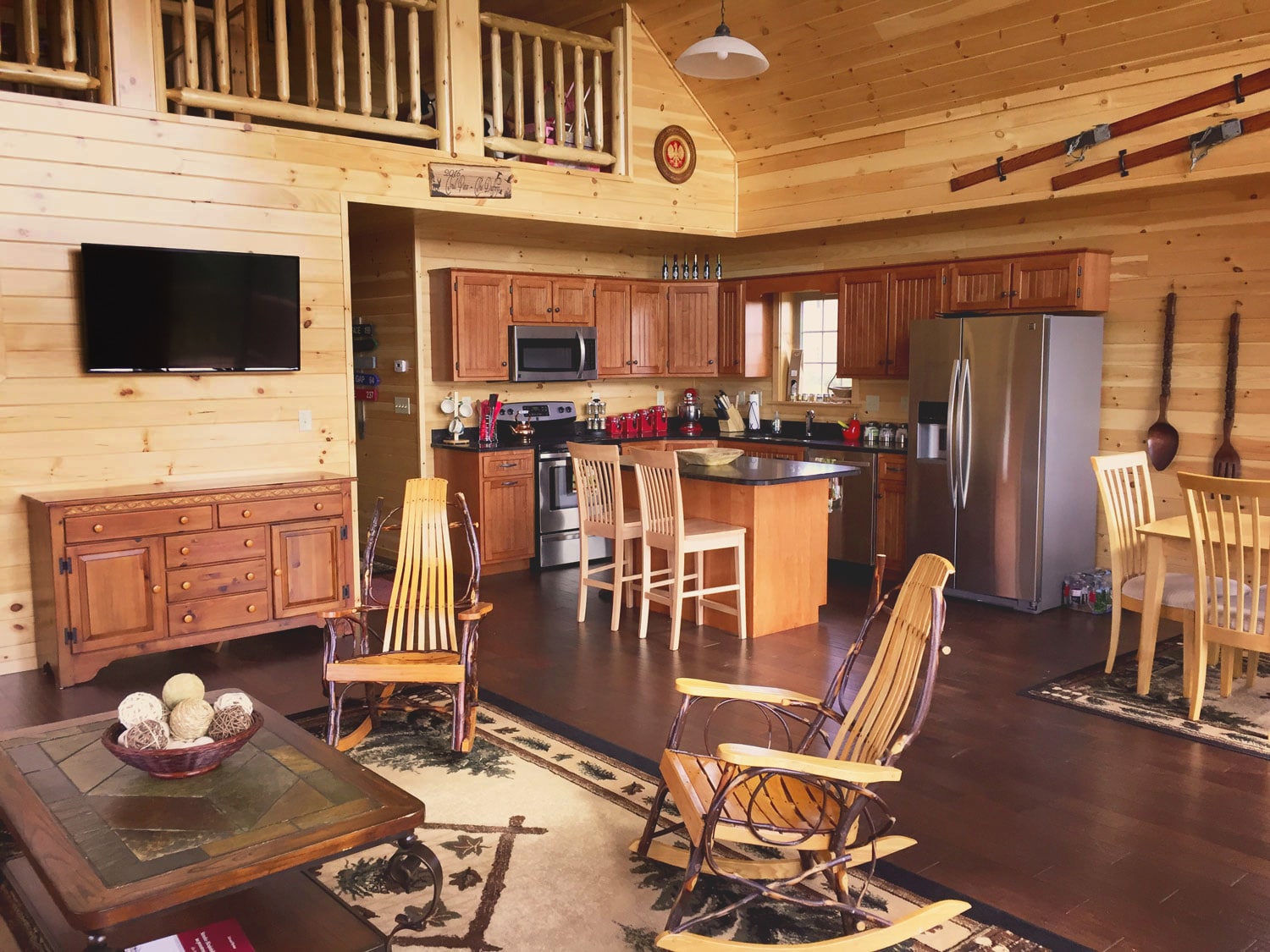 Step 8: Permits
We recommend contacting your local township or municipal office as early as possible when deciding to build a log home. You'll want to ensure that the size and purpose of your new building conforms to local ordinances to avoid problems down the road.
While we do not secure permits on your behalf, Zook Cabins will provide information about your building so you can present the correct documentation to your township or municipality.
Engineered Drawings
Our buildings are fully engineered, certified modular homes. As part of your building package, we will provide a complete set of engineered drawings, including foundation drawings. Please note that many municipalities in the state of New York require you to provide your own foundation drawings.
Pulling Permits with Your Township / Local Municipality
You will need a copy of your engineered drawings to apply for a building permit and other permits as required by your township or municipality. If you have questions about any documentation you've been asked to provide, we're here to answer your questions.
Inspections
One of the ways you'll save time with our certified modular homes is during the inspection process. You will not need to have separate inspections for electrical, framing or plumbing on our modular homes. These inspections are already completed at our facility during the building process. The only inspections you'll need to consider are those for your foundation and well / septic.
Step 9: Site Prep / Foundation / Well & Septic
Well & Septic
According to Building Advisor, the cost for drilling a well and installing a septic system may be $20,000 or more, depending on the region where the well and septic are installed and the depth of the well. Permits, licensing fees, soil testing and supplies are included in the cost estimate. We will provide you drawings showing you exactly where you need to make an access pit to be able to get to your water and sewer.
Concrete Foundation
The key to a concrete foundation is ensuring that it is absolutely level. We require at least a concrete slab on most of our double wide buildings and some customers prefer a slab even on the single wide buildings. We will provide the necessary drawings for your site work to be completed. If your slab is not level, it can be very difficult to get a double wide building together. It is very important to select a contractor that has experience in working with concrete. A poor job on the pad will make the rest of your project very difficult. Therefore, you should talk to a few contractors and select the one you are most confident will do the best work, not necessarily the contractor who has the lowest price.
Crawl Space or Basement
Some customers prefer to build their log cabin home on either a full basement, or a crawl space and this is perfectly acceptable. If you are planning a basement or crawl space, we will build your cabin slightly differently. You will be provided with drawings letting you know exactly what is needed for the foundation. Make sure that you use a reputable contractor for your foundation work.
Porch Posts & Headers
If your building comes with a porch, you will need to arrange to have post holes and headers installed prior to the delivery of your log home. We will provide a foundation drawing that notes the measurements and placement for your porch posts and headers.
Step 10: Delivery
Site access
Your modular home is delivered fully assembled on a trailer that is very similar to a rollback tow truck. We need to make sure, prior to arrival, that we will be able to access the site. Because of that, we have some recommendations for delivery of your new log home. The truck and trailer can be as long as 70′ and therefore we need to make sure that there is sufficient room for the driver to get into the site.
Your lane needs to be stoned in and free of all mud at the time of delivery.
On straight stretches, we need approx. 2′ more space than the cabin's width, and 14′ of vertical clearance. If you are unsure of the proper measurements be sure to check out the cabin styles and floor plans, make note of the dimensions, and add 2′.
On turns in driveways, we need to make sure that there is adequate room to make the turn.
Your site must be clear of all trees, tree limbs etc, within the area where the cabin needs to enter the site.
The exact cabin that you order can change the details of the delivery. For example, if you order a 12′ X 30′ Settler, we can send that out on a smaller truck, and the driver will be able to maneuver more easily.
If your cabin is a larger double wide longer than 30′, we will need a crane onsite to set the building in place. The reason for that is a finished double wide has too much weight on the outside walls, causing it to be unstable when moving it around off the trailer. The crane enables us to set the building with exact precision, eliminating safety risks and damage to your building.
Customer Images / Google Maps
We may ask you to send us pictures of your property in order to clarify delivery details. This ensures our delivery crew is prepared for any issues that could delay the installation of your building. It also provides us with the opportunity to ask any questions we have prior to your delivery date. Typical red flags that create problems for our delivery team include power lines, trees, the turn radius of your road or driveway and any nearby hills. We may also search Google Maps for additional details about the topography of your property. We want to make sure we do everything we can to ensure your delivery goes as smoothly as possible, right down to the last detail.
If you have any questions at all about the delivery process or your delivery specifically, give us a call at (610) 593-4556 and we will walk through everything with you. We're here to help and answer any questions you might have.
Step 11: Utility Connections
Once your building is in place, you can hook up your water, electric and sewer. If this is something that you are not comfortable doing yourself, you may want to hire a contractor to take care of that for you.
Step 12: Relax And Enjoy Your New Log Home!
All The Planning, Time And Effort Will Be Worth It When You And Your Family Step Foot In Your New Log Home. This Is Only The Beginning Of Years Of Comfortable Living. Enjoy!