Log Cabins in Pennsylvania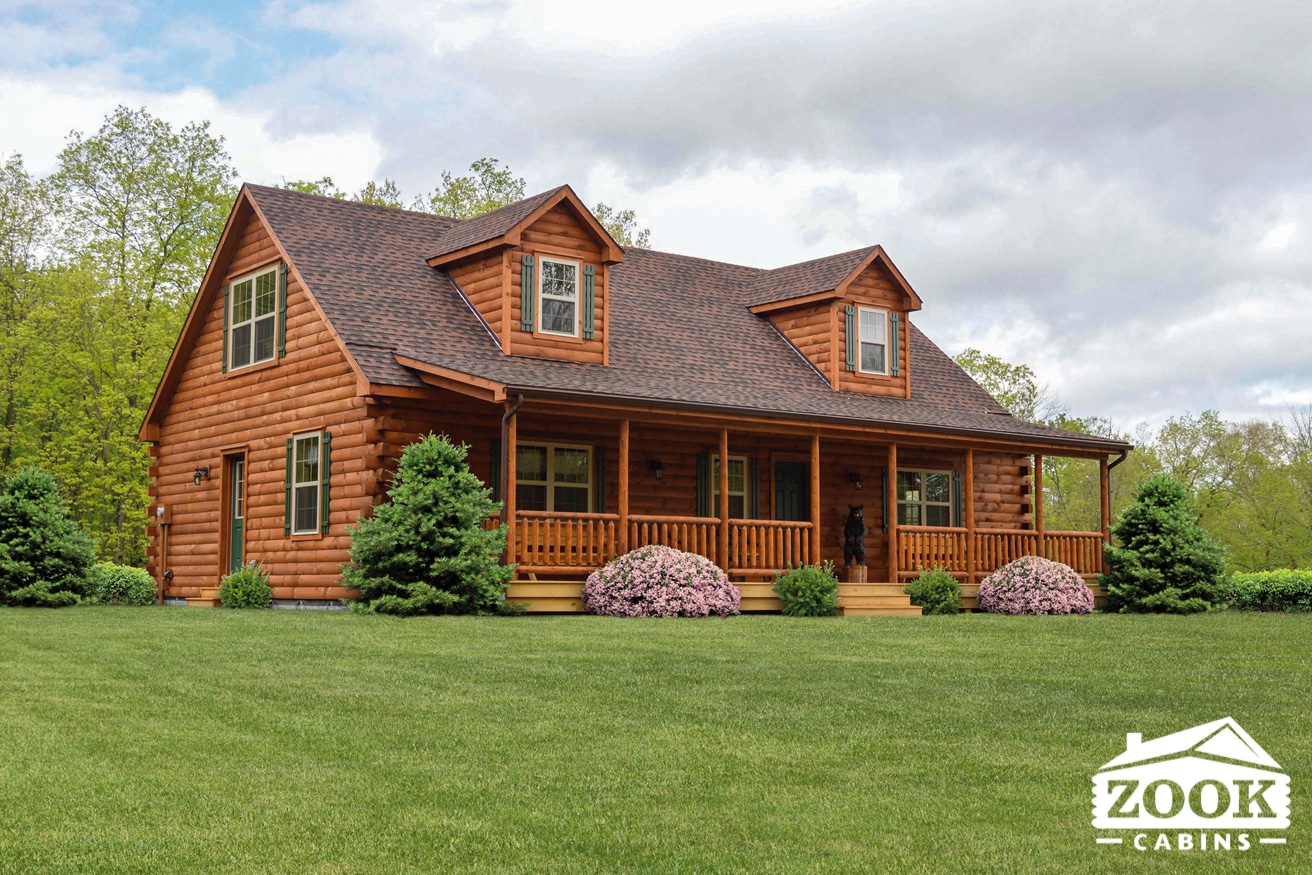 Whether you enjoy the rolling hills or the dipping valleys of Pennsylvania, one thing is certain. Wherever you turn, green forests, lush countryside, or majestic mountains offer you an enticing spot for a log cabin of your very own!
Are you looking for a log cabin for your Pennsylvania property? At Zook Cabins we build beautiful modular log cabins and deliver them to your property. With a focus on a top of the line customer experience and a desire to build a Log Cabin home that will last a long time while not breaking the bank, we look forward to helping you with your Log Cabin home. Get a Log Cabin from Zook Cabins!
There is no use in convincing you that an Amish Shoe Fly Pie is the best or that you have not lived if you haven't tried a Philly Cheesesteak or Perogies from Pittsburg. Or that the Wild Mouse is a hair scarier than the Skyrush at Hershey Park. ?
However, with the Poconos, the Blue Mountains, and the Allegheny Mountains spread out across your lovely state, (oh, and not to mention, 16 national forests) it is a very compelling to consider a log cabin in Pennsylvania as your next vacation or permanent residence!
Whether you dream of a vacation getaway, a small hunting cabin, or a permanent residence, Zook Cabins offer you the luxury of cabin living at its best!
Why Zook Log Cabins Are Your Key To Log Cabin Living (In The Keystone State ?)
You may wondering about the alternatives to a Zook Cabin…Should I get a cabin kit, a manufactured home, or go the stick-built route?
While the choice remains entirely up to you, rest assured that a Zook Cabin offers you every one of the following without exception.
High Quality Modular Log Cabin
High Quality Materials & Build
100% Customizable
Luxurious (regardless the size)
State Approved & Inspected
Affordable
Timer Saver
What Are People Saying About Zook Cabins?
Discover more about the Zook Cabin experience and quality by checking out all our customer stories as well as our customer reviews.
"Our dream of owning a log cabin home has now been realized thanks to everyone at Zook Cabins. Our Chalet style log cabin could not have come out any more perfect. The quality and woodwork are flawless and absolutely gorgeous. From the very beginning of the process, Matt was super helpful in getting us started and so easy to communicate with. We got the custom plans we wanted down to the little details and everything was built and ready for delivery in less than 3 months. Levi and the guys on site were so helpful and even went out of their way to salt our street after a snowfall to make sure everything went right with the delivery! We even received a little cabin-themed housewarming gift box. Thanks again, we can't wait to spend the years ahead in our amazing new home!"
-Katia & Victor in Pennsylvania
Best Locations To Build Your Log Cabin In Pennsylvania
With the Allegheny Mountains rising in the West and the Appalachian Mountains running from South Central to the Northeastern part of the state, you can pretty much have your pick!
However, the following locations provide ideal spots for a log cabin.
Pocono Lake/Poconos – Land for Sale
Photo Credit: www.poconomountains.com
2. The Blue Mountains/Carbon County – Land for Sale
Photo Credit: www.ourstate.com
3. Allegheny County – Land for Sale
Photo Credit: visitpago.com
The above are popular suggestions, however, all of Pennsylvania is yours!
Check out the available land for sale throughout the entire state!
Now onward to the discovery of your dream log cabin!
Large & Luxurious Log Cabin In Pa
The Mountaineer
Do you wish for plenty of living and sleeping space inside your wooden fortress? If so, the Mountaineer offers you a gorgeous two-story floor plan. Plus, inside the large open living and dining space, you will not have any problem hosting your friends, family, and neighbors for an evening of cheering on the Eagles…or Steelers! ? Good memories are always the product of a perfect wooden recipe otherwise known as a Zook Cabin!
The Chalet
If you fancy drinking your morning coffee about 15 feet off the ground while watching the sun rise over the trees, then the Chalet is for you! Not only does the Chalet offer you a stunning deck, but this cabin design also provides large and stunning Vista Glass windows! Enjoy soaking up plenty of natural sunlight or watching snowflakes falling outside as you cozy up on your couch in this cabin's spacious living area. Check out this Chalet from Jim Thorpe, Pa!
The Musketeer
Do you prefer having everything on one floor? If so, the Musketeer provides a wide and open floor layout. Plus, thanks to its steep pitched roof, you can even enjoy attic storage space. Not only is the steep pitched roof attractive, but as a bonus, the roof offers a better snow load rating. So, while the snow falls and falls outside, you can sip your favorite hot drink without a care in the world. (Especially since your fridge is well stocked with milk, eggs, and bread ? )
The Settler
Are you looking for a spacious, yet economical cabin? Let the Settler "settle" this dilemma for you once and for all! Coming at you with the most space at the most economical price, your dream of owning a cabin getaway for the family in the Poconos can be a reality. Enjoy the classic look of a log cabin along with its charming front porch where you can sit and chat till the sun goes down and the fireflies come out!
Come Visit Us
Are you interested in a Log Cabin? Feel free to come pay us a visit at our offices in Chester County, Pa. While you are here you can check out our Mountaineer Deluxe that we have on site.
Small & Cozy Log Cabin in Pa
The Sedona
Small and extremely cozy, the Sedona log cabin offers you a perfect retreat for hunting, weekend getaways, or a minimalistic residence. Set a rocking chair out on that inviting porch, lean back, rest your feet over the rail, and enjoy being the King or Queen of your very own log cabin.
The Plymouth
With charming dormers and a wide porch, the Plymouth offers you that perfect little lakeside cottage or hunting Homebase you always wanted! Plus, with space for a loft, for either sleeping or storage, you can utilize this small log cabin's space to the fullest! Pull out some Lebanon Bologna and pretzels and enjoy the sweet taste of the Plymouth log cabin!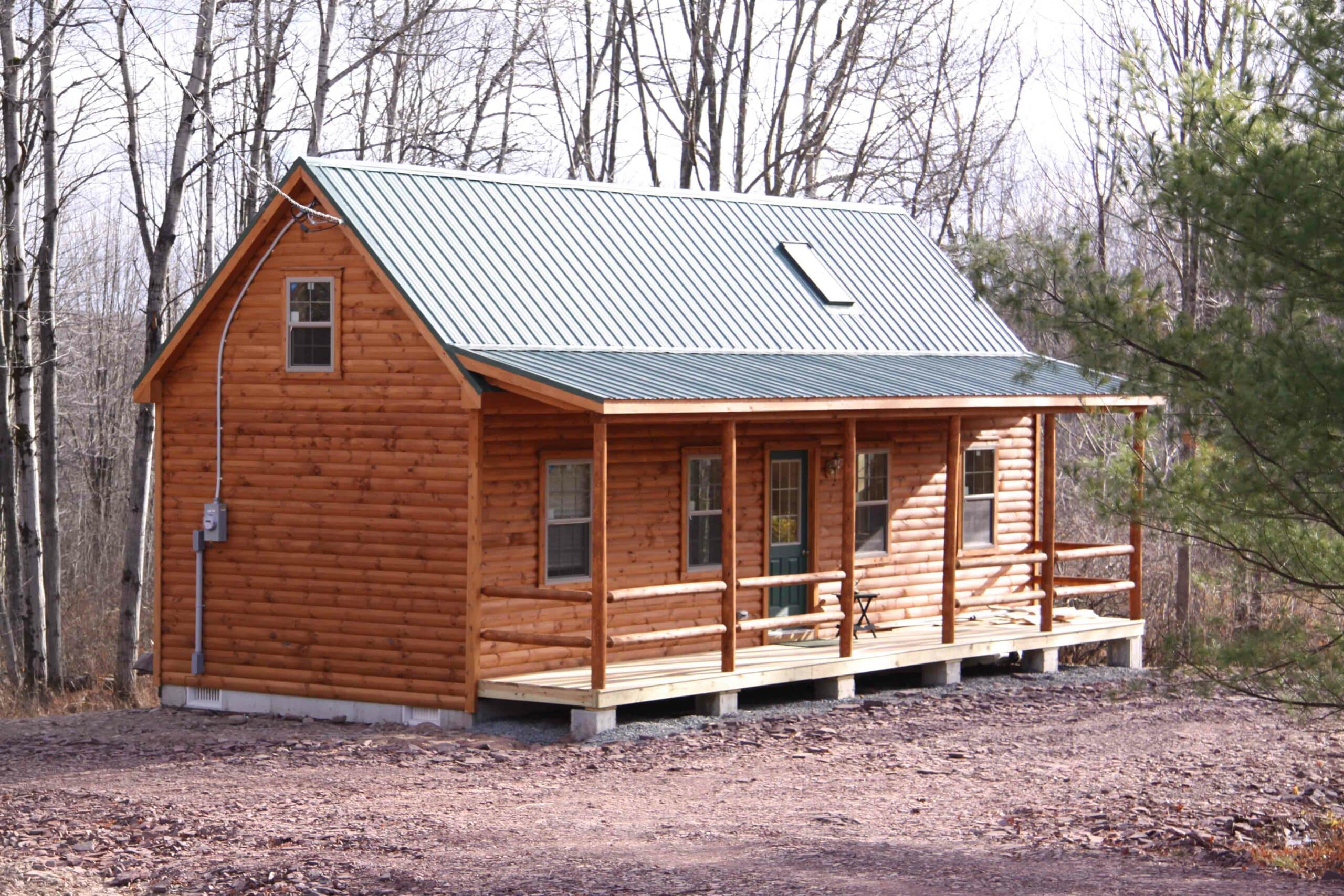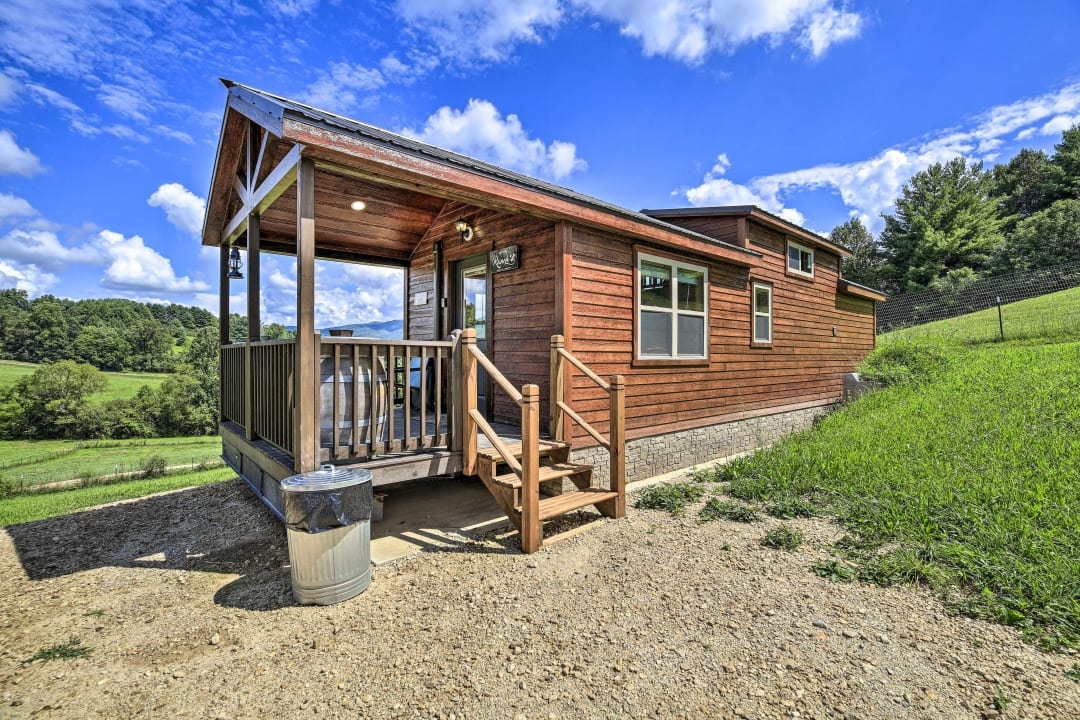 There Are More Log Cabin Designs!
Perhaps you did not quite find the exact log cabin you were dreaming of…No worries! Take a moment and view all our log cabins available to you in Pennsylvania.
Enjoy further log cabin discovery!
Zook Modern Cabins
If you just viewed the above log cabins with a lingering ache inside your heart, then perhaps, your ideal cabin design involves more than just wooden logs. Perhaps you fancy the farmhouse style or a more modern style cabin?
If so, get ready to find that missing piece to your dream cabin design! Introducing our latest and newest models, the Homestead Farmhouse Style Cabin, and the Woodland Modern Mountain Cabin!
The Homestead Farmhouse Style Cabin
Still covered with quality wood, the Homestead offers you the perfect combo of the modern cabin and the darling farmhouse style. Plus, with its two-car garage, and unfinished second floor, the Homestead offers an ideal permanent residence or regular vacation spot. If you find yourself entranced by the refreshing beauty of a rustic, chic, contemporary, and country-style combo, do not hesitate to check out the Homestead!
The Woodland Modern Mountain Cabin
If wood is your thing, yet you prefer a bit more modern expression of this earthy material, then…meet the Woodland! This modern mountain cabin marries wood and contemporary design splendidly! Enjoy your tastes for modern design while still enjoying real wood. Your dream modern mountain cabin awaits!
Your Dream Log Cabin Journey Can Start Today!
Have you viewed a log cabin or modern cabin you simply adore?
If so, your lifelong dream of owning a log cabin of your very own can become a reality, even today!
Your hard work and patience have brought you to this point, and now you are only a few steps away from beginning the exhilarating and fun process of owning your ideal log cabin.
You know what you want, and if you have any questions about beginning this exciting journey to cabin living, Zook Cabins is at your service.
Your dream cabin awaits! Lead the way, Captain!