North Carolina Park Model Cabins
Is your life lacking that one set apart place where you can escape from all the hustle and bustle of LIFE?
If all you wish to do when Friday rolls around is to grab your family, jump into your car, and disappear into the blissful existence of either the woods or an ocean or lakeside sanctuary, a North Carolina Park Model Home can help you accomplish that exact goal!
How About A North Carolina Park Model Cabin
Nothing beats sitting on the porch of your very own Park Model Home, listening to the local Songbirds (singing their little heads off) and drinking in not only your favorite cup of coffee, but also the delicious smells of pure mountain, lake, or ocean air.
Yes, make one of our North Carolina Park Model Cabins your home and let life's stresses melt away!
Just As You Wish…
So, whether you are looking for a retirement home, a weekend retreat, a vacation getaway, a permanent residence, a rental cabin investment, a second home, or hunting homebase …you name it, and just as you wish it shall be done!
At Zook Cabins , we love providing our customers with that one set apart place where they can experience the very best of life!
Keep on reading to hear exactly what North Carolina Park Model Cabins offer you, view some of our stunning Park Models, read our customer reviews, and catch some ideal locations for your North Carolina Park Model Cabins!
What A North Carolina Park Model Home Offers You
Each of our carefully crafted Park Model Homes provides you with a one-of-a-kind experience!
All our Park Model Homes are meticulously built within our shop and once fully inspected, delivered to their designated location.
While some Park Model Homes may have a reputation for being cheap and chintzy, our North Carolina Park Model Cabins offer the very opposite experience.
A Zook Park Model Home offers you the following without exception!
A High-Quality Park Model Home – From its interior all the way to its exterior, every inch of the structure is built with careful attention to detail and with quality materials
Built to Code – Fully inspected! Enjoy easy access to campgrounds and RV lots
Reasonably Priced
RV Certified – Considered an RV which means you can apply for RV insurance or loans
All Ready! – Begin living the blissful cabin dream right away!
Great Investment– Great for adding to campsites or retreat centers or starting your own rental cabin investment
Roomy & Rustically Beautiful North Carolina Park Model Cabins
The Pocono Park Model Home
Small. Cozy. Modern. Meet the Pocono. This Park Model provides the perfect spot for a couple or a family of 3 or 4. With 1 bedroom, a loft, and a darling front porch, all that is missing to complete this cabin is you! Enjoy gathering in the spacious living room for some Cheerwine floats and relaxation. Of course, all the while chatting about the incredible outdoor adventures of your day! Yes, this is the sweet beauty of cabin life.
Wishing For Other Cabin Size Options?
If none of the above fit your exact wishes for a small cabin, no worries! More cabin options await your discovery. Check out all our small and large cabins and find the right match for your desired cabin style and size.
Check out all our small cabins and large cabins and find the right match for your desired cabin style and size.
Hear From The Voices Who Matter The Most…
Nothing stands as a better test to the quality of our product and our customer service, than our valued customers!
Enjoy reading all our customer reviews and in the meantime hear from our valued customer, Elizabeth Garofalo.
"Our dream came true this week. I honestly cried as Zook pulled into our drive to deliver our Park Cabin RV. As a Contractor and an Interior Designer, I can really appreciate the level of skill of their carpenters. The rancher layout is very well done. It maximizes the 400sf floor plan incredibly. Appreciate the help from Zook as this can be a stressful purchase. Worth the wait, don't settle, buy a Zook."

Elizabeth Garofalo
Pretty Sweet Locations For Your North Carolina Park Model Cabins
Are you currently still considering locations to set your Park Model Home in North Carolina? If so, the following offers you some popular spots with land for sale for your new Park Model Home.
Enjoy the hunt and the satisfaction of nailing down an ideal site for your lovely cabin!
Davie County – Filled with plenty of lovely lakes! Enjoy fishing, boating, jet skiing, and all things water. Especially check out land for sale in the town of Mocksville.
Rutherford County – Holds the lovely Lake James State Park and Catawba Falls. Keep an eye out for land for sale in the town Rutherfordton which sits in the foothills of the Blue Ridge Mountains.
High Country – Composed of several mountainous counties, this area provides excellent opportunities for fly fishing, hiking trails, and gorgeous waterfalls.
Pender & Onslow Counties – Close to miles of white sanded beaches! Enjoy countless hours of sun, surfing, and swimming. Both share a portion of the popular town, Surf City.
Allegheny County – Located right in the heart of the Blueridge Parkway. Enjoy the best of mountain living!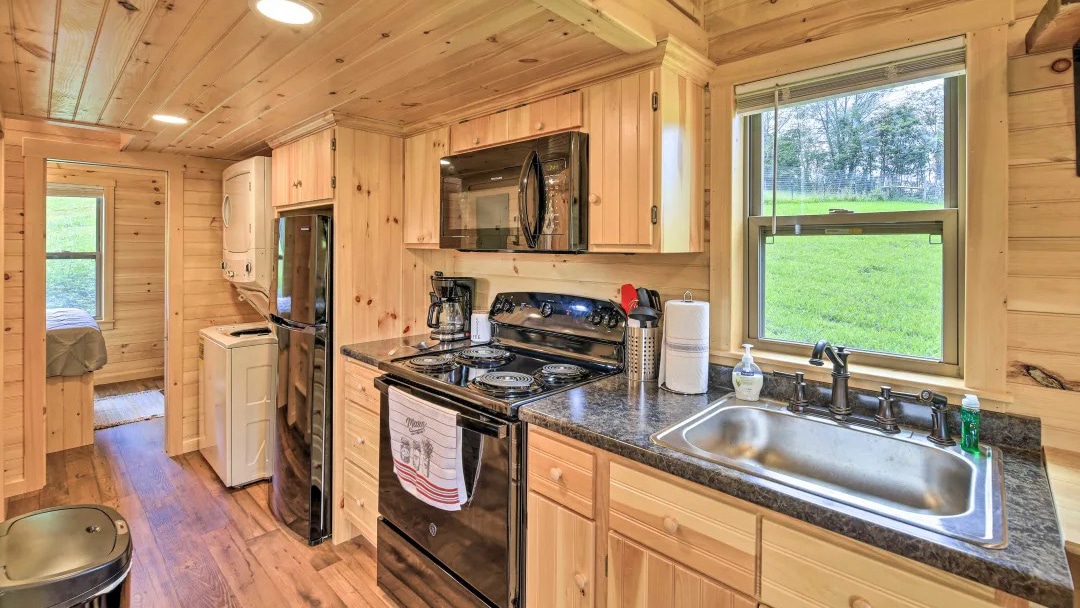 Dream It. Own It. Live It.
Whatever brings your soul the most peace…whether that includes walking a winding forest trail, sitting under a starry night, throwing a line into a sparkling lake, you name it…Live it!
North Carolina Park Model Cabins allow you to live your best life outdoors, enjoying the things that bring you the most satisfaction while surrounded by the people you love the most.
If you know that a Park Model Home is the right fit for your specific scenario, no need to wait any longer!
You have already been dreaming, the only thing keeping you from living your dream now is securing your very own Park Model Home.
Zook Cabins is at your service!
Lead the way!