The Farrier
The Farrier firepit is made from 3/16" thick 7 gauge steel and manufactured in the USA. While this firepit is collapsible, the simple yet sturdy design makes this the perfect heavy-duty fire pit to take with you for all your campfire adventures.
Overall dimensions: 16″H x 24″W x 21.63″L
List Price – $449.00
The Forge
The Forge is a top-of-the-line smokeless fire pit. And with an inside diameter of almost 30", it can hold more wood than any other smokeless pit you'll find today. The ingenious design allows for the elimination of all visible smoke fumes while maintaining an extremely hot fire.
Overall Dimensions: 15.5″H x 32″W x 32″L
List Price – $995.00
The Hearth
The Hearth is an incredible smokeless fire pit. The size is perfect for your backyard but is also collapsible and easy to take with you to every campfire. As a smokeless fire pit, it's been designed to eliminate all visible smoke.
Overall Dimensions: 13″H x 22″W x 22″L
List Price – $749.00
Fire Pit Accessories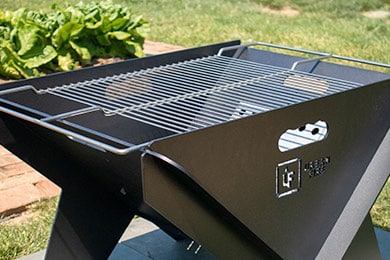 Cooking Grate
This 15×16 inch rectangular cooking grate is perfect to use with any of our firepits. Turn your fire pit into a grill, and embrace the joys of an evening around the campfire.
Swivel Grill
This 20" swivel grill is a great addition to your fire pit. The grill attaches easily to your pit without the use of any tools. Compatible with the Farrier and the Forge.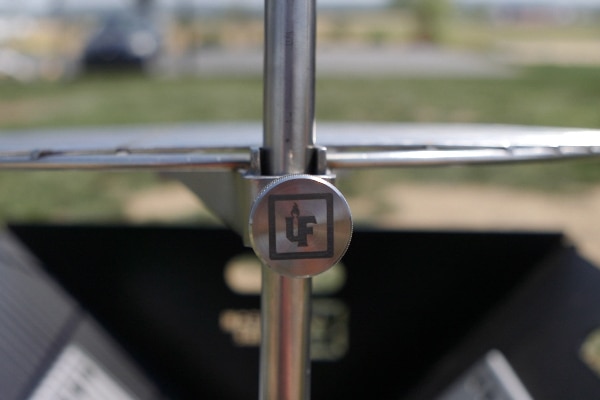 Grill Pole
The grill pole provides support for your swivel grill. A high-quality accessory you'll want, whether you choose to stake it into the ground or mount it directly onto your fire pit.
Forge Channel Guards
The Channel guards for the Forge model fire pit protects your fire pit from the greasy splatter of the grill. Enjoy your fire and backyard without sacrificing the beauty of your fire pit.
Blade Attachment – Forge
The blade is a state-of-the-art cooking attachment, turning your fire pit into a cook's dream. The blade attachment for the Forge is 33", and designed specifically for this fire pit, and is made with 304 food-grade stainless steel.
Blade Attachment – Hearth
The blade for the Heart Fire Pit measures 18" and provides the perfect sear for your steak or burgers. Made with 304 food-grade stainless steel, the blade is an addition to your fire pit that both your family and your tastebuds will enjoy.