Prefab Cabins in West Virginia
West Virginia, the land of the rolling mountains. The home of the wild and brave at heart.
What could be better than having a Log Cabin in the backwoods of West Virginia. Where sipping coffee on the front porch in the middle of the week is the normal thing to do. At Zook Cabins, we would love to partner with you to bring you the Log Cabin home of your dreams.
We look forward to working with you.
Do you recognize this idyllic West Virginian song?

"Almost heaven, West Virginia
Blue Ridge Mountains,
Shenandoah River…
Country Roads, take me home
To the place I belong
West Virginia, mountain momma
Take me home, country roads…"
Enjoy hearing the whole song if you please and feel the pride and emotion of being a West Virginian…
Are you dreaming of a prefab cabin in West Virginia, somewhere set at the end of some dreamy country roads of your very own?
Oh, West Virginia, with the rolling mountains tinged with bright green or fall's colorful hues, dipping and winding lakes, and magical, "endless" forests filled with wildlife of all kinds.
Oh yes, and flavored with history as deep and rich as the natural beauty that fills every corner of this sweet state.
If you have another moment, enjoy soaking up some of the best of West Virginia.
With all the soul-satiating and natural beauty of West Virginia, it is no wonder you are seriously considering owning a prefab cabin of your very own.
Whatever Your Dream Cabin May Be…
Whether you are wishing for a hunting cabin, a weekend getaway, a second residence, a permanent residence, or even a cabin to start as an Airbnb, when you partner with Zook Cabins, our #1 priority is you and your ideal cabin wishes and dreams.
Get ready to discover what a Zook Cabin offers you, view our different prefab cabin models (modern & traditional), hear from our valued customers, and more!
Why A Zook Cabin Fits Effortlessly Into The Mountain State
At Zook Cabins, we believe quality is the measure, not the exception, by which we operate and interact with our customers and our work. A Zook Cabin is a prefab cabin that is carefully built in sections and then fully assembled once delivered to your specified location.
[ Delivery is an exciting day! Get a taste of what that day could look like for you!]
While you might have doubts about the word prefab, rest assured our cabins are not cheap or filled with hidden costs like some cabin kits or manufactured homes.
Our prefab cabins in West Virginia compete with traditional stick-built cabin homes with benefits unique to its one-of-a-kind build.
A Zook Cabin offers you all the following without exception:
A high-quality prefab cabin
Crafted with high-quality craftsmanship & materials throughout every inch of its build
100% customizable
Luxurious whether big or small
Saves you time – Begin living your best life way sooner than imagined!
Reasonably priced
State approved & inspected
Highly responsive customer service! – Any questions? We answer fast!
A stress free and enjoyable cabin buying experience – This is going to be way more fun than you expected ?
Big & Beautiful Prefab Cabins In West Virginia
The Mountaineer
Are you looking to get the most living space for your hard-earned buck? Perhaps considering a new permanent residence? If so, the Mountaineer offers you a full second floor. Plus, with an open floor plan, you will enjoy owning plenty of living space to host your family and friends. Call them all over for a scrumptious supper of chicken and dumplings! Nothing tastes better than when eaten inside an intricate wooden fortress.
The Chalet
Do you love natural lighting and high ceilings? If so, the Chalet is your match! With cathedral ceilings and large Vista glass windows, natural lighting fills your living spaces quite beautifully. Enjoy walking out of your lofted bedroom to see the morning sunrise glow fill your living room or watch as the embers of the evening sunset casts its colorful hues across your kitchen. Plus, enjoy greeting the morning or relaxing in the evening with your favorite cup of hot drink on its stunning high-rise deck. Life inside the Chalet is indeed magical. See for yourself!
The Settler
Are you interested in a rancher style cabin? If so, not only is the Settler a rancher, but it also offers you the most available living space at the lowest cost. Plus, with its darling front porch the Settler makes for an affordable and utterly cozy home or vacation getaway. Fact. None of your friends will turn down an invite to watch the next epic game of the West Virginia Mountaineers inside this wooden beauty.
The Woodland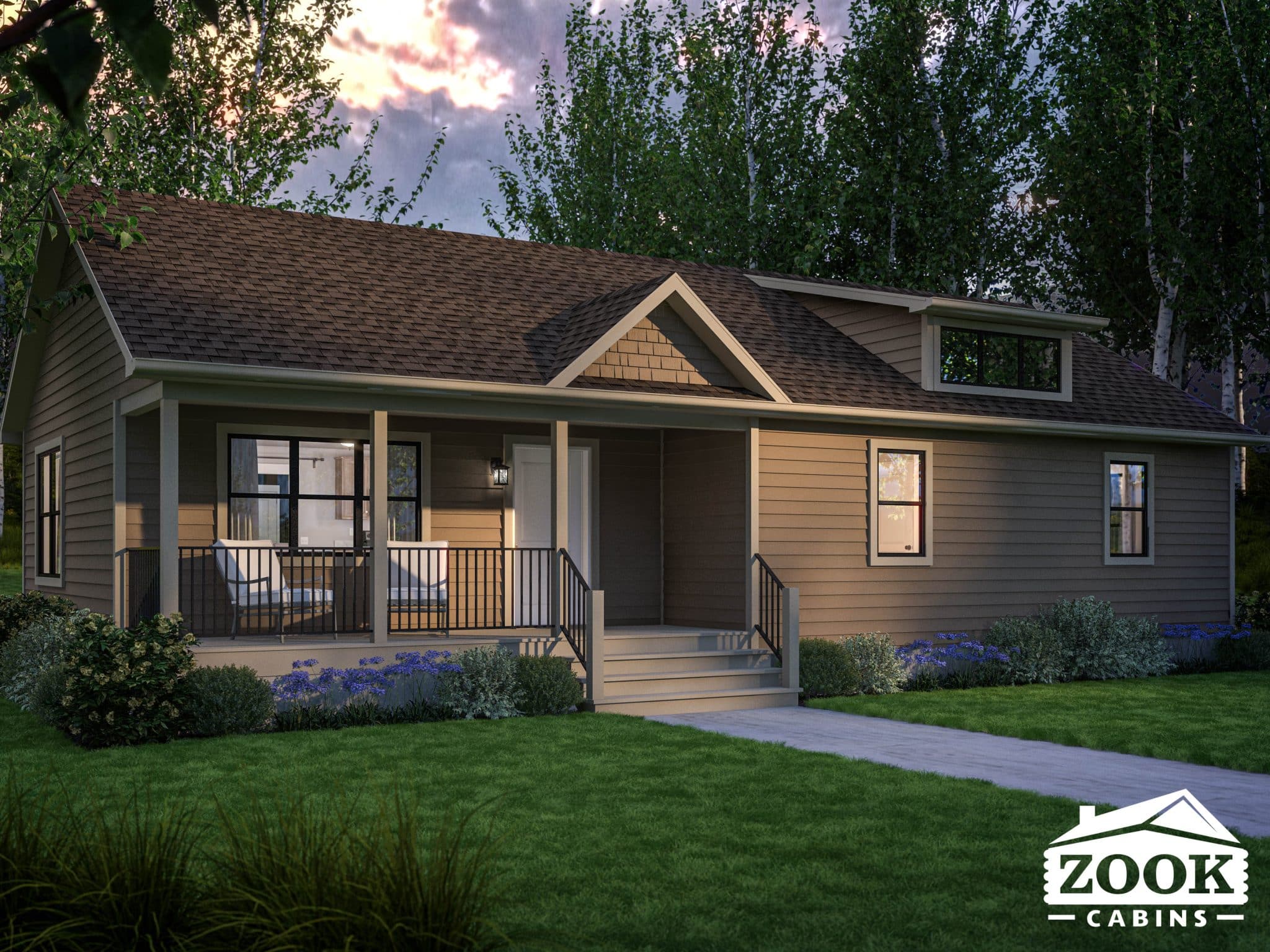 Do your personal tastes lean more towards modern than rustic when you think of your ideal cabin? If so, meet the Woodland, the modern mountain cabin home. With a perfect blend of wood and modern designs, you will still enjoy tasteful touches of wood without feeling like you live inside a tree. ? Or if you prefer a different flair of modern, check out our other modern cabin, the Homestead [especially if your style caters more to modern farmhouse.]
Discover More Large & Lovely Cabin Options Available For You!
Perhaps the above options did not fit what you were envisioning for your cabin. If so, check out all our large and lovely modular cabins in West Virginia.
Hear From Our Valued Customers!
Nothing proves a better test to our quality of cabins and customer service better than our valued customers and their voices.
Enjoy reading all our customer reviews. Plus, hear firsthand customer stories of how their cabins dreams became reality.
In the meantime, enjoy hearing from Wesley & Cathy Burns from Hedgesville, West Virginia and what they thought about their Frontier Zook Cabin.
"After spending 2 years really taking our time, and researching multiple avenues in acquiring a cabin, we decided Zook Cabins was our best choice. The process was painless. Matt Albrecht answered every question in a timely manner no matter where we were in the process. After recently receiving our cabin we were amazed at the ease with which it seemed to be assembled on our property. The quality is absolutely amazing, and beautiful. Thank you Zook Cabins for our dream home. We'll enjoy it for years to come.

-Wesley & Cathy Burns
Small & Stunning Prefab Cabins In West Virginia
The Sedona Modular Cabin
Are you looking for an idyllic small cabin for either a hunting home base or weekend retreat? Maybe even as Airbnb rental? Meet the Sedona. Small. Darling. Irresistibly Cozy. This small cabin welcomes with its inviting front porch where all you need is a couple kick-back-and-relax chairs, a slice of warm cornbread, and a hot cup of tea or coffee. Cabin living is hmmm…so good!
The Plymouth Modular Cabin
Do want a bit more sleeping or storage space inside your small cabin? If so, the Catskill offers you a roomy loft and amazing 12' pitched roof. The combination of both offers you a roomier and more spacious small cabin. Enjoy taking your hunting or getaway cabin living experiences to another notch of comfort and ease without breaking your wallet. All this and more inside the Catskill!
More (Big & Small) Prefab Cabin Models Awaits Your Discovery!
Perhaps you did not view the perfect prefab cabin model? No worries! There are more big and small cabin models available and awaiting your discovery!
Take a moment to view all our Big & Beautiful Prefab Cabins and our Small & Stunning Prefab Cabins.
Enjoy discovering the perfect fit! Plus, do not forget that each cabin model is 100% customizable.
Beautiful Locations For Your New Prefab Cabin In West Virginia
Do you hold the savings and/or the interest to invest in a new outdoor location for your dream prefab cabin?
If so, enjoy some inspiration and tip-offs to some of the best places in West Virginia to own a prefab cabin.
Of course, you might already know all these good spots. ?
Tucker County – (Definitely consider land in the darling town of Davis) Close to the Monongahela National Forest with acres upon acres of forest perfect for hiking, walking, camping, and "everything outdoors"!
Land for Sale in Tucker County
Greenbrier County – Near Lake Sherwood where its deep reservoir provides the perfect spot for swimming, boating, and more.
Land for Sale in Greenbrier County
Morgan County – Home to Berkely Springs State Park with warm springs for swimming and clear, clean spring water for drinking
Land for Sale in Morgan County
Lewis County – Near miles of buck bagging public hunting land aka. a whitetail deer gold mine.
Hardy County – Close by the state's only natural lake, Trout Pond, a fisher's paradise.
Bring Home Your Dream Prefab Cabin & Start The Incredible Journey Today!
Are you ready to fulfill your life-long [or recent] dream of owning a quality-built and luxurious prefab cabin in West Virginia?
If so, know that the very best of cabin living images that fuel your dreams can become a waking reality.
Whether those idyllic cabin moments look like relaxing in your wooden living room with the fire crackling in the background and armed with your favorite book or standing perfectly still to stare at a white-tail deer standing off your favorite walking path in the woods, a cabin is made for these exact moments.
You know your dreams, and the moments and memories you wish to create inside your ideal prefab cabin.
Begin the exciting and incredible prefab cabin journey today!
"Country roads take me home…"
Your prefab cabin home awaits!