Prefab Cabins in Idaho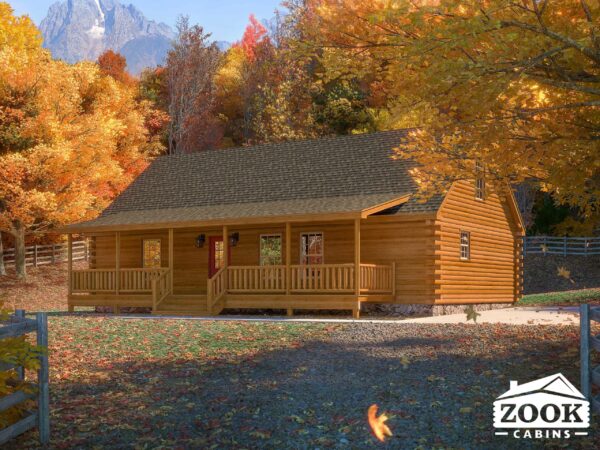 Are you ready to enjoy the beautiful Idaho mountain views from the porch of a beautiful Prefab Cabin? Zook Cabins is a premier modular Log Cabin builder that services Idaho, with quality carpentry and a first-class customer experience at the forefront of what we do.
Check out what we offer in Idaho.
Are you dreaming of owning a stunning and intricate prefab cabin set somewhere in the Gem of the USA?
If so, how does a prefab cabin set in the forested north close to Lake Pend Oreilla sound?
Or maybe you prefer your cabin down towards the south near Treasure Valley (yeah, it happens to be extremely popular right now)?
Wherever you set your prefab cabins in Idaho, you have at your disposal an American treasure chest filled to the brim with natural jewels across every habitable acre.
From its plunging canyons, winding rivers, jaw-dropping mountain peaks, and remote forests, you cannot go wrong finding an ideal spot for your dream prefab cabin.
Facts. Nothing beats the natural beauty and good ole' American freedom that Idaho spreads out at your feet like a red carpet.
Take a moment to indulge in the utter beauty of Idaho. Just try to keep from bursting with pride 😊
It is no secret, Idaho and cabins were made for each other! In fact, even beloved Idaho native, Aaron Paul, owns a rustic cabin in McCall.
Fact. You are onto something REALLY good!
Prepare to See Your Sweet Cabin Dreams Become Actual Cabin Living!
Are you dreaming of a hunting cabin set within close access to the endless miles of public, forested land where you can indulge in what Idahoans do best? HUNTING!
Or perhaps you are dreaming of a permanent residence to settle down with your family or for future retirement?
Whether you are dreaming of a second home, permanent residence, hunting home base, vacation getaway, or rental property, Zook Cabins revels in shuttling your cabin dreams into actual cabin living!
Keep on reading to learn what a Zook Cabin offers you, view our traditional and modern prefab cabin models, hear from our valued customers, and more!
Why a Zook Cabin is Worthy of Idaho's Spectacular Natural Backdrop
A Zook Cabin is a quality crafted prefab cabin built with no shortcuts and with utmost attention to detail. There is no cabin kit or manufactured home in the words, Zook Cabins.
While some might be unsure about a prefab cabin, Zook Cabins prides itself in making the words prefab and cabin fashionable and sought after.
We know why our prefab cabins compete with traditional stick-built ones and you are about to find out why too!
A Zook prefab cabin offers you the following without exception. If this is what you are looking for in your dream cabin, a Zook Cabin is for you!
A high-quality prefab cabin – No one will believe it isn't a traditional stick-built
Crafted with high-qualitycraftsmanship & materials throughout every inch of its build
100% customizable – Your unique cabin dreams have met their match!
Luxurious whether big or small
Big time saver – Get ready to be surprised at your estimated delivery date!
Reasonably priced
State approved & inspected
Highly responsive customer service! – Any questions? We answer fast!
A stress free and enjoyable cabin buying experience – This is going to be way more fun than you expected
Big & Beautiful Prefab Cabins in Idaho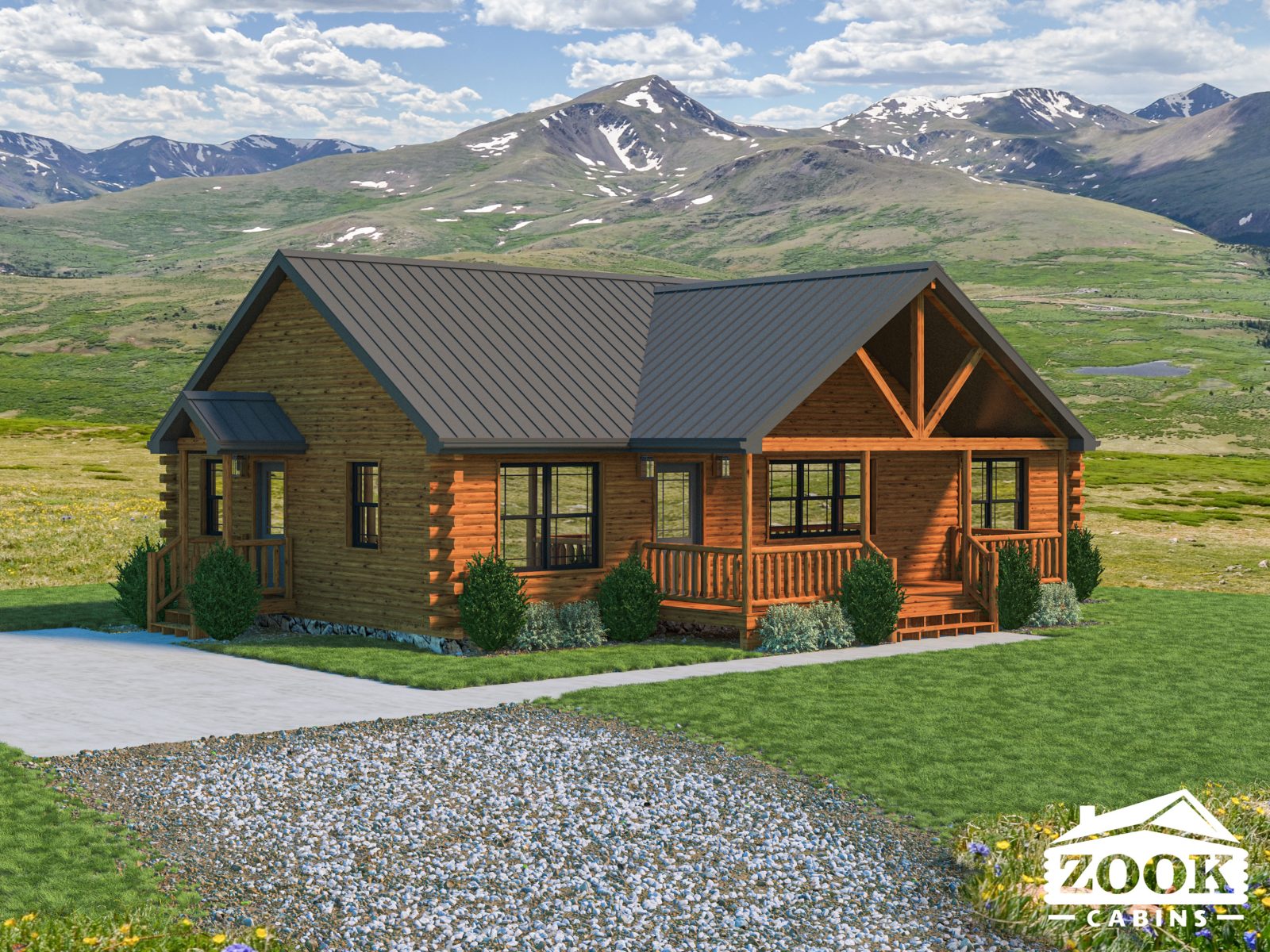 The Sunset Ridge Cabin
Do you love a rancher style cabin with an open layout? Introducing…the Sunset Ridge. While this wooden beauty lays everything out on one floor, she still offers you plenty of space for bedrooms and enjoying that cozy open living room/kitchen/dining room hotspot. So, if you are dreaming of inviting friends or family over a fun evening of eating croquetas and shooting the breeze till the sun sets 😊, the Sunset Ridge Cabin is your match!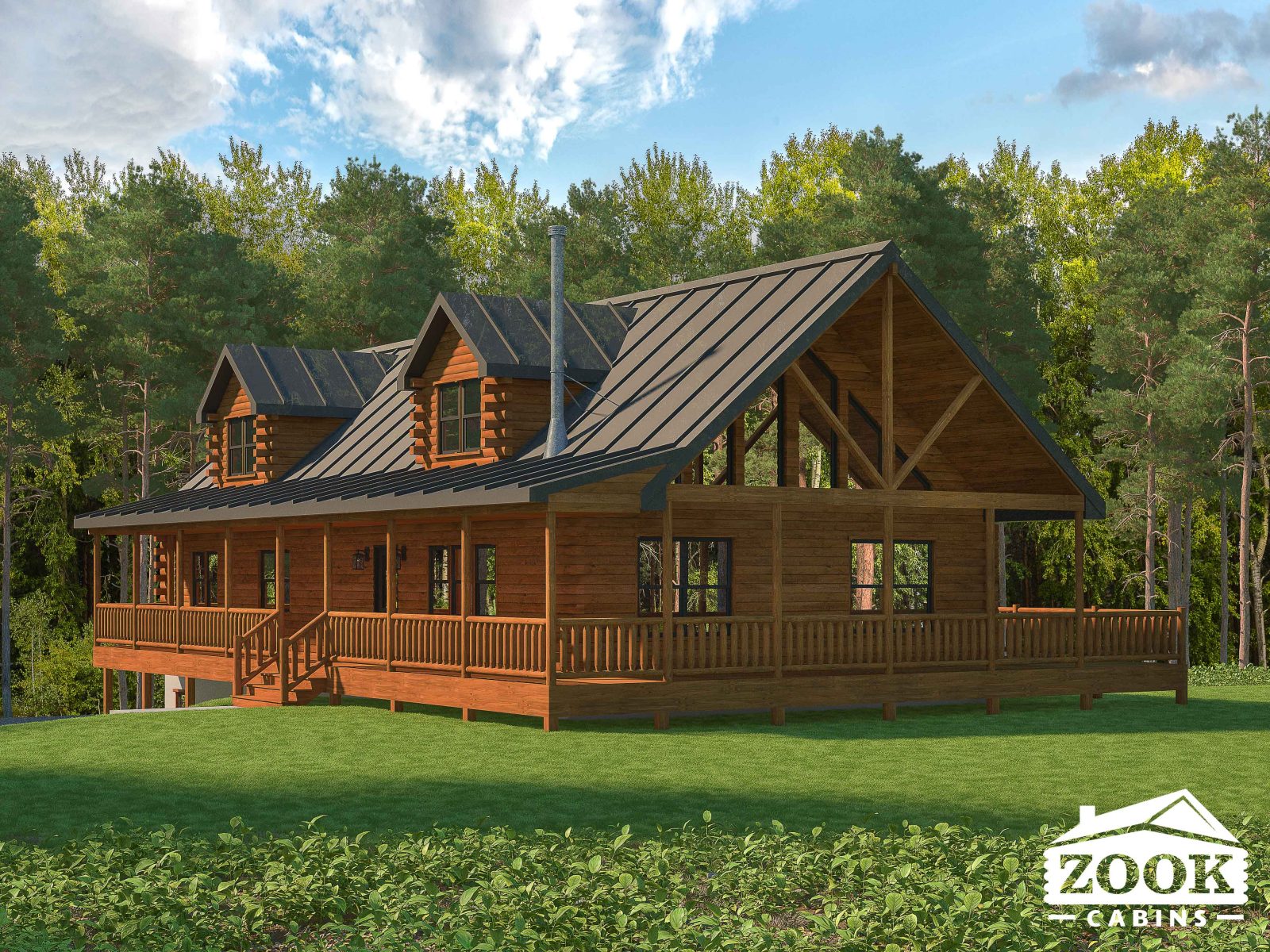 The Glacier Log Cabin
Stunning. Classy. Rustic Modern. Meet the Glacier. This lofted log cabin beckons you to grab a cup of Dawson Taylor coffee and pull up a comfy chair on its lovely timber framed wrap-around porch. Do you love natural lighting? This jaw-dropper provides you with large Vista glass windows where sunlight pours into the cathedral ceiling and over the great room. Enjoy greeting the mornings and the evenings inside a Glacier of your very own! Rest assured, cabin living is every bit idyllic as you have always dreamed!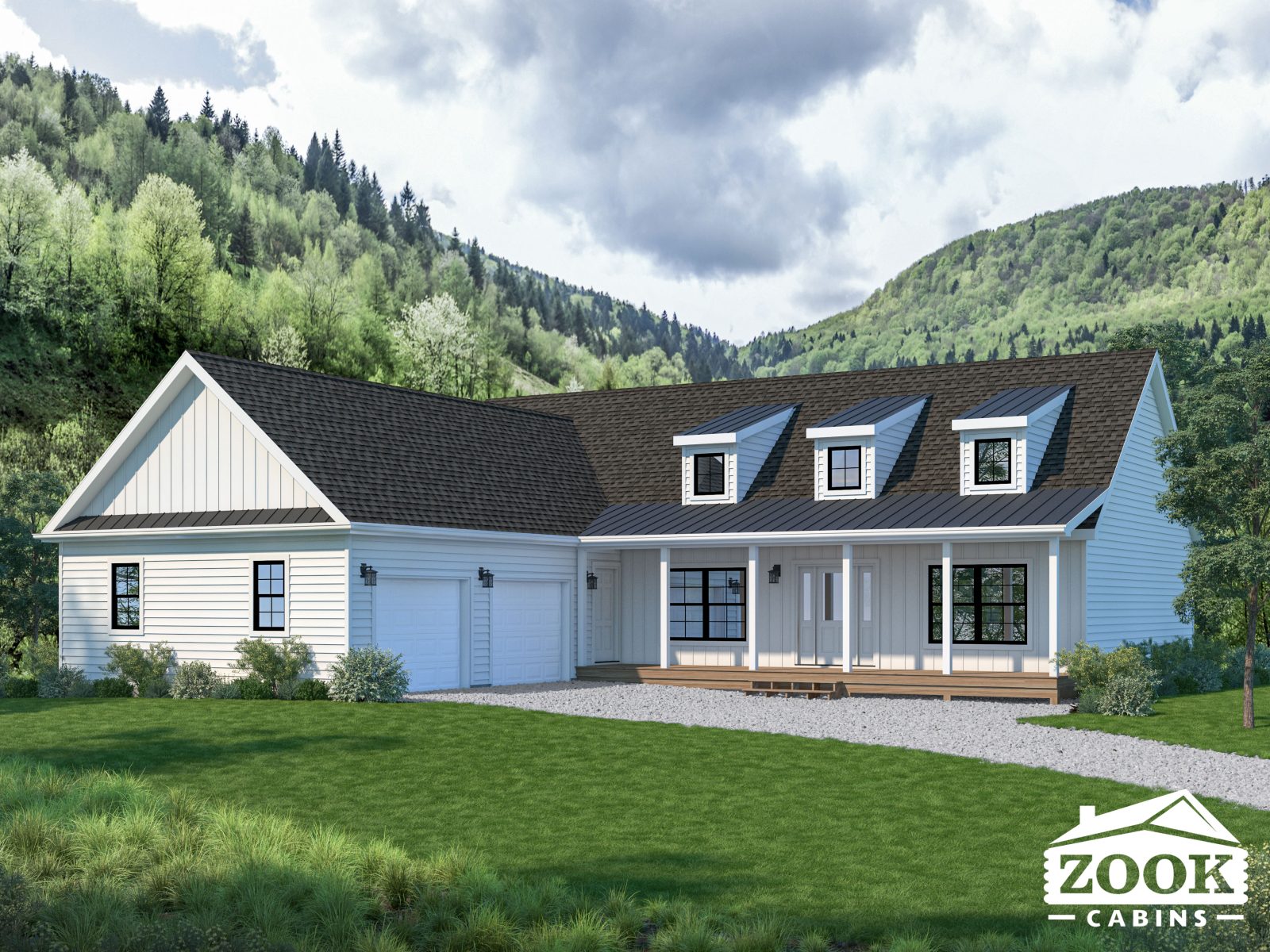 The Homestead Cabin
Do you prefer modern farmhouse over traditionally rustic? No worries! The Homestead offers you the perfect combo of modern Farmhouse and tasteful rustic touches. Plus, this lovely modern cabin provides you with a full second floor and 2-car garage. Enjoy owning a cabin that marries the best of both your ideal style worlds (modern and rustic) into one irresistibly beautiful modern home on the range! If you prefer a bit more wood, check out our other modern cabin, the Woodland. Get ready to live your best cabin life near your favorite Idaho lake or valley.
View ALL Our Big & Beautiful Prefab Cabins!
Still looking for the right cabin match? Good news! There are more big and beautiful cabin models awaiting your discovery!
Small & Stunning Prefab Cabins in Idaho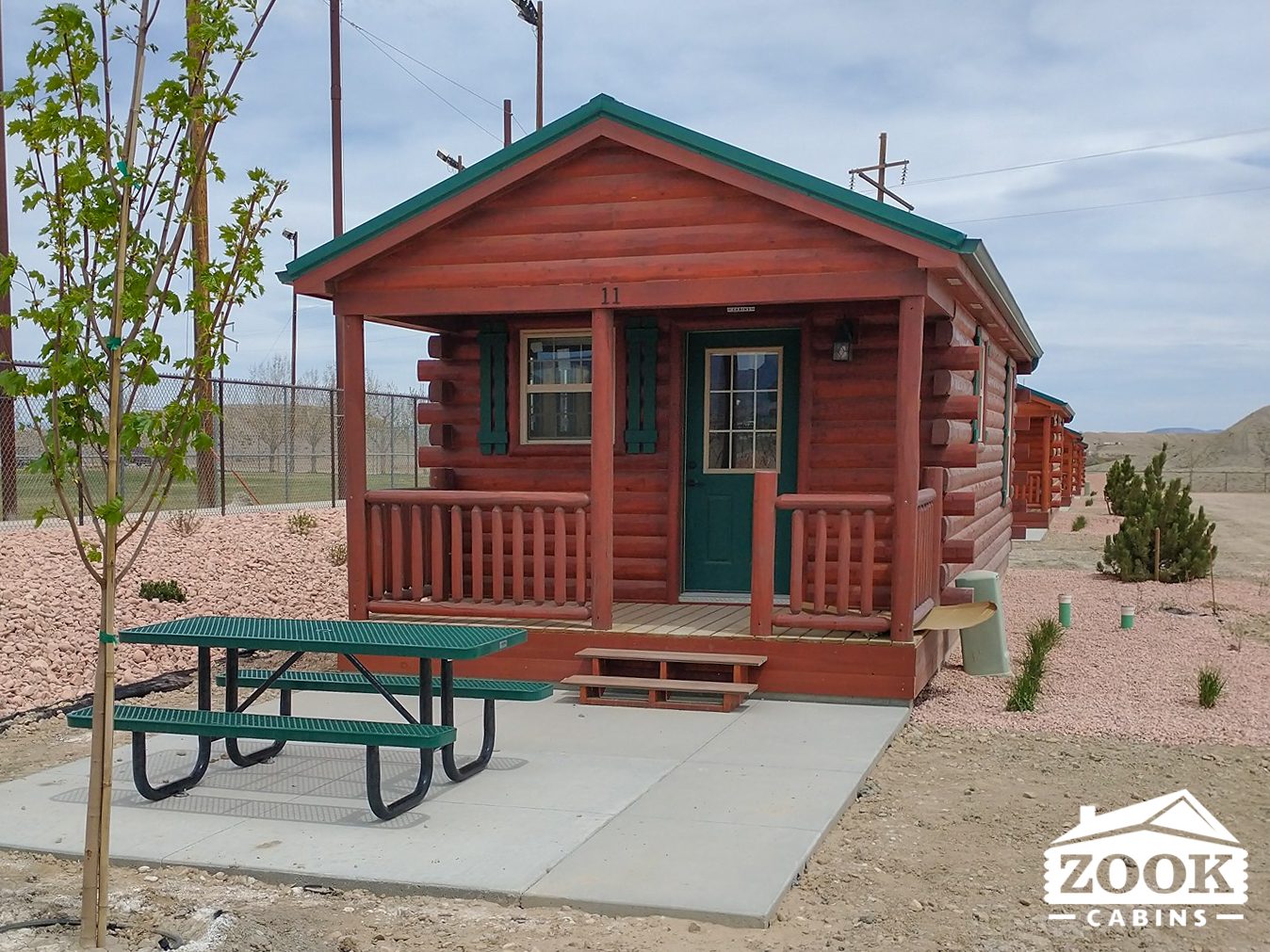 The Sedona Modular Cabin
Are you wishing for a small cabin for a rental investment or as a cozy hunting home base? If so, the Sedona offers you an economical and comfy small cabin. Enjoy returning from the Boise River Zone after bagging a magnificent elk to a luxurious, little wooden fortress of your very own. Then kick back and unwind on its darling front porch with a piece of huckleberry pie and the rest is blissful history! See for yourself!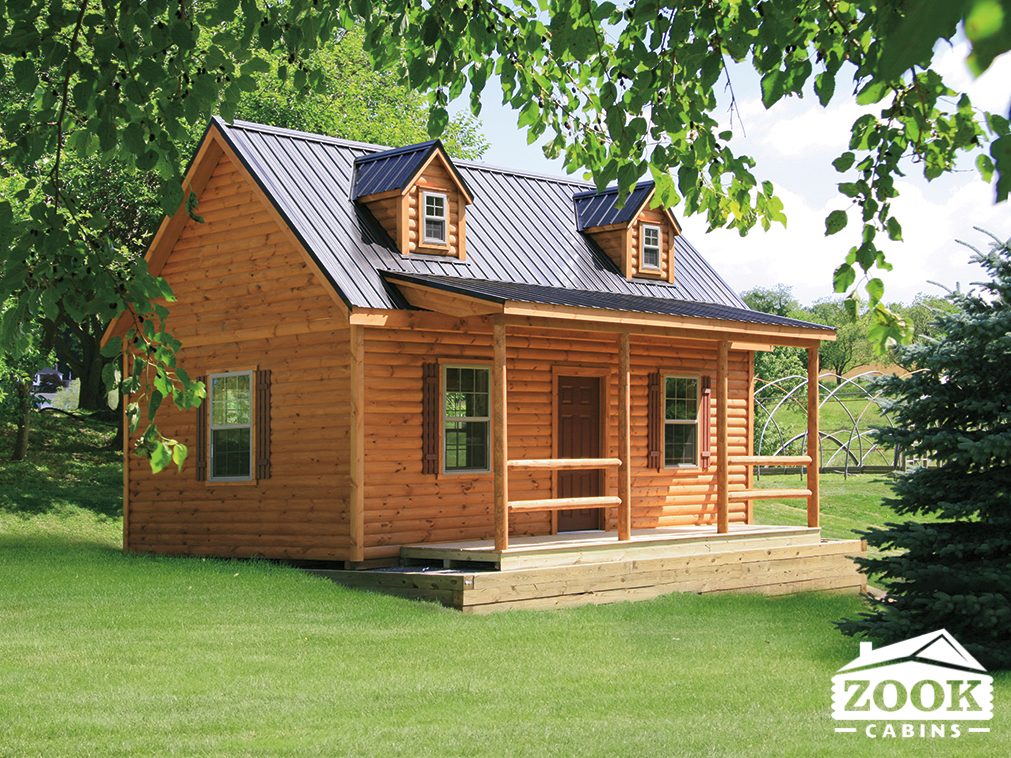 The Plymouth Modular Cabin
Are you wishing for a stylish little prefab cabin? Got to love the Plymouth! This darling cabin holds the stylish option of adding dormers for a stunning aesthetic touch. If you are wishing for a small getaway cabin [with a splendid dose of class] to steal away to over the weekends or holidays, this lovely little cabin is where it is at! Plus, the Plymouth provides you with a charming porch and a loft. There is nothing like returning from an invigorating hike at Alice Lake to a rustic haven where the beauty of nature continues through your home's front door. That my friend, is cabin living!
The Lakeview Park Model Home
Have you been dreaming of a small rustic cabin set by your favorite lake? The Lakeview Park Model is perfect for a wooden area overlooking a lovely lake. With a gorgeous front porch with plenty of space for setting up a chair or two, you can enjoy the best views of your property. For other similar possibilities, view all our Park Model homes to find the perfect fit for living big in a "tiny" home in the outdoorsy, adventurous land of Idaho.
Incredible Locations for Your Prefab Cabin in Idaho
If you have been saving money for building your dream prefab cabin in Idaho, the following incredible locations are for you!
Valley County (Definitely check out McCall) – Very touristy area, however, this county offers you the perfect location for a prefab cabin thanks to its lovely lakes, mountains, and forests.
View Land for Sale in Valley County
Blaine County – Filled with stunning mountains, rolling hills, and open plains. This is a fantastic location if you are an avid skier and hiker thanks to its ski friendly mountains.
View Land for Sale in Blaine County
Lemhi County – Superb area for enthusiastic hunters and fishers (especially salmon lovers). Holds the famous Salmon River and the most mountains in Idaho, including the Beaverhead Mountain range.
View Land for Sale in Lemhi County
Bonner County – Near the largest lake in Idaho, Pend Oreille River (Sandpoint is particularly nice!). This county is filled with lovely evergreen forests.
Land for Sale in Bonner County
Fremont County – Known for being log cabin friendly with its lovely forests and lakes. Plus, you are within a reasonable distance from Yellowstone.
View Land for Sale in Fremont County
Maybe you wish for a more remote location or love a particular area of Idaho that was not mentioned above. If so, enjoy checking out all the land that Idaho offers you for sale and give wings to your dreams!
It is all yours anyway! 😊
View All Land for Sale in Idaho
Are You Ready to Start Living Your Best Life?
Is your heart quickened by one of the stunning cabins above? Do you feel the nervous excitement that comes with the realization that dreams can become actual living realities?
Your dream of living inside a stunning prefab cabin CAN come true.
Nothing beats awaking inside a wooden palace that sets you in the one place in the world you are most satisfied to be.
Whether that is within close distance of a sparkling lake or set in the middle of an army of evergreens, an intricate prefab cabin is the missing piece that fully connects you to the natural beauty of the great Idahoan outdoors.
Bring your cabin dreams and get ready to watch them assemble before your very eyes!
Your dream prefab cabin awaits! Lead the way!