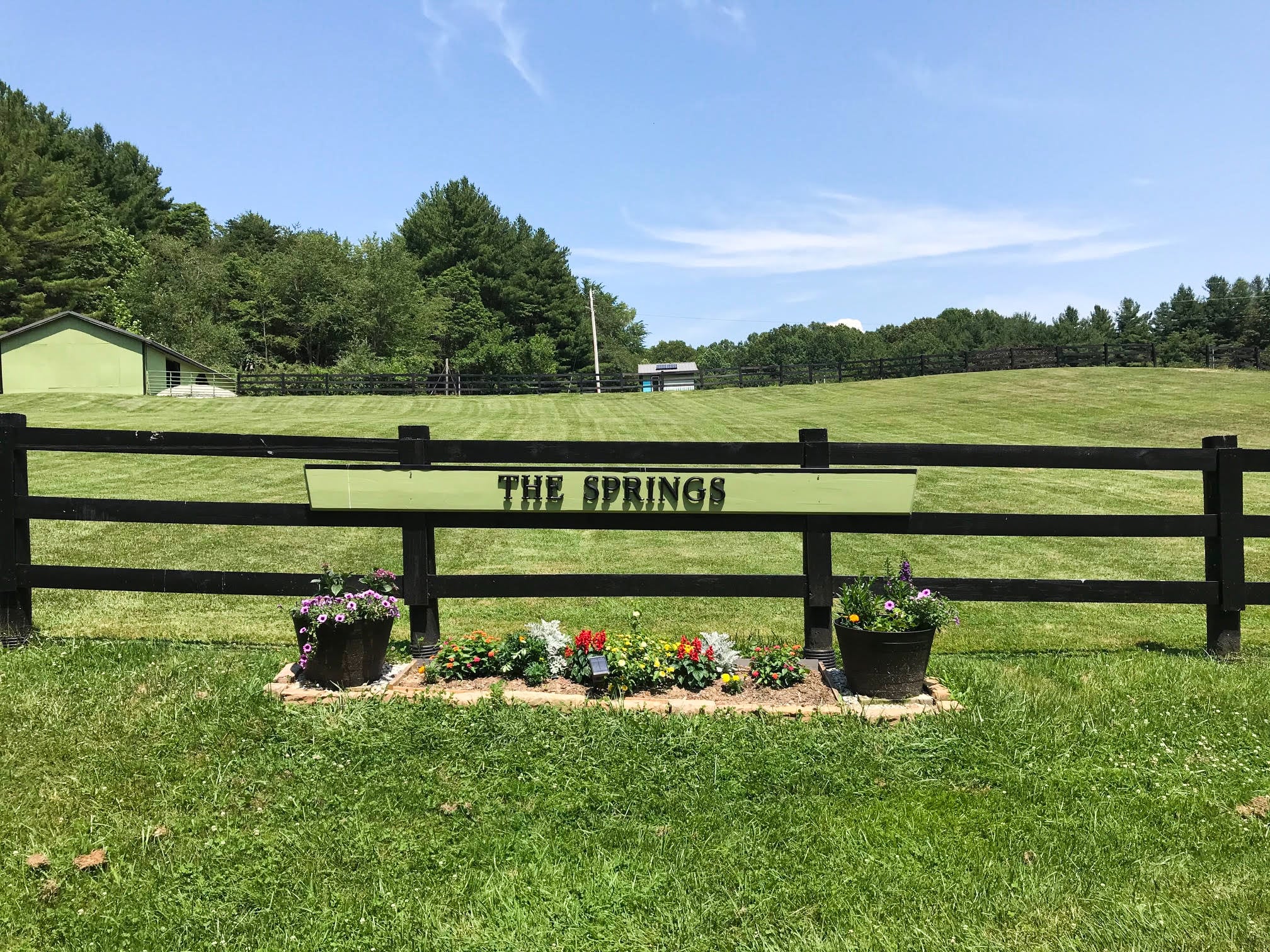 Welcome to The Springs, Oldenburg, Indiana where we are blessed to live and serve people from around the world! Ten years ago we were invited to live into a dream still in the forming which involved developing a spacious retreat ministry located on 150 acres where Christian leaders might come away and find rest in the company of Jesus so that they might return to their work with greater authenticity. That was our call and what led us to buy not one, but two Zook Cabins!
Moving To The Retreat
It was spring 2010 and my husband and I were living in Thailand for five months, with plans for him to retire at the end of the year shortly after we returned to Cincinnati. Much to our surprise, we received an invitation to enter into a partnership with our dear friends to run a non-profit retreat ministry in southeastern Indiana – and we prayerfully agreed to do so. Today, ten years later, this lovely rural farmland and forest now hosts four rental cottages, three residential homes, four pole barns, a large gathering space for 25-30 people, a wood shop, a maintenance shop, and a Chapel. This fall we hope to have finished the addition of a small hermitage for day use guests! But that is getting ahead of the story!
Photo Gallery for Modular Cabin in Oldenburg, IN
Therefore, expediency and quality became the driving factors that led us to Zook Cabins, and we were not disappointed!
Researching And Ordering Our Log Cabin
When we took ownership of the property and management of the retreat ministry, the one residential home was in need of renovation before our partners could move in following their retirement in 2011. We hired our son as our Operations Manager and it quickly became apparent that we needed more housing as he was living in one of the four guest cottages. During this first year my husband and I commuted twice a week from Cincinnati, an hour away, at times staying in a cottage when one was available. Occupancy was initially at 6-9 percent, but was quickly rising! Therefore expediency and quality became the driving factors that led us to Zook Cabins, and we were not disappointed!
Through online research and phone calls we were convinced their cabins offered everything we desired for our staff house. We were so pleased with how personable and accommodating the Zook team was in listening to our preferences and offering suggestions to come up with the perfect plan! We were able to visit the factory in January 2011, and finalized our order for the Frontier model in February. By late August the home was delivered, and amazing feat considering they had to navigate the back roads of Indiana avoiding one lane bridges and traveling over narrow, winding roads!
House Dropping Day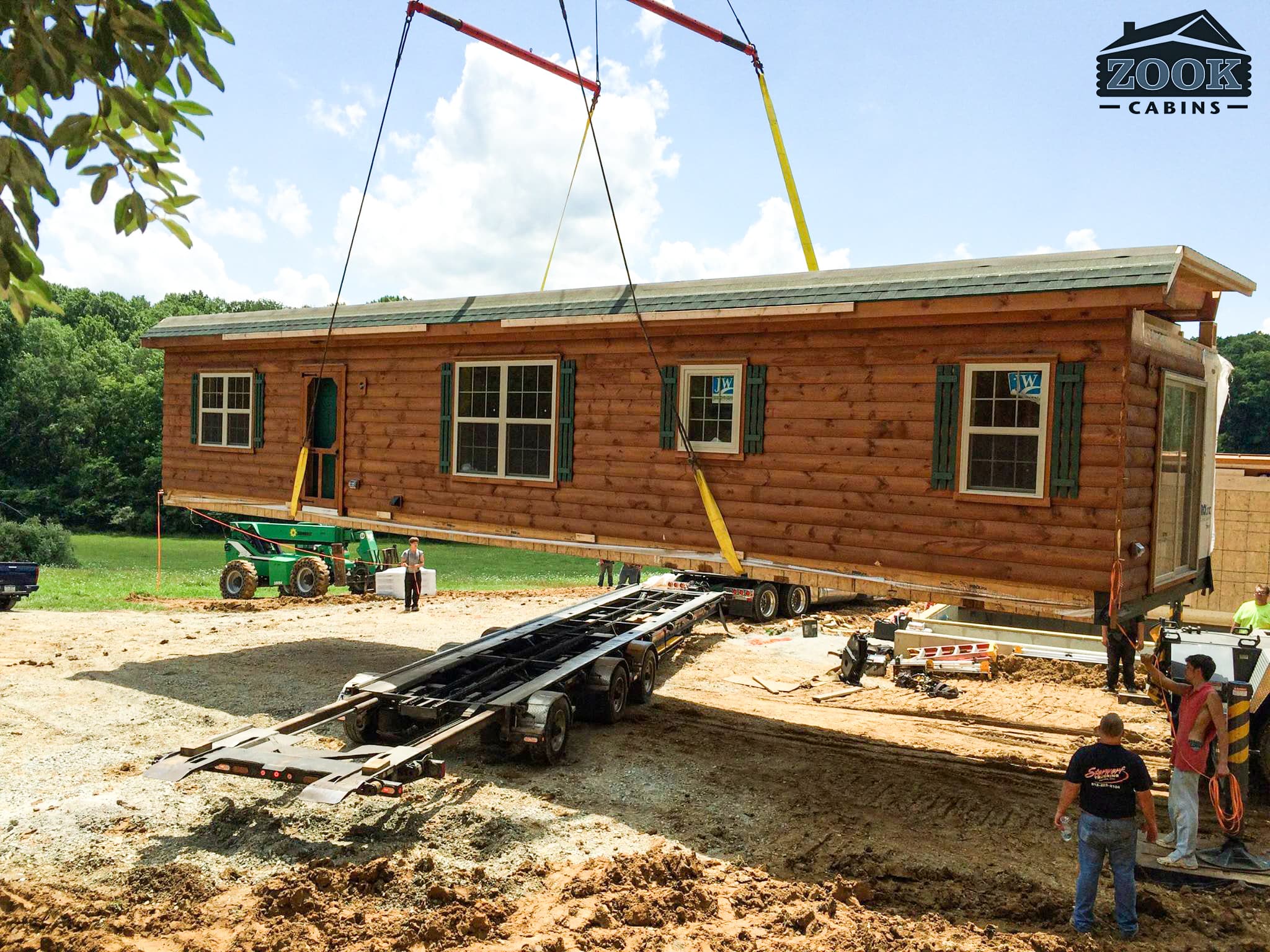 We were so excited that day that we invited friends and family to come watch the "house dropping" which really was a gentle house setting, done to perfection on the full basement foundation waiting for it! This additional space allowed for a laundry and office area for us to better serve our guests. Our son was instrumental in planning and building a one-room suite and bathroom with double french doors opening out onto a large patio overlooking the small lake for our personal use so that we no longer needed to stay in one of the cottages. Within six weeks of delivery, our son, his wife and our 2-month old granddaughter moved in! Zook enabled us to provide this lovely home in a timely manner, allowing our ministry to continue to grow and meet the ever-increasing needs of our guests.
…and what led us to buy not one, but two Zook Cabins!
Building A 2nd Cabin In Oldenburg Indiana
Our delight with the style and quality of the Zook Cabins is evident in that we chose to purchase another cabin, the Mountaineer Deluxe, for our own home four years later, in 2015. We were pleased to visit the factory again and experience the spaciousness that the cathedral ceiling added and the charm of the loft upstairs. Again, placing our order was easy and modifications made to serve our unique needs and preferences. The first floor laundry added to the guest bathroom is so convenient, and an outside access from that bathroom to the hot tub is perfect! We enlarged our master bathroom to accommodate a larger shower by reducing the size of the walk-in closet, which was not a problem especially with a basement that provides additional storage. Another change we made was to create an entry room vs. a hallway when you come in the front door and that has increased the living space considerably. We also chose to have a local contractor finish the large upstairs room off the loft, with matching materials provided by Zook, for our seven granddaughters, with space for two trundle beds, a sitting area with a window seat and bookshelves, and space for me to sew!
Zook did a wonderful job with their plans, working creatively to accommodate our personal preferences. The home arrived with everything in place, plumbed and wired and ready to hook up to water and electricity. Once the appliances were delivered – we moved in! We had not originally planned to finish the basement, but that has served us well offering a separate family room/library for family as well offering a separate space with an outside entrance for retreat guests to use individually or for small groups when needed.
Adding An Addition To Our Cabin
Our only dilemma came within a year when we realized that we had downsized too much too soon as our family had blessed us now with ten granddaughters and one more daughter-in-law! In 2016 we welcomed "Papa" Zook and his sons for a visit and breakfast, and talked about how we might make an addition. They were so helpful! In the winter of 2017, the team at Zook worked with us to create the additional space we desired, delivering in August a customized module that fit perfectly across the end of the great room. By opening up the two sliding glass doors to archways and making window cut outs in the wall and where the cathedral windows were, we added a room 15 feet wide by 26 feet long – a perfect spacious dinning room and gathering space for our family of now twenty and still growing!
The installation team arrived a day in advance to remove the exterior logs and the overhang of the roof. When the addition arrived the next day they were ready to set it on the prepared foundation – and 4 days later it was finished, furnished, and we were celebrating our son's birthday! Everyone who visits is amazed that this room was not part of the original plan! Large plate glass windows line the outer wall overlooking the lake and woods – filling our home with light, meeting all our expectations!
We Love Our Cabins!!
We love living into our dreams here at The Springs in this beautiful home and we welcome anyone to stop by and visit and discover why we chose Zook to help us achieve our dreams! Please come and see and dare to pursue your own dreams!
Interested in touring this cabin?
Is this cabin nearby? Would you like to see it close-up? We'd love to get you in touch with the owner of this Zook Cabin—or alternatively, one nearby—for your own private tour.
Just follow this link to request a visit: