Log Cabin Homes in Georgia
Buying a new home can be a long, stressful process. Many people get frustrated throughout the process due to various different circumstances.
Enter Zook Cabins.
We are a Log Cabin & Modern Cabin home builder. With a focus on quality structures, honest workmanship, and an overall top-of-the-line customer experience, we have a long list of satisfied Cabin homeowners, and we look forward to welcoming you into the fold.
What can possibly be sweeter than your delicious Georgian sweet tea? Maybe your rights to the creation of the first Coca-Cola or your one-of-a-kind peach pie ? Everything in Georgia seems to have some right to sweetness, from your sweet Vidalia onions to your southern hospitality to your mouthwatering pecan pie. The question is, is it even possible to take the sweetest level of living in Georgia any higher?!
How about this?
Imagine enjoying a slice of fresh peach pie on the front porch of a gorgeous log cabin home! Yes, a log cabin of your very own.
If you have any doubts about owning a log cabin in Georgia, just watch this short video. Soak in the natural splendor of the North Mountains and picture your cabin somewhere close to this magical piece of paradise.
Whether your log cabin home is set close to the North Mountains, or in a favorite location that both you and your family love, one thing is for sure.
Imaginations become reality when you partner with Zook Cabins for your very own Log Cabin Home in Georgia!
Grab a tall glass of sweet tea over ice and enjoy the discovery of some equally sweet log cabin homes!
Why A Zook Cabin Offers You A Real Sweet Deal!
If you have only just heard about a Zook Cabin, your questions, or doubts hold validity. The reality of cabin companies trying to sell cheap or incomplete cabins on the market is unfortunate and inappropriate.
At Zook Cabins, we believe you should know what you will receive when you choose a log cabin home before you even view a single cabin. We understand the value of your hard-earned money and time, which is why you deserve the whole Zook Cabin low down upfront.
With a Zook Cabin, there are no shortcuts!
A Zook Cabin Is
A Quality Built Modular Log Home.
Our modular log home is skillfully crafted in pieces inside our main facility and assembled on-site. Our modular cabins are not manufactured homes. Enjoy putting any concerns to rest by checking out Manufactured Homes vs. Our Amish Built Log Cabins.
High Quality.
We use high-quality and reliable materials from the smallest details such as nails all the way to the wooden logs used to adorn the outside of your log cabin home. And EVERYTHING in between.
State Approved & Inspected.
Georgia welcomes a Zook Cabin with open arms which means our cabins are up to date with all the latest of Georgia's codes and regulations.
100% Customizable.
You have options when it comes to a Zook Cabin. We are not afraid of dreams or big ideas! Bring them on!
Simply Luxurious.
Big or small, our log cabin interiors offer a truly luxurious experience thanks to the intricacy of the wood and stunning layout designs and options. See it for yourself!
A True Time Saver.
Since all our cabins are built inside our manufacturing facility, your dream cabin comes to life A LOT faster than if it was built traditionally, thanks to zero hindrances in the building process. Cheers to saving time and money!
Allow Our Previous Customers' To Speak
Our customers' voice speaks the loudest to the quality of a Zook Cabin. Enjoy taking a moment to view all our customer reviews as well as interesting personal customer stories!
"We did quite a bit of research on log homes before selecting Zook, based on their great floor plans, innovative design features, and excellent customer reviews. Building any home is a long, tedious and stressful exercise, but Matt Albrecht was an absolutely indispensable resource throughout. I had literally hundreds of questions throughout the process, and in each instance, Matt produced the information I was looking for, usually the same day. I can safely say that we would never have been able to bring this process to a conclusion without his help. Massachusetts has some of the most stringent building codes in the country, requiring many hours of custom design modifications, but Zook met every code requirement. These cabins are incredibly efficient and well-insulated, and we expect our total energy costs to heat and cool to be under $100/month. Once the cabin arrived, the setup crew went to work and with amazing speed, assembled our cabin into a little jewel. They work with great precision, even going so far as to caulk every single joint where any air could leak. Our building inspector commented that, in the over 20 modular homes he'd inspected, our Zook cabin was about the strongest and best designed model he had ever seen. The assembly tolerances were so good that when the cabin was set on our foundation, the perimeter of the outer walls never varied more than 1/16″ from the outer foundation walls. As we approach our move-in date, we're very excited to get settled in to our new dream home in the secluded woods of oudr little town. We're very grateful to Zook for making the whole process manageable for us to bring off without the help of a General Contractor."

– Ed A.
Large & Luxurious Log Cabin Homes In Georgia
The Timberline
Are you looking for a spacious log cabin home where you can invite friends and family? The Timberline offers you a second floor with a room and a loft where you can host those special people. Plus, if that is not enough space, how does a 20 ft. vaulted ceiling in the dining room sound? This stunning log cabin offers a perfect space for enjoying the beauty of wood, the presence of loved ones, the best of intricate cabin designs, and of course, your favorite barbeque while watching the Atlantic Falcons!
The Sunset Ridge Cabin
Do you enjoy having everything on one floor? If so, the Sunset Ridge offers you a charming and spacious ranch-style layout. Imagine sitting on that gorgeous front porch eating some boiled peanuts and shooting the breeze! If you are blown away by its mesmerizing exterior, rest assured the beauty continues through the front door. ? See it for yourself!
Little & Comfy Cabins In Georgia
The Sedona
Are you dreaming of a small hunting home base, or a tiny getaway? The Sedona offers you the most economical small cabin, yet still delivers the best of a wooden log cabin experience. Enjoy setting this tiny cabin in your woods or favorite vacation spot. Small and so cozy, the Sedona provides you a space to do what you love the most!
The Plymouth
Imagine this darling wooden cabin at your favorite vacation spot or even as a small residence. The Plymouth offers a stylish and adorable small log cabin with its enchanting dormers. Its 12' pitched roof offers a nice, lofted area. Plus, with its charming front porch, you can enjoy greeting the morning with your favorite cup of coffee and a slice of pecan pie. ? Life inside a log cabin home is very good!
The Catskill
As a spin-off of the Plymouth, the Catskill also offer you a 12' pitched roof with a lofted area, however, the porch designs are very different. The Catskill provides you that cozy porch setting begging you to pull up a rocking chair. Whether you set this rustic beauty in the North Mountains or your ideal location, the Catskill provides you a classic small cabin look and experience. Enjoy!
Zook Modern Cabins Available To All Georgia
Did you know that log cabin homes are ever evolving? Yes! They cannot be kept inside a box. A Zook Modern Cabin proves it! Enjoy combining your favorite modern style without losing the authenticity of wood!
The Homestead
Do you favor the Modern Farmhouse style? If so, the Homestead marries the best of Modern Farmhouse and Modern Mountain into one jaw-dropping cabin home! Enjoy the perfect combo of rustic, chic, contemporary, and country inside the Homestead Modern Cabin Home! Your ideal cabin dreams can indeed come true!
The Woodland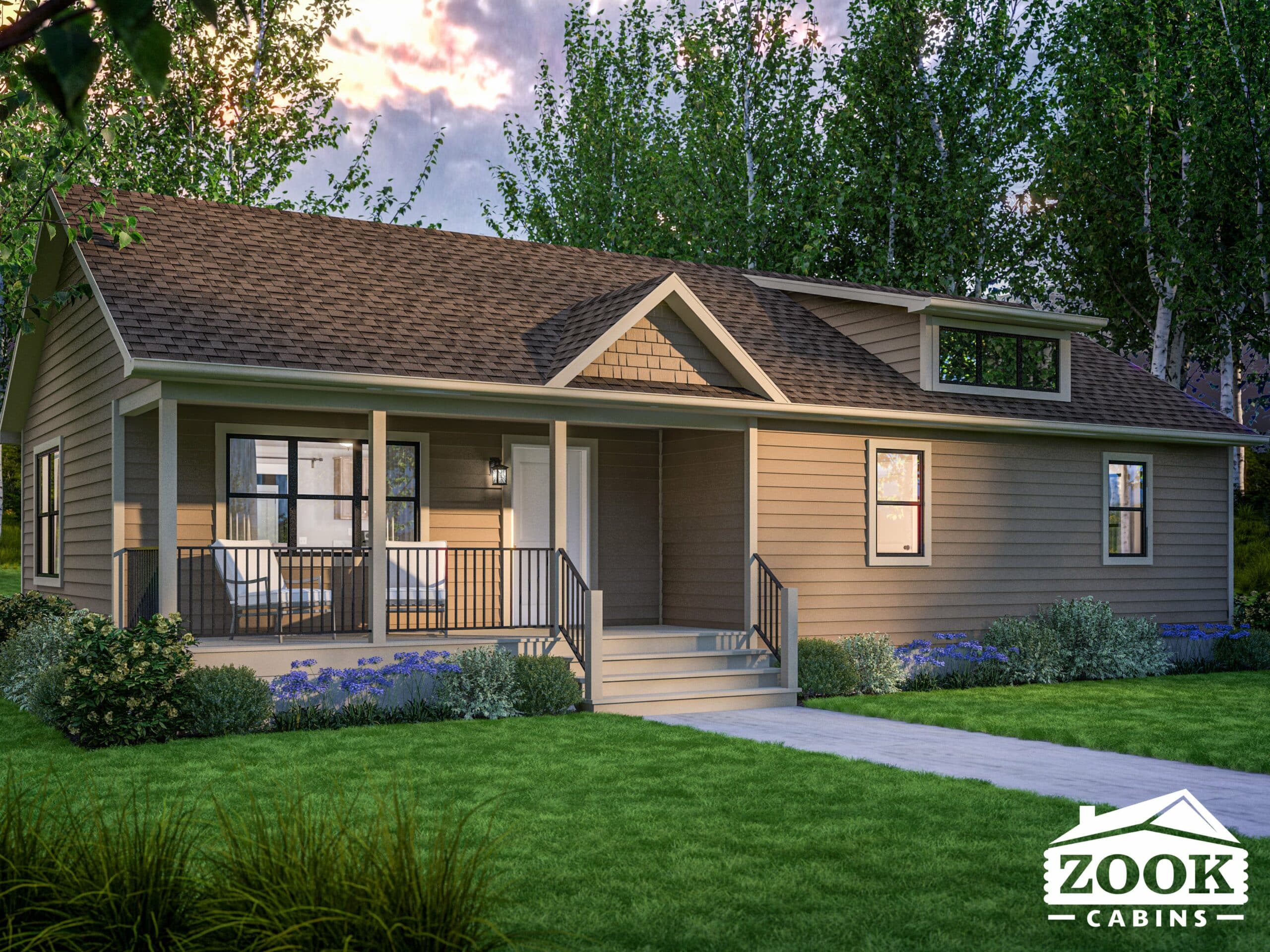 If you love rustic beauty, yet have a stronger taste for modern styles, meet the Woodland. This modern cabin offers you a precise blend of modern design and wooden accents! Nothing like a modern mountain cabin where you can stay true to your ideal style while enjoying the captivating beauty of wood. All this and more awaits inside the Woodland Modern Cabin Home mainly delivers that one-of-a-kind small cabin feel.
Inviting Locations For Your Georgian Log Cabin Home!
If you do not already have a resting location for your dream log cabin home, check out the following hotspot locations and follow the link to discover land available for wooden log cabins.
Basically, if you look for a spot for your log cabin anywhere in Fannin County, located in the North Mountains, you will not be disappointed.
However, all of Georgia is "yours"! Spread your wings and dream big by checking out all the land for sale in Georgia.
Bringing Your Dream Log Cabin Home, HOME!
Do you have any concerns about delivery? If so, check out our delivery page and discover the joy and ease of an incredible day of your life!
Now, are you ready?! Has a particular log cabin or modern cabin caught your attention and your interest?
Your log cabin adventure can begin today! From the very beginning stages of your cabin-buying process to its delivery, Zook Cabins stands ready to equip and to empower you every step of the way.
Your road to a splendid rustic castle will be more "magical" than you might dream!
Remember you are the creative dreamer, Zook Cabins holds the "artistic tools", and together your ideal dream log cabin home in Georgia becomes a reality!