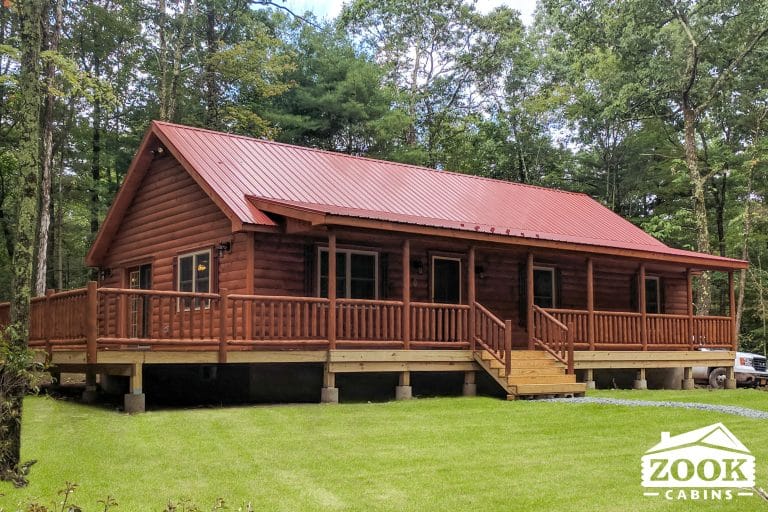 Park Model Cabins
We offer Park Model Cabins for delivery all over the United States. Our prebuilt Park Model Cabins are the perfect option for your campground, retreat center, or weekend getaway spot. All of our Park Models offer around 400 sq ft of living space and come turn-key ready, with a finished-out interior and appliances included. Contact us to see what we have in stock!
Interested in a short-term investment opportunity? Check out why the Park Models are a great investment opportunity.
Prefab Log Cabins
There have been many prefab cabins designed and many new prefab cabin styles that have evolved since the time of the first log cabin! Whether you're searching for something rustic as a getaway cabin or a full-time residence equipped with everything your family needs, a log cabin can make your dream come true.
With an iconic, storybook-like appearance, our log cabins for sale are the most whimsical option for a log home mountain dwelling. Exuding strength, craftsmanship, and rustic grandeur, old meets new in the marriage of age-old grit and modern manufacturing.
Prefab Modern Cabins
The Homestead Modern Farmhouse-style cabin is a beautiful 2-story home that has an attached 2-car garage. With a beautiful white exterior and black-trimmed windows, The Homestead sets itself apart before you ever step foot inside. We also offer the Woodland, which is a modern mountain-style cabin, and the Franklin, which is our newest modern cabin. May we remind you, these are no cabin kits.
Put your neighbors on notice with a Zook Modern Cabin.
Modern Mobile Homes (Coming Soon)
We're bringing the modern themes of our popular park model homes to HUD-certified mobile homes. It's time to redefine affordable living!
Get the comfort and style of tiny home living, in a design that financing lenders recognize and zoning boards can quickly approve. What's not to love?
Prefab Cabins Photo Gallery
Hear what Other Customers Say about Our Cabins
Other Customer Project Stories
Learn More About Our Prefab Cabins
Both the Log Cabins and Modern Cabins styles are comprised of different collections of specific cabin models. Each Cabin collection is available to a specific region of the United States and some of the collections are available Nationwide. Each collection lists the different Cabin models that make up the collection. Under every Cabin model is information specific to the cabin. This information includes photos, floor plans, and pricing with delivery to your zip code.
Over the last 5 years, Zook Cabins has grown by leaps and bounds into the nation's top Prefab Log Cabin retailer. Our Mountaineer Deluxe Log Cabin was featured as the Modular Home Builders Association, Home of the Month in July 2021. We also came in No. 1885 on Inc Magazine's, Inc. 5000 Fastest-Growing Private Companies in America.
All of our Modern Cabin and Log Cabin models are built right here in the United States in our climate-controlled manufacturing facility. Our prefab cabins are built to a superior quality that far surpasses the typical "modular home". Each Prefab Modern Cabin and Prefab Log Cabin is built to bring your family a lifetime of happiness and wonderful memories.
What will your cabin story Be?
"…a moment or two later another branch broke, and they began to realize that they had a little company. His father turned around and turned on the flashlight, and there 30′ from their family campfire stood an unexpected visitor…A BEAR…the perfect example of the memories that can be made and shared at the prefab log home."