Why You Will Love Cabin Living
Cabin living is personal therapy. Whether it's your primary residence or your favorite spot to get away for the weekend, you won't want to leave. The feelings of freedom, love, and laughter are all accelerated when you are spending time in a Log Cabin.
With a Zook Cabin, you are given the ability to enjoy special moments with friends and family while in the comfort of a high-quality Log Cabin home.
Log Cabin Living = True Rejuvenation
Have you ever noticed that after taking some time off, you come back to your everyday routine refreshed, recharged, and fully energized? Your productivity actually increases as you get that time for your body and mind to relax. It is actually healthy to spend time enjoying the activities that you love!
Yes, but perhaps you may be sitting here with raised eyebrows, rolling your eyes…Your time off seems to do the exact opposite. Often you feel the need for a vacation to recover from your vacation.
Precisely why you will love log cabin living! Everything about log cabin living melts away life's stresses. The great outdoors. Fresh air. Remote location. Slow-paced environment. Fresh pine scents. Green. Green. And. More. Green…the list goes on!
All those experiences cascade your innate being with revitalizing inner strength and health. Log cabin living provides this one of a kind living experience. Discover for yourself with the following 5 Reasons Why You Will Love Log Cabin Living!
5 Compelling Reasons Why You Will Love Log Cabin Living
1. Enjoy Miraculous Healing Therapy For Free!
"Take a walk in the trees and smell the wild air. Nature's ability to heal is greater than anyone has allowed you to believe."
The Great Outdoors is a healing balm that unfortunately is not applied often enough. Let's face it, the society we live in lives on coffee, late nights, early mornings, with no days off!
Log Cabin Living offers you the chance to take those daily walks outdoors or sit on your front porch in the early morning soaking up a plate of nature served with all its greenery and good rustic smells. How about a healthier, happier life? Yes! Log cabin living will most definitely keep you going back for seconds, thirds, and more!
When you step into the world of log cabin living, more often than not, you are also stepping back into the best therapy offered by nature, the woods. The woods, with their trees crowned with greens, yellows, reds, and oranges, and their green covered the earth, exude the colors of rejuvenation. In fact according to the Phycology of Design, "Green is a color that can evoke powerful emotions. It is a dominant color in nature that makes you think of growth…renewal, and life. Green evokes a feeling of abundance and is associated with refreshment and peace, rest, and security."
2. Fosters The Enjoyment Of The Simple Things Of Life
Log cabins are jaw-dropping, yet there is a satisfying simplicity that is associated with these stunning rustic beauties. The simple act of sitting in front of a warm woodstove, or crackling fireplace, admiring the intricate wooden walls, and enjoying your favorite cup of coffee provides a space in life where the simple acts bring us the most satisfaction.
Even if your log home is filled with all the modern amenities, it's hard to take away from that simplicity which is etched into the awe-inspiring beauty of a log cabin. It's the simple call of nature that beckons you to enjoy the simple things in life. Minimalism often goes hand in hand with many enjoying log cabin living.
3. Creates A Lot Of Cozy Feelings
Cozy. Restful. Relaxing. Soul satiating. A lot of cozy feelings are experienced with log cabin living. From awaking inside a fortress of wood to curling up on your couch in front of a flickering woodstove, to laughing around the dining room table over a bowl of savory chili, everything inside a log cabin involves cozy feelings.
Whether it's spring or winter, bright greens or falls hues, pattering rain, or fluffy snow, life inside a log cabin feels really good.
4. Funnels Our Focus On Things That Matter Most!
Log cabin living often ties you closer to your most valuable relationships! A log cabin brings family and loved ones together in a special way. Hikes through the woods, boating, playing board games, sitting around the fire roasting marshmallows, relaxing in the open living room, the log cabin funnels our focus on things that matter the most.
Relationships, family, and bonding times spent together.
5. Guarantees A Home On The Range That Last Generations!
Log cabins have been around longer than just Abraham Lincoln! Log cabins hold quite a fascinating history. Log cabin living provides a quality and lasting homestead that can be passed on in your family for generations! If you partner with a reputable log cabin company, your investment in a wooden fortress will leave you with great contentment thanks to the fact that it will be skillfully crafted, and quality built.
Be wary of cabin kits for they often have hidden costs tucked inside along with its limited materials. Rather guarantee your home on the range will last for generations and choose a trusted log cabin company.
Packing The Reasons Into One Irresistible Truth
Log cabin living provides you an experience where connection with nature, family, and inner peace are the side effects of its existence.
Introducing The Log Cabin Of Your Dreams
At Zook Cabins we specialize in providing you with the perfect setting to make these cabin living memories happen. If you are like most people who love the outdoors, you have probably thought at one time or another how great it would be to own a wilderness retreat. Today we can make that dream a reality by providing you with an "outdoorsman's paradise" at a fraction of the cost of today's cabins.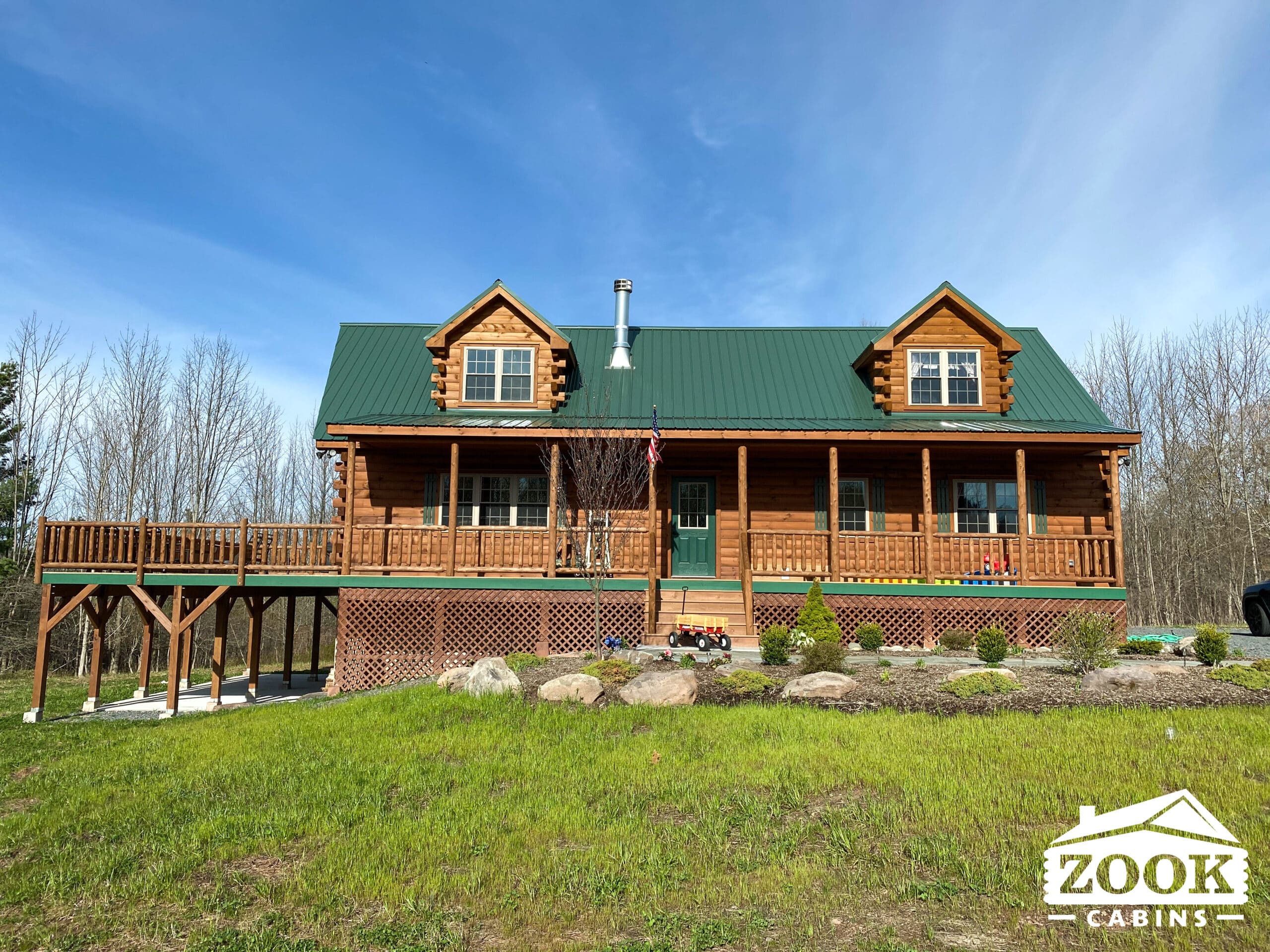 Our fully assembled prefab log cabins are built in Lancaster County by our skilled Amish carpenters with an impeccable reputation for their intricate workmanship and careful attention to every detail. They are obsessed with every detail from beginning to end…never taking any short cuts! Thus, over the years they have developed a reputation for their outstanding work ethic that is second to none!
We take great satisfaction in every building that leaves the shop. That is why the owner personally inspects every building to ensure that each measure up to the exceptionally high standards that we have set, and our customers appreciate.
Discover The Joy Of Owning A Zook Cabin!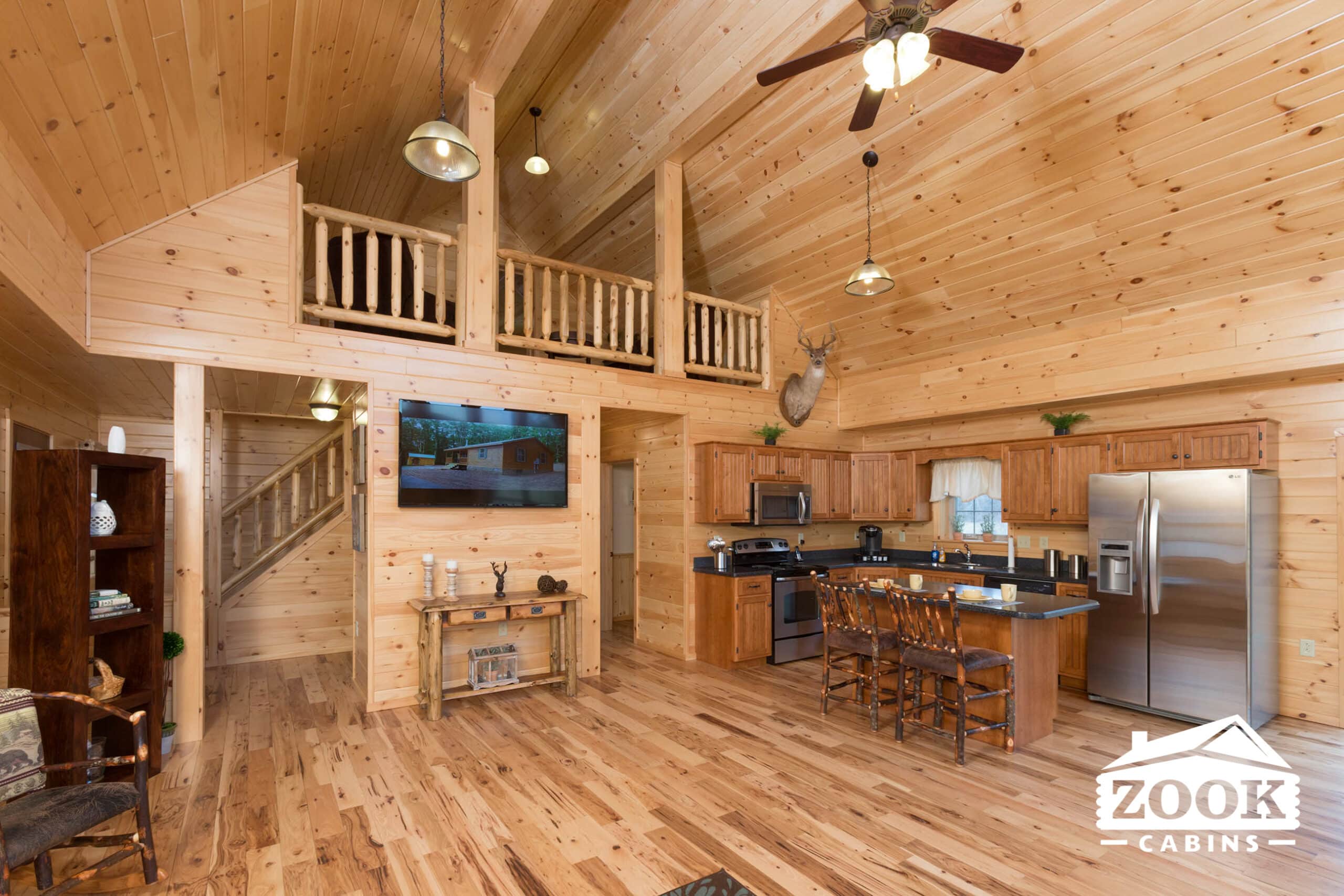 Enjoy hearing the cabin stories of our previous customers like, Gary and Elaina, Fred and Renee, Skip and Linda, and get a taste of what partnering with Zook Cabins can be like!
Our goal is to provide a cabin for you and your family to enjoy and create those log cabin living memories that will last for generations to come!
Go for it! Taste the benefits of log cabin living for yourself. Become a "believer" and discover your dream log cabin today!