Why You Should Consider Park Model Homes in Virginia
If you're someone who loves to experience life, rather than accumulate meaningless possessions a park model is perfect for you, and in a state like Virginia there are plenty of experiences to be had. If you're interested in living the park model life, but aren't sure exactly how, here a few suggestions of ways you can use park model homes in Virginia.
Weekend Getaway: A park model placed near a national park or other attractions can be a great spot to get away from the stress of modern life for a few days.
Short-Term Rental: Airbnb or Vrbo are great places to list a park model as a rental. Airbnb even has a page featuring tiny houses and park models, so your rental will really stand out. Better yet, you can use your park model as a personal weekend getaway, and rent it out when you're not using it. Here's a blog with some great info on how your park model can be a great investment.
Hunting Camp: In Virginia, there are many vast and wild landscapes perfect for hunting. Instead of building a full size cabin, save some money and purchase a park model for a hunting camp.
Permanent Residence: If you want to escape society's constant obsession with accumulating more and doing more, and embrace a more sustainable lifestyle for good, you could opt to make a park model your permanent residence. To live in park model homes in Virginia permanently may require you to do some modifications to your park model to make it suitable for harsh winters, but it absolutely can be done.
Campgrounds: A campground with park models can increase its appeal to a wider variety of people, and ultimately increase the revenue it brings in. Here's an article on why park models are a great idea for campgrounds.
photo credit: Virginia.org
Where Should I Place my Park Model?
Perhaps you've decided that a park model is just what you need, and are planning to purchase but aren't sure what the best location is for park model homes in Virginia. We've compiled a list of several places in Virginia that could be perfect for your park model.
Zook Cabins Park Models: Quality and Peace of Mind
When making a choice about a park model, we know you want quality and peace of mind throughout the experience. Here are just a few things that come with Zook Cabins Park Model Homes in Virginia.
High build quality from the roof to the floor
Built to ANSI A119.5 code, ensuring build quality and ability to use in campgrounds
RV Certified, so you can apply for RV insurance and loans
Customer service second to none
A turn-key product, ready to move-in on the day of delivery
Hear from our Customers!
We purchased 3 park model cabins. Design and quality are top notch. Delivery was a breeze. Highly recommend Zook.
~ John King
Zook Park Model Cabins
The Rockwood is the definition of modern luxury. The clean design styling combined with the open floor plan and large windows create a space where you can enjoy the beauty of the outside world in comfort. It also features a front porch area perfect for enjoying a sunrise with a cup of coffee.
In the Boulder, you'll find timeless beauty, perfect for a hunting lodge, campground, or a weekend getaway in the mountains. The logstack exterior combined with beautiful wood finished interior creates an environment just right for slowing down and unwinding after a stressful week.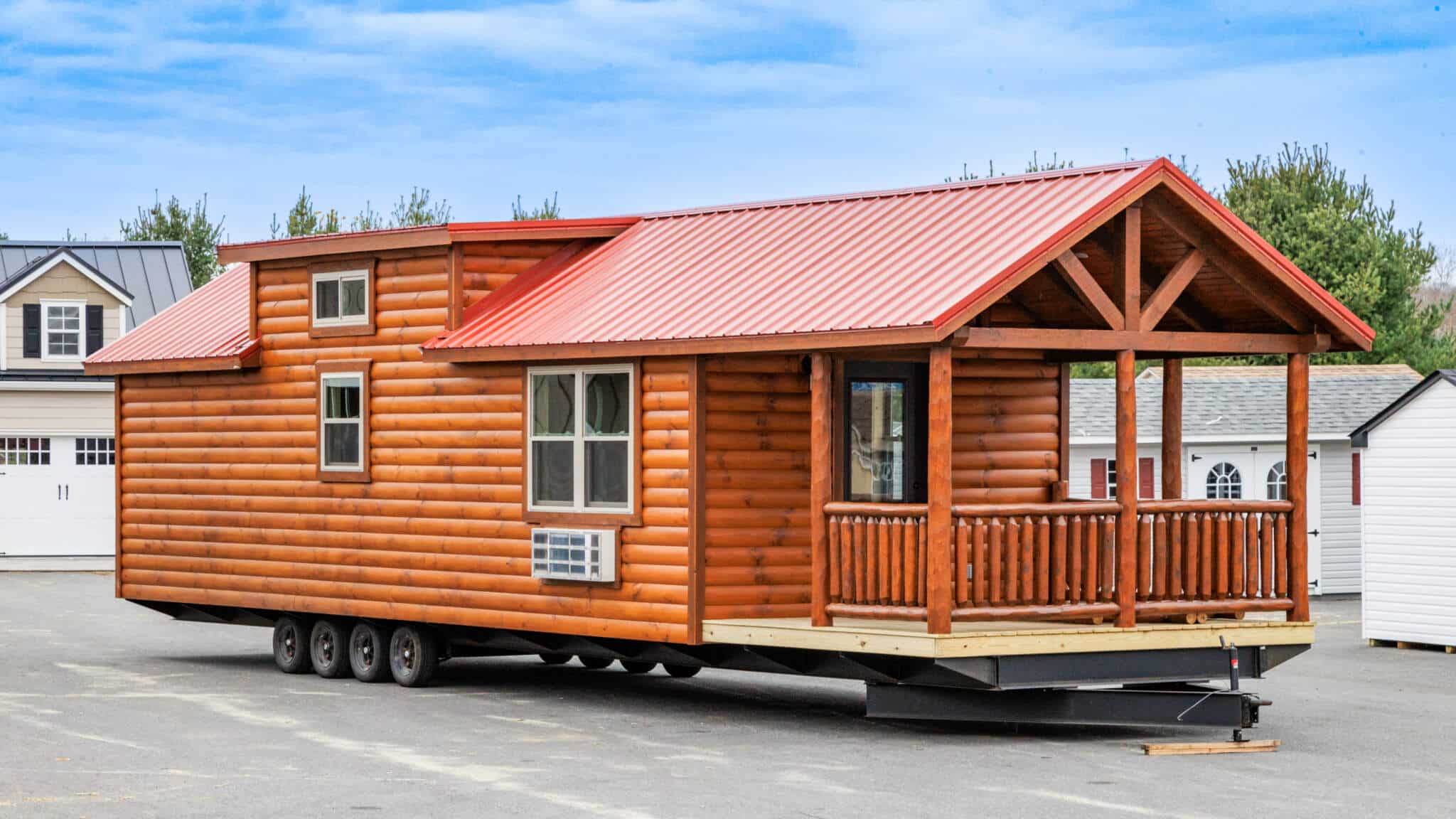 If you want to stand out from the crowd, this is the model for you. The A-frame combines a classic a-frame profile with modern design cues for a truly stunning package. Perfect for a short term rental investment or as a personal vacation home, the A-frame offers an experience you won't forget.
Perhaps you're interested in something a bit bigger than a park model. If so, then check out the other prefab cabins that we offer. At Zook Cabins, we have everything from smaller cottage-style cabins to large modular log homes.
Get Your Park Model Homes in Virginia Today!
If you're in the Virginia area, a park model home could be a perfect weekend destination, short term rental, or campground addition whether you're in the mountains or near the coast. At Zook Cabins, we would love to help you on your park model buying journey. Feel free to reach out to us with any questions, or get a free quote!