It is no doubt your state of New Hampshire deserves deep gratitude! Not only did your state help produce the genius inventor behind the first American alarm clock ( which millions of Americans seem to have an intense love-hate relationship with ?), but did you know… your state also was the first to make it to the moon!
That pretty much lands? your home state of New Hampshire on the top 3 best states in America…literally! See it for yourself, New Hampshire is recognized as the one of the 3 best states to live in America! With your fall forests more vibrant than a rainbow, and your White Mountain views sweeter than pure maple syrup, your gorgeous state truly is worth dying for!
As your state motto goes, Live Free or Die, it is not difficult to understand why you hold such a natural born desire for independence, exploration, and life!
Life in New Hampshire! You have it made! Enjoy this tribute to New Hampshire.
With so many acres of rugged, natural beauty surrounding you, nothing quite pairs so perfectly with such organic splendor than a real wooden log cabin home!
When you partner with Zook Cabins for your New Hampshire log cabin home, not only do you have cabin design options, but you also receive a skillfully crafted abode lasting you generations of use and enjoyment!
Grab a cup of your favorite coffee or hot chocolate, add a few dollops of maple syrup, give it a good stir, sit back and enjoy the discovery of your ideal New Hampshire log cabin home.
What You Get When You Choose a Zook Cabin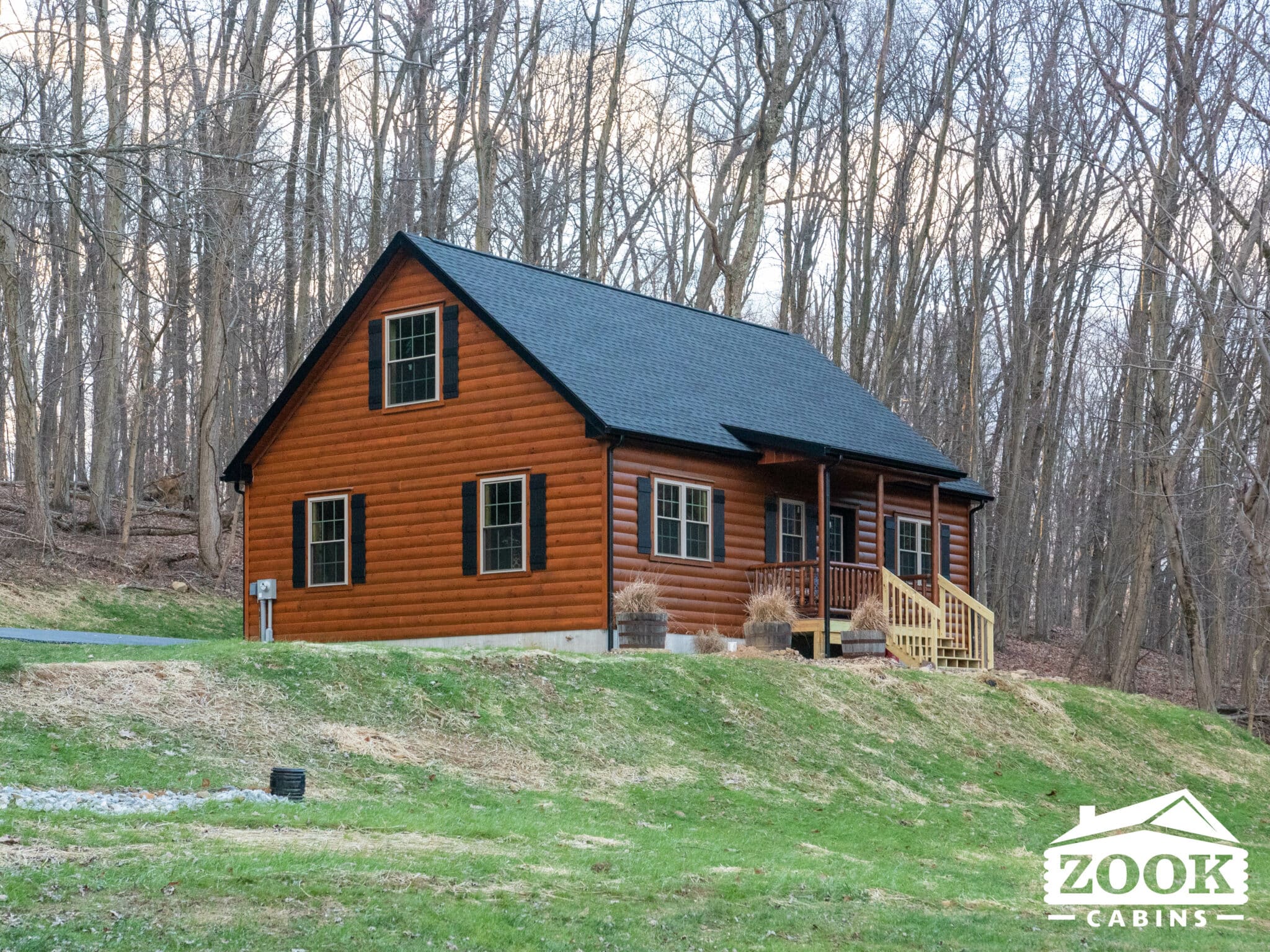 Any cabin is an investment. Money. Your hard-earned money at that. If you have felt stressed, fearful, or overwhelmed by the cabin hunting process up to this point, your frustrations are understood. There are a lot of cabin companies grabbing for your back pocket yet are not crystal clear with what they are and what you will get.
Zook Cabins understands your pure desire to invest your money into the right log cabin. So, without further ado, enjoy a full disclosure of a Zook Cabin!
What You Receive in a Zook Cabin…
A quality built modular log cabin home – Do not confuse modular with manufactured. There is a huge difference! Check it out!
Intricately crafted and built by trained craftsmen and builders – Your log home is in good hands. Several of our builders are Amish and hold craftsmanship skills that are passed down through the generations. Plus, all our builders, Amish, or non-Amish, hold trained craftsmanship skills.
High quality – Cheap and chintzy materials are NEVER used.
State approved and inspected – Our cabins are perfectly legal and up to date with the latest codes and regulations of ANY state.
Completely customizable – Enjoy requesting personal and unique touches to your log cabin. Zook Cabins allows you to dream big with your design.
Lavish – Whether you go with our most intricate or simplest design, you come away with a luxurious cabin.
Time Saver– We build your log cabin inside our building facility which enables us to work rain or shine. Your cabin's construction comes together faster than you might think, which saves you time, your wallet money, and allows you to enjoy cabin living sooner!
In a Nutshell
In a nutshell, there are no hidden strings attached or missing pieces to a Zook Cabin. While cabin kits may surprise you with what all is not inside its kit, you know what you are getting with a Zook Cabin.
Lavish & Large Modular Log Cabin Homes Available in New Hampshire
Mountaineer
If you wish for space inside your gorgeous wooden fortress, the Mountaineer offers you the best match at an economical price! With its full second floor, you can enjoy hosting family, friends, and still, have plenty of room to spare! Plus, this cabin design provides you with an open layout. Enjoy inviting everyone over for a pancake breakfast covered in Atkins Family Maple Syrup!
Musketeer
This wooden beauty offers you a full first-floor layout where you can enjoy gathering around the great room for an evening of games, chatting, or watching the Patriots. Plus, with its steep roof, the snow may fall for days, yet you can sit close to the fire and take a carefree nap, thanks to its excellent snow load rating. Enjoy!
Chalet
If you are dreaming of a cabin close to the White Mountains or by a scenic jaw-dropper, the Chalet has your name written on it. With its high ceilings, stunning vista glass windows, and high-rise deck, you can soak up outdoor scenery to the fullest! With its spacious open layout and loft, you will enjoy a roomy interior. Imagine stepping outside onto your deck at the peak of a morning sunrise or an evening sunset, a cup of your favorite drink in hand, and a cozy chair waiting to give you a front-row seat to awe-inspiring raw beauty. This experience can be yours when you choose the Chalet!
Frontier
As a snugger version of the Musketeer, the Frontier offers you a cozy and comfortable floor plan. This rancher style cabin is perfect for weekend getaways to the mountains. Enjoy gathering around the table in the open great room for some delicious clam chowder and a wonderful time with family or friends.
Small & Cozy Log Cabin Homes in New Hampshire
Plymouth
If your dream log cabin getaway involves a small and cozy space, the Plymouth is yours for the taking! With its 12' pitched roof, you can sleep snugly in the loft or utilize the space to store your skis or hunting gear. Plus, its charming porch offers you a place to sit to welcome the mornings or evenings with family or friends. Lobster rolls never taste better than when eaten on the porch of your very own log cabin!
Catskill
The Catskill oozes a hunting headquarters! With its peaked roof offering a lofted space for sleeping, and a small front porch begging for a rocking chair or king's throne, the Catskill offers a "royal" and rugged abode for the avid hunter and his or her hunting buddies. Whether it is for hunting or a small getaway, or even a minimalistic residence, the Catskill certainly delivers that one-of-a-kind small cabin feel.
Settler
Perhaps you wish for a small cabin feel, yet still wish for "plenty" of living space. The Settler offers you the smallest, yet the most spacious cabin design at the most economical price. The Settler's open and spacious living room is sure to become a favorite spot for laughing with friends or family and of course sharing plenty of delicious food! Can someone please say, Live Free and Eat Poutine!
The Modern Cabin Home in New Hampshire
The Woodland Modern Cabin Home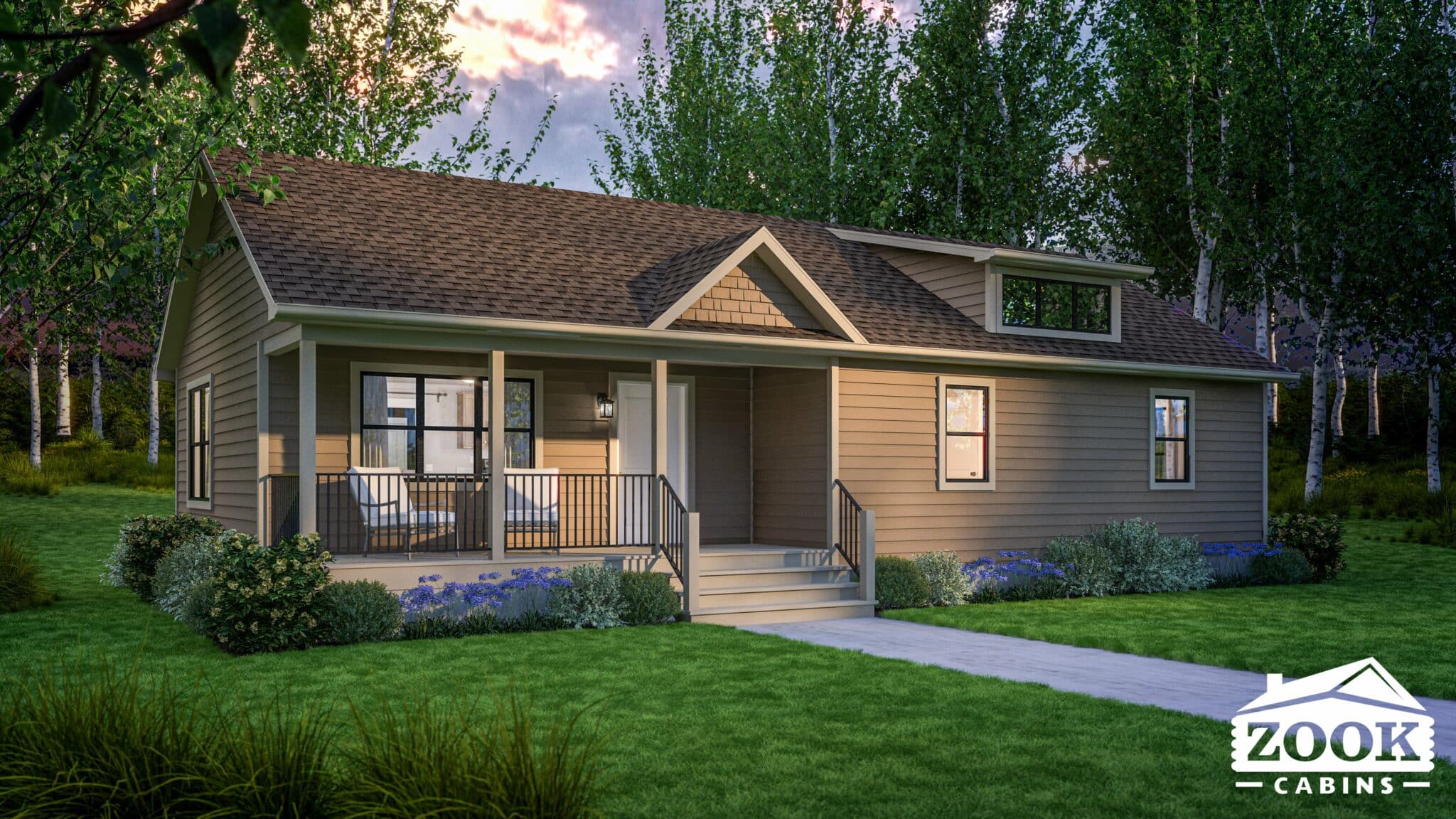 If your style involves more modern grandeur than rustic wooden logs, the Woodland Modern Home is for you. Designed with real wooden lap siding or the popular board and batten siding, your home will be clothed with quality wood, yet retain a highly appealing and modern look! Plus, the interior utilizes wood accents and muted colors offering the perfect bridge between woodsy and modern. The result is simply exquisite.
Ideal Locations for Your New Hampshire Log Cabin Home
The above counties are some of the most popular locations for building log cabin homes. However, dream big and free! You know like a true Granite Stater. ?
View Land for sale in New Hampshire!
Enjoy Receiving the Inside Scoop on the Reliability of a Zook Cabin!
The best way to know whether Zook Cabins are legit, is to hear our customers' reviews. Our customers' voices matter the most and stand as a true testament to our quality of customer service and product. Enjoy viewing all our customer reviews as well as hearing a personal customer story from New Hampshire!
New Hampshire Customer Stories
Musketeer Cabin And Garage In Jefferson, New Hampshire
After owning two other styles of cabins, Paul and Angela were looking for a durable and energy efficient cabin. After spending hours on the website, Paul was eventually convinced that a modular cabin from Zooks was what he wanted in a future log cabin. Initially, his wife Angela was quite skeptical, but after reading various articles and viewing countless pictures on the website, they decided to visit the cabins on site in person. Since that day, they have been making countless memories in their dream log cabin in Jefferson, New Hampshire.
Are You Ready?
If you are ready to embark on a cabin adventure that will truly last you a lifetime and beyond, Zook Cabins is ready to empower you every step of the way!
If you discovered your dream cabin, no need to wait any longer! Begin the process today and enjoy the delightful journey to owning your very own log cabin home in New Hampshire!
Partner With Us!
At zook cabins, and we will ensure your utmost satisfaction in a log cabin that is right for you! Our cabins are 100% customizable so dream big! Zook cabins are ready to fulfill your cabin dreams! You are welcomed to contact us with any and all questions!