Get a Prefab Cabin in Tennessee
Whether you enjoy country music or savor moons pies washed down with an RC, why not relish either, or better, both, in the comfort of a cozy, custom made modular log home. Just because Tennessee happens to be bordered by 8 states doesn't mean that your prefab cabin needs to be surrounded by anything, but your favorite outdoor scenes. Thankfully, Tennessee offers magnificent outdoor experiences and personal space, which is why investing in a prefab log cabin should be music to your ears. As Dolly Parton once sang… "In my Tennessee mountain home…life is as peaceful as a baby's sigh."
Our dream cabins in Tennessee combine all the natural beauty and tranquility you'll need to sleep peacefully every night. Our cabins will undoubtedly bring a sigh to your lips once you experience the ease and stress-free enjoyment of partnering with us at Zook's Cabins. Making your log cabin dream come true can really be as easy as "moon pie" and just as sweet.
Take a moment to browse our cabin gallery and view some of our beautiful, custom made prefab cabins.
In the meantime, let's talk cabins in Tennessee and hopefully touch on possible hurdles that are keeping you on the fence about what to do with your cabin, doubts regarding the investment, and its location.
What Are You Looking For A Prefab Cabin In Tennessee?
First, the fact that you live in Tennessee should put a smile on your face. Tennessee, especially certain parts of the state, such as east Tennessee, are known for their very low taxes, low cost of living, and low crime rate. The weather and seasons are versatile. There is a saying in East Tennessee that goes, "If you don't like the weather in East Tennessee, just wait 24 hours." Also, it's possible you are considering a move to this lovely state or searching for a perfect yearly vacation spot, if so, look no further! Tennessee, and particularly East Tennessee, is the answer for you.
A Tennessee prefab cabin offers you a range of possibilities for its actual function. The question is…which is the right one for you? Your log cabin can be used for a vacation home, future retirement home, permanent residency, or as a rental cabin. Let's look at the perks of each, all the while, keeping in mind that the beauty of a log cabin is that it isn't limited to just one function, cabins offer multiple uses.
Vacation In Prefab Cabins In Tennessee
Vacations are an essential part of our busy lives. We all could use a home away from home. Vacationing in a log cabin and particularly a Zook's Log Cabin is designed to be low maintenance. So, if you are only vacationing annually, bi-annually, or more, you won't need to spend most of your vacation time fixing up your cabin. Tennessee is a great place to vacation with its wide variety of fun, history, music, food, and outdoor opportunities. A vacation log cabin, with its natural wood and rustic beauty, offers you a therapeutic spot to recharge amid your busy life schedule.
Retire In A Tennessee Cabin
Years of hard work and labor are not in vain. Retirement is often the gold at the end of the rainbow for many hard-working people. The benefit of making your retirement home a log cabin is that it helps you save money. The startup cost along with decreased energy bills, and low maintenance help you get the most for your hard-earned savings. Prefab cabins in Tennessee are a worthwhile, long-term investment because of their resilient durability and because they can be passed down to your children and grandchildren. The wisdom that comes with age allows you to realize and value the simple things in life and log cabins allow you to relish the simple beauty and tranquility of nature.
Live In A Tennessee Cabin
Who says you must leave your log cabin at all? Owning a prefab log cabin as your personal residence is a win-win situation. Not only do you enjoy the beauty and comfort of a cabin, but your modular log home has a higher rate of appreciation compared to traditional houses. This advantage allows you to have a higher resale value. This is great news especially if you plan to downsize or desire to own an investment property later.
Lease Prefab Cabins In Tennessee
Vacation rentals make a great option for your log cabin, especially if you are considering ways to pay off your mortgage while occasionally vacationing there yourself or waiting to retire in it. East Tennessee is a hot spot for out of state tourists so investing in a cabin around this geographical location will certainly pay off. This is especially significant as there has been a recent rise in log cabin popularity.
So, whether you're looking for a place to vacation, retire, live, or rent out, our prefab cabins in Tennessee will more than satisfy your expectations. Enjoy listening to this happy customer shares his experience with Zook's Cabins.
If you partner with Zook's Cabins, you are sure to share in this same satisfaction. Take a moment to read what other satisfied and happy customers have to say about their prefab cabins.
Prefab Cabins In The Great Smoky Mountains
Now that you have decided on the function of your modular log home, it's time to consider where you would like your log cabin built. It is no secret that the gem of Tennessee is the Smoky Mountains. The Smoky Mountains stand proudly as the main attraction of Eastern Tennessee. It's no wonder why East Tennessee is considered the #1 destination for people dreaming of owning a log cabin. Some of the best locations surrounding the Smoky Mountains are Gatlinburg, Pigeon Forge, Townsend, Sevierville, Nashville, Chattanooga, and Cosby. Living near these locations offers you the best of all worlds with easy access to great shopping, attractions, music, food, and all the outdoor luxuries of the Smokies.
Check out these beautiful plots of land available for sale by Remax Adventure Realty.
It's possible you already live near the Smoky Mountains and it's been your dream to add a rustic living space to your backyard or woods. Whatever your situation may be and wherever in Tennessee you wish for a modular log home, Zook's Cabins are fully equipped to come alongside you in making your rustic dreams come true.
Now let's view some of our best prefab cabins and take one step closer to becoming a confident mountain dweller!
Prefab Cabins, Built For Tennessee
The Musketeer Prefab Cabin
This prefab log cabin is a real Tennessee beauty, with a full first-floor layout and a steep pitch roof. A bonus with the Musketeer is the extra storage space it allows because of its high exterior profile. This wonderful log cabin is a perfect fit for a gorgeous vacation home in the mountains or in your own backyard.
The Mountaineer Prefab Cabin
The Mountaineer is great for space with its two-stories and wide, inviting porch. This is a cabin that calls the whole family to the mountains and is sure to leave no one behind. You will surely enjoy this family cabin to the fullest as well as the beautiful outdoors that will beckon even more with such a charming front porch.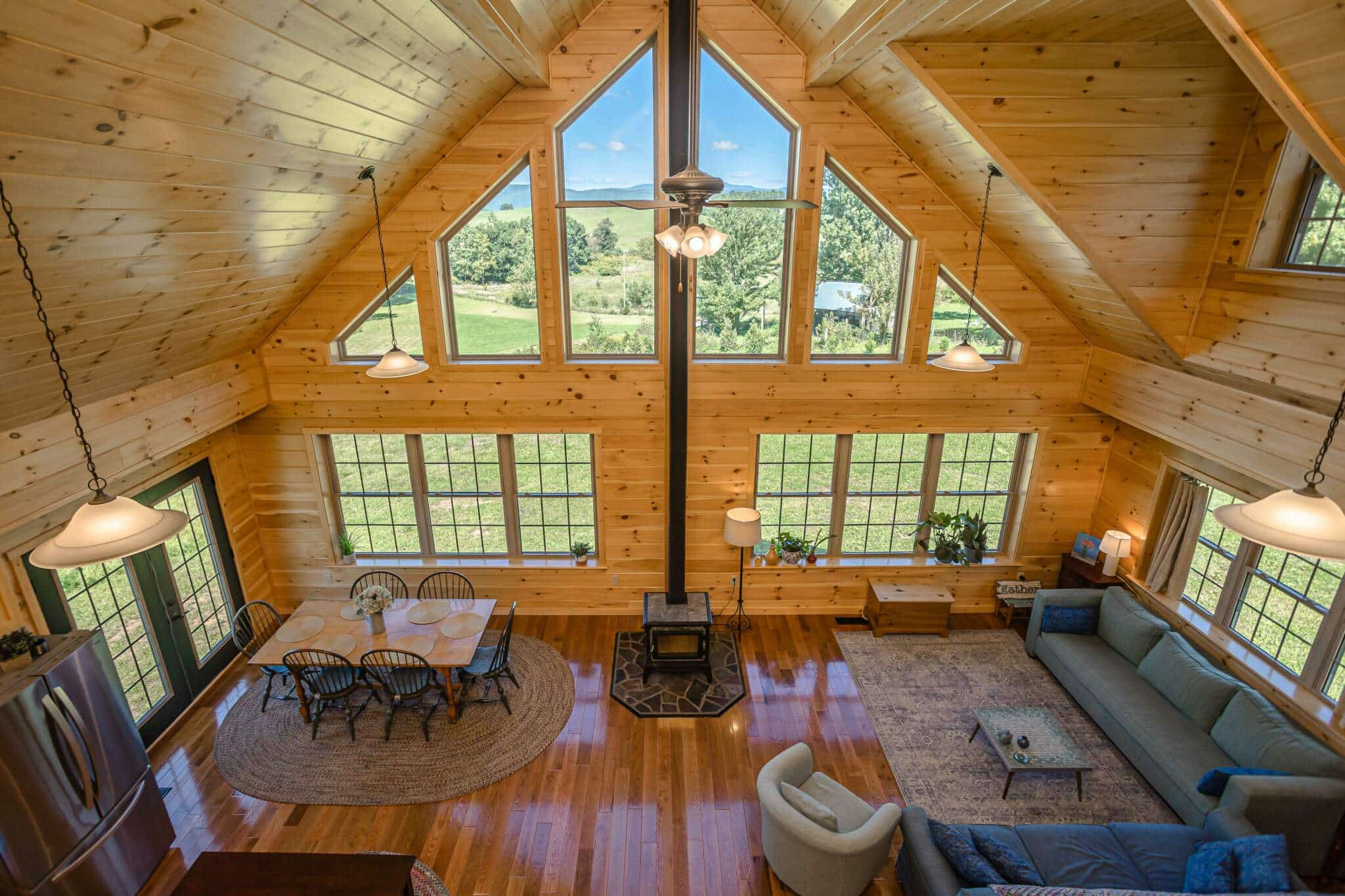 The Chalet Prefab Cabin
Wow, this prefab cabin is raising the roof with its stunning glass windows. If you enjoy natural sunlight, you will be able to soak up the sun like never before in this beautiful log cabin. The Chalet also comes with an appealing deck where you can enjoy the sun to its fullest during the day or watch the sun set in the evening. This natural beauty is sure to draw the admiration of all your friends and neighbors. This is a perfect choice for a cheerful and spacious place to retire.
The Frontier Prefab Cabin

This homey prefab cabin is spacious and offers you a cozy side porch to enjoy your morning cup of coffee. Invite all your friends and family over for some hot chicken and enjoy the great space that the Frontier accommodates. The Frontier will suit your fancy for either a permanent residency or rental property.


Park Model Homes
Even though they look like a small cabin, Park Model Homes are officially classed as RV's giving you more flexibility than with a standard cabin and they fit right into the tiny home trend. They even give you a bit more space than most other tiny homes. Our Park Model Homes in Tennessee are an ideal choose for anything from a guest or vacation home, or as a short-term investment as a vacation rental with airbnb.
Wait, There Is More!
Maybe you are looking for something smaller or even bigger than the prefab cabins featured above. Great news! At Zook's Cabins, we have even more options, bigger and smaller, and each cabin is 100% customizable. Enjoy viewing our cabin designs for yourself and keep in mind that your dream Tennessee modular log home can become a reality! When you partner with us at Zook's Cabins, we empower you to create or choose your beautiful home or getaway and ensure you a pleasant building process.
We Welcome You To Join Us In Making Your Dream Prefab Cabin Come True!