Log Cabins & Park Model Homes in Northern Georgia
Are you looking for a Cabin Home or Park Model Home for your Northern Georgia property?
Zook Cabins is a prefab and modular Home builder that services the north Georgia region. Built on strong family values and customer relationships in mind, we are ready to assist you with your cabin home purchase that will provide value to your property and the greater community.
Feel free to reach out to us with any questions you might have about our Log and Modern Cabins.
Why Choose Zook Cabins For Your Prefab Home In Northern Georgia?
Completely Customizable – We can take your ideas, combine them with our prefab log cabin models, and customize a floor plan that best suits your needs.
Save Time – At Zook Cabins we prebuild your cabin in our manufacturing facility to save you time and money. We will then deliver your Prefab Home in Northern Georgia.
State-approved & Inspected – Our modular home builder's license means that all of the inspections necessary for our modular log cabins are already done. You will not have to have a local inspector go through your building and inspect your framing, plumbing, and wiring. The only thing your local inspector will need to inspect will be your foundation and the attachment of your building to the foundation.
High Quality – We strive to use the finest materials and hire excellent Amish carpenters to build each of our log cabin modular homes. You will be impressed with the quality that these log cabin modular homes have to offer.
Move in Within a Year- Rather than waiting for a traditional builder to complete your new log cabin home over the course of the next 2 years, choose a Zook Cabins and enjoy your Log Cabin within a year.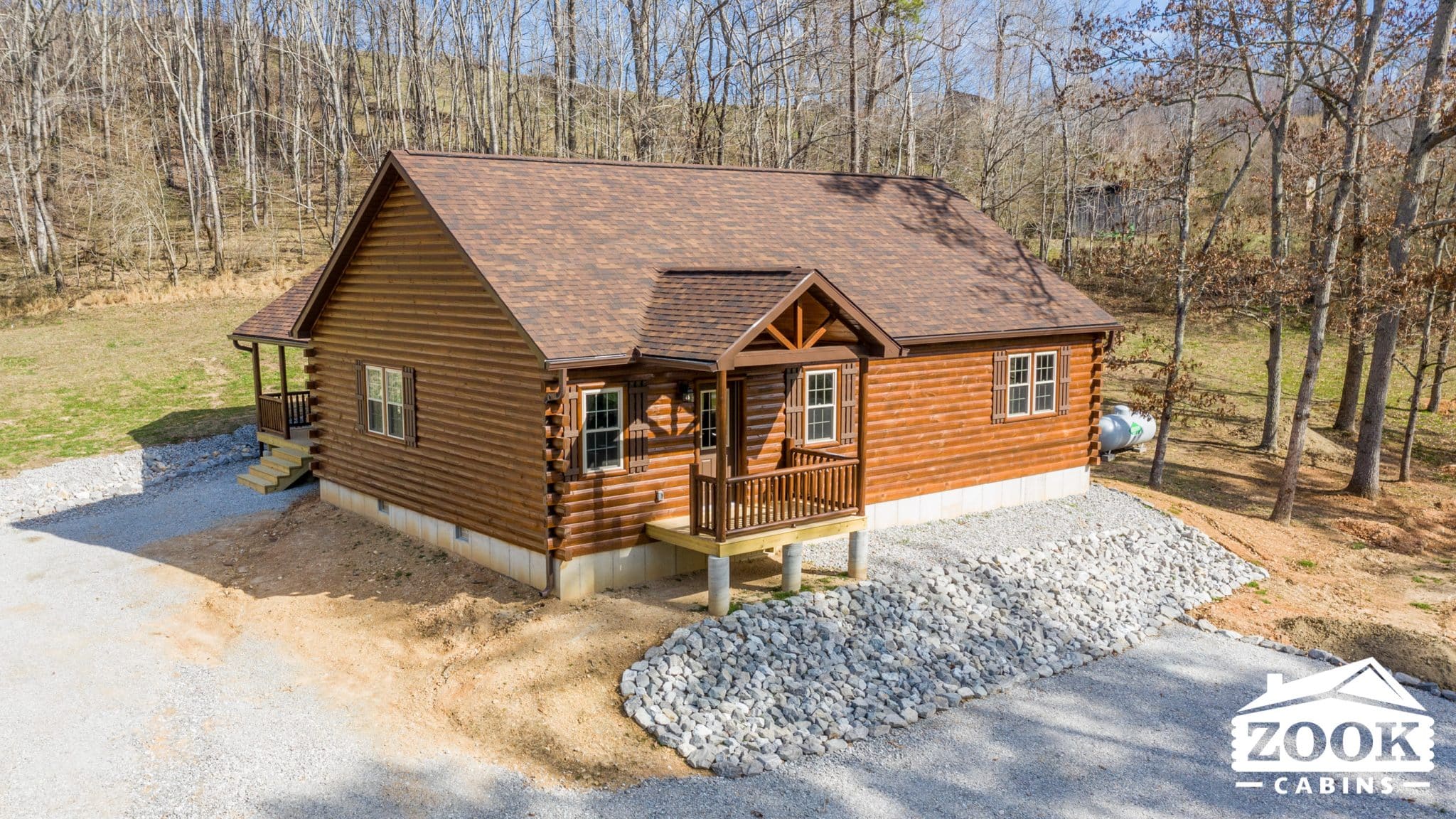 The Mountain Home Collection
Timberline Log Cabin
The Timberline Modular Log Cabin model is a prized gem that was designed for those breathtaking mountainous peaks. Depending on the layout, the Timberline Cabin provides anywhere from 1,172 to 2,346 square feet of living area and features a spacious two-story front room that adds a sense of awe to your cabin layout. Check out the Timberline Cabin today.
Sunset Ridge Log Cabin
The majestic beauty of the Timber Frame gable porch is sure to seize your attention. You quickly realize that this Log Cabin redefines what you thought of a modular log home. The Sunset Ridge Log Home exuberates high-quality craftsmanship through its immaculate exterior finish and superior attention to detail. The Sunset Ridge is ideal as a home to retire in or a smaller cabin to get away to for the weekend.
Canyon Lodge Cabin
This is our first log cabin home that comes with a full second floor and a large vaulted ceiling great room complete with the beautiful vista glass. The Canyon Lodge checks all the boxes when it comes to aesthetic appeal with the large gable porch, a-frame dormers, and a prowl roof on the great room part of the Lodge. The Canyon Lodge takes "modular cabin" to the next level.
Glacier Log Cabin
The Glacier Log Cabin comes standard with a half loft. The other half of the Glacier is a vaulted ceiling that expands above the great room and has the large vista glass on the gable end. This allows for a substantial amount of natural light to pour into the living room/ kitchen area, creating a large open feel that is a perfect space for family and friends to gather. Check out the Glacier today.
Park Model Cabins In Georgia
Park Model Log Cabins
The collection of Park Models includes a variety of cabins that are no bigger than 400 sq. ft. and are built directly onto a trailer that can be pulled by a pickup or semi. Like our other cabin collections, we have plenty of different styles and floor plans to choose from. The Park Model cabins are the perfect addition to any RV Park or Mountain property. Check out our Park Models for more information and pricing.
The Modern Cabins
Are you unsure of having a Log Cabin for your permanent residence or vacation home? Luckily we have added some high-quality alternatives for you to think about. Built with the same superior quality as our Log Cabins, the Modern Cabins offer a unique contemporary design and style that is simply irresistible. Check out our Modern Cabin collection today!
Log Cabins Gallery
The Zook Cabin Process In Georgia
Are you interested in one of our Cabin Homes for your Georgia property? Feel free to give us a call if you have any questions with any of our Cabin models, we look forward to working with you and adding value to your property and community.
1. Request a Quote – Fill out our quote form and a Zook Cabins representative will contact you, to clarify or change any selections you made while filling out the quote form. You can also contact us if you have any questions about Zook Cabins.
2. Design – You have the luxury of working with a well-experienced Log Cabin designer to achieve the Log Cabin home you have been dreaming of. Our Log Cabin designer will step you through the design and architectural process.
3. Site Preparation – Preparing your property for the installation of your Log Cabin is not something we do for you. We do give you a detailed checklist of what all the site preparation will entail (View our Site Preparation page). With helpful hints and a Zook Cabins team that is always here to answer all your questions, preparing your property won't look so big after all.
4. We Build and Inspect It – You can have the confidence that your Zook Cabin is built to the highest quality. Our Amish craftsmen are highly experienced and very efficient in Log Cabin building. We build all of our log cabin modular homes in the controlled environment of our shop and throughout the course of the build, a third-party inspector comes in to inspect the various components of each build. This allows us to provide you with a building that meets all state and local building requirements. When the building arrives at your location, all the inspections for the building itself are complete. Local inspectors will have to check your site foundation and the connection of your log cabin to the foundation before it can be considered ready to move in.
5. Delivery – Show up and watch the finishing touches being put on your Log Cabin. Whether we are installing your cabin to the prepared foundation or we are adding the porch to your Cabin, this is a stress-free process for you. Within approximately 2 weeks of the delivery of your Log Cabin, you can move in!
Get To Know Your Zook Cabins Salesman
Name: Leon Fisher
Job Description: Southern & Western Regional Sales Representative
What I love most about my job: What I love most about my job: I love working with people and helping them turn their Log Cabin dream into a reality. The team integrity and culture at Zook Cabins is irreplaceable.
Favorite things I do personally: Family is very important to me, and I love spending time with my wife and son. I enjoy serving my community as a volunteer Firefighter/EMT in Lancaster County, PA. I also enjoy hunting and fishing in my spare time. I'm counting down the days until my son can enjoy the great outdoors with me.
About Zook Cabin's
Zook Cabins is a family-owned and operated business that is intent on putting you, our customer, first. For 15+ years now we have been building prefab, Modular Log Cabins. We are very intent on making the Log Cabin buying experience a smooth and joyful experience. While originally starting in Pennsylvania we are aggressively expanding our reach across the United States. With quality core values, stellar customer service, and a valued reputation, Zook Cabins is the perfect Amish cabin builder you are looking for to build your dream log cabin!