The Best Log Cabin Homes In Wyoming
You may be considering manufactured log cabins or cabin kits, but before you go down either of those roads, it is important to recognize that neither of those options guarantees your full satisfaction. There are significant distinctions between our Amish made log cabins and manufactured log cabins. Consider the distinctions for yourself. Our log cabins offer the best of both worlds in quality, efficiency, and long-term investment. Below are several enjoyable descriptions of a few of our large and small modular cabins along with links to more detailed information about each unique log cabin's floor plan and pricing.
Spacious Modular Cabins For Wyoming
You get to go big AND go home with much less investment than you might expect if you choose any of these premier-line, large prefab log cabins we have available for delivery to your Wyoming property. Explore the various spacious options, or keep scrolling for smaller cabins and recommendations of where to buy land in Wyoming.
Modular Log Cabins in Wyoming
The Timberline Cabin
Looking for a spacious, permanent prebuilt log cabin home? Or maybe you can enjoy a luxury vacation residence, either way, this stunning cabin can fulfill any of your needs. It is spacious, open, and provides abundant natural lighting with its standard Vista Glass package, and its high 18' ceilings create spectacular beauty in the main living area. Enjoy your family, the sunshine, and some deep-fried Oreos all in the same spacious living area.
The Sunset Ridge Cabin
Enjoy Wyoming's breathtaking sunsets on this cozy side porch. The Sunset Ridge prefab cabin's ranch-style layout offers not just a side porch, but a spacious living area as well. This cabin makes for a great family vacation spot in the mountains. This beautiful log home is a head-turner. Your neighbors will drive those extra hours just to catch a glance at this beauty.
The Woodland Modern Cabin
Do you love the Cabin vibes but are not in the mood for wood in the Log Cabins? That is fine. Enter the Woodland Modern Cabin, this is a beautiful ranch-style Cabin with a modern twist. The Woodland incorporates the perfect amount of wood accents with the common contemporary style. Check out the Woodland Cabin today.
Check Out What Happy Customers Have To Say About Their Zook Cabin!
"Our dream of owning a log cabin home has now been realized thanks to everyone at Zook Cabins. Our Chalet style log cabin could not have come out any more perfect. The quality and woodwork are flawless and absolutely gorgeous. From the very beginning of the process, Matt was super helpful in getting us started and so easy to communicate with. We got the custom plans we wanted down to the little details and everything was built and ready for delivery in less than 3 months. Levi and the guys on site were so helpful and even went out of their way to salt our street after a snowfall to make sure everything went right with the delivery! We even received a little cabin-themed housewarming gift box. Thanks again, we can't wait to spend the years ahead in our amazing new home!"
Smaller Log Cabin Homes In Wyoming
If what you have in mind is a much smaller lodging, or you'd like to pepper your resort investment with cabin rental lodges, these mini cabins may be just the thing you're needing for that Wyoming property.
There Are More Log Cabins!
You might not have found your ideal cabin yet. For instance, maybe you want a cabin as big as the Glacier Log Cabin, yet with more rooms instead of a large open area. In that case, the Canyon Lodge Log Cabin—with its full second floor—will suit your needs! Enjoy a full view of all our log cabin homes and be aware of all the log cabin options made available to you by Zook's Cabins in Wyoming.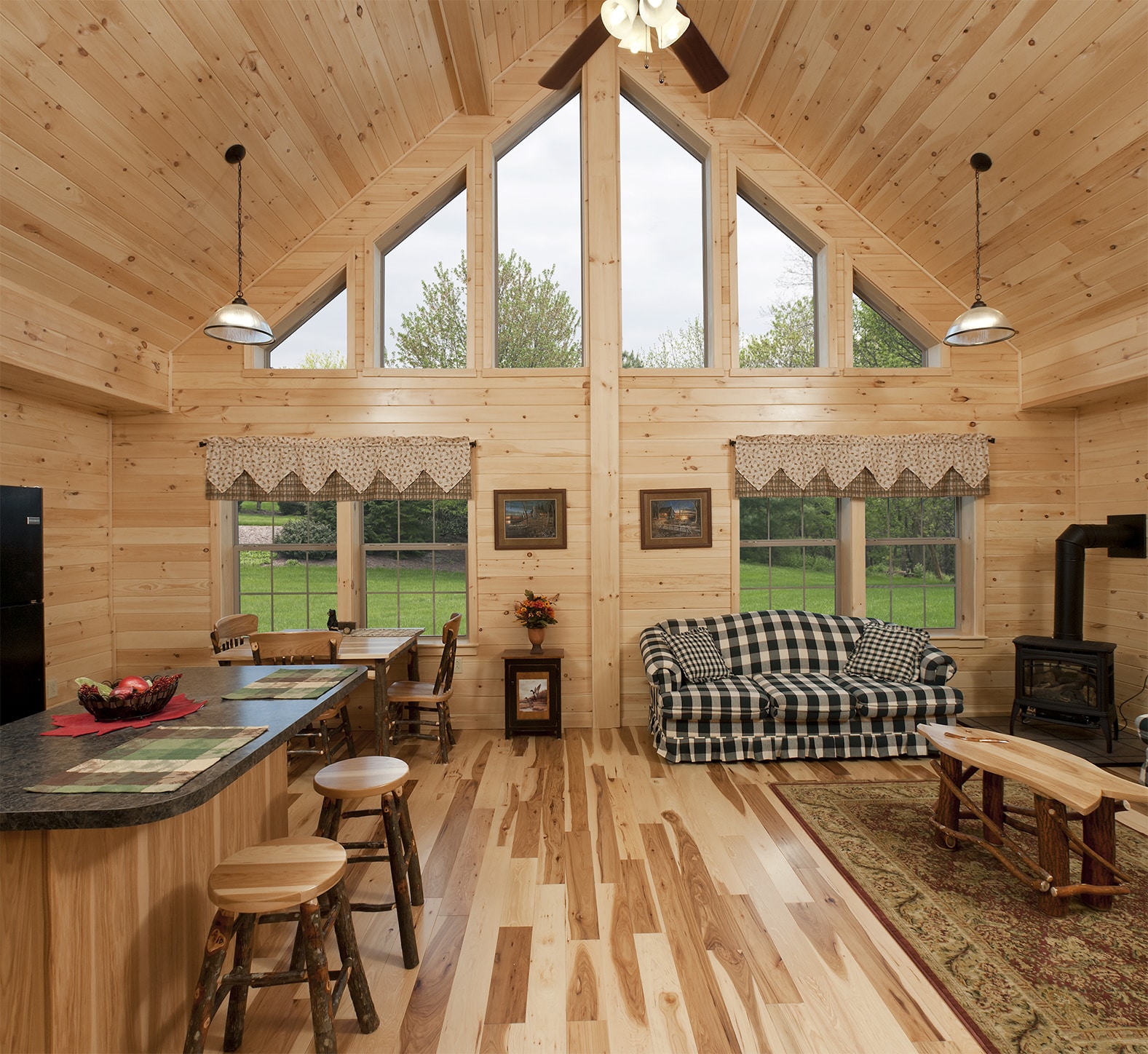 Delivery Process Of Your Mountain Cabin
It is always reassuring to know what your delivery options are and what to expect with the delivery process. We deliver log homes all over the Magnificent state of Wyoming. Below are the pertinent delivery details you can expect in the process of your modular cabin delivery.
Our cabin package's price includes the delivery and installation of your new log home.
Your cabin will arrive onsite fully assembled and transported by a trailer.
Depending on the size of your cabin, a crane's assistance will be necessary.
Our drivers are excellent at navigating small spaces, but depending on your location's surrounding logistics, site preparation along with a photo will help ensure a seamless delivery.
For the full delivery details of your log cabin's delivery and onsite preparation read, Our Delivery Details. You can also check out this Mountaineer Cabin being installed below.
Best Places To Buy Land In Wyoming
The Wyoming landscape showcases diversity with its western two-thirds adorned with mountains and its eastern third with elevated prairies (High Plains). So, depending which you prefer, the mountains or the prairies, consider these ideal locations to buy land for your log cabin. Follow the county's link to view available plots of land for sale.
Check out this Landio Video showcasing a gorgeous available property in Carbon County. Imagine what your hunting, vacation, or investment property would be like with a similar find paired with one of our incredibly beautiful, durable, and cost-effective prefab log cabins in Wyoming!
Partner With Us!
At zook cabins, and we will ensure your utmost satisfaction in a log cabin that is right for you! Our cabins are 100% customizable so dream big! Zook cabins are ready to fulfill your cabin dreams! You are welcomed to contact us with any and all questions!