Log Cabin Homes in Kentucky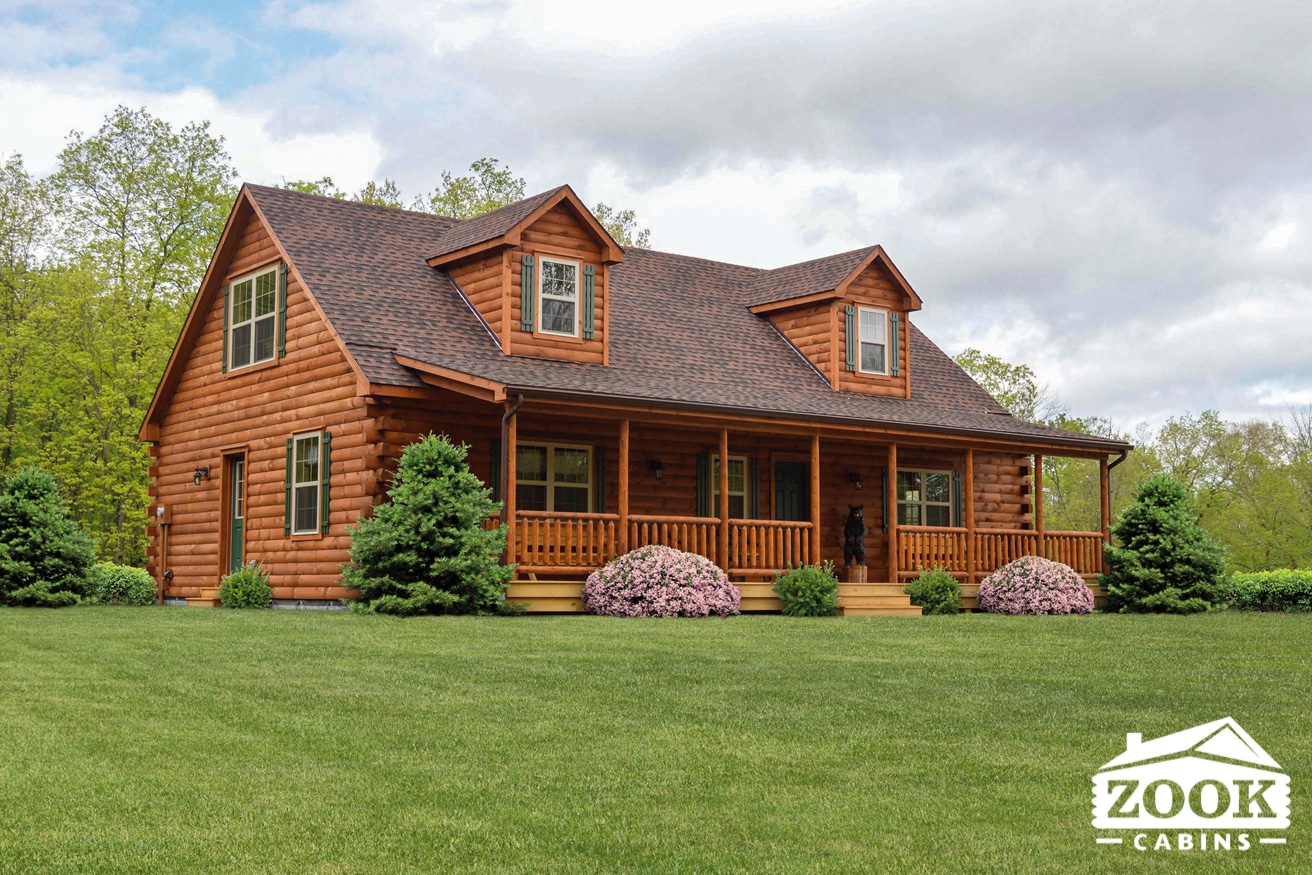 As a Kentuckian, you appreciate quality because you are surrounded by it. From excellent racing horses, to bourbon, trophy hunting deer, and natural hardwood, quality is etched into each experience.
That's why you should expect an exceptional experience in a log cabin home. Welcome home—to a Zook Cabin!
Benefits Of Choosing A Zook's Log Cabin Home
At Zook's Cabins, we offer top of the line quality built in every inch of wood and minute of time we invest in each log cabin.
Some of the outstanding aspects of partnering with us at Zook's Cabins are the following:
Your log cabin home is completely customizable! We are here to make your dream log cabin come true.
Choosing one of our cabins will save you time. Your log cabin home will arrive a few weeks after you finalize your choice and purchase.
Saves you extra hassle. We are state-approved and inspected. The only reason to contact your local inspector is for the inspection of your foundation and the attachment of the foundation.
Free delivery and crane usage is always a part of the package.
Want more information about the benefits and the process of choosing one of our log cabin homes? Enjoy our blog on Prefab Cabins and Log Cabin Modular Homes. This blog will walk you through the steps that you will go through in the process of making one of Zook's Cabin's log homes your very own.
The Kentucky Log Cabin-Home Legacy
Log cabin homes aren't a new concept to most living in Kentucky, in fact, there is a long history of these cozy, wooden fortresses. Many in Kentucky are proud of their Kentucky-born Abraham Lincoln, and his famous, family-owned, Lincoln Log Home. Of course, log cabin homes have evolved quite a bit since the days of good ole Abe, but the durability and enduring beauty of these homes have not changed.
You may have already purchased your land and just been waiting for the right time to add a beautiful rustic living space to complete it. Or you've been searching the Kentucky frontier for the perfect spot to add your log cabin home. Below are some considerations and recommendations for your new log cabin home location.
Considerations For Your Ideal Log Cabin Location
A. Hunting Grounds
In Kentucky, hunting is a big deal. It is no surprise that with a deer population up to 1,000,000 and 7 hunters per square mile, hunting matters to most Kentuckians. If you are one of those avid hunters, then you will want your log cabin home built in the best hunting region in the state.
So Where Are The Best Locations In The State For Deer Hunting?
#1. Blue Grass Region
Some of the best counties in this region for hunting include Pendleton, Shelby, Grant, and Boone.
#2. Green River Region
If you are hoping to bring home a buck, Hopkins, Hardin, Hart, Webster and Breckinridge counties offer you the best chance. The Green River Region is recognized as a trophy buck host area and its best counties for trophy bucks are Ohio, Logan, Hopkins, and Todd.
#3. Purchase Region
Christian, Graves, Trigg, Livingston, and Crittenden counties are the best for hunting, with Crittenden holding a recent history of the best buck bagging success for this region.
B. Lakefront Spots
You may enjoy the beauty and tranquility of water, if so, you may want to consider placing your log cabin home near one of the best lakes in Kentucky. Some of the best lakes in the state are the Green River Lake, the Kentucky Lake, Lake Barkley, and Lake Cumberland.
The Green River Lake is located along the Adair, Taylor, and Casey Counties. Fishing is great along this lake with abundant largemouth bass, channel catfish, muskellunge and white crappie.
The Kentucky Lake rests along the Calloway, Marshall, and Livingston counties and Lake Barkley is beside Livingston, Lyon, and Trigg Counties. Kentucky Lake has outstanding fishing especially white bass, buffalo carp, and yellow perch. Lake Barkley has some wildlife refuges offering a tranquil place to go on a walk or run.
Lake Cumberland borders Clinton, Laurel, McCreary, Pulaski, Russell and Wayne counties. Lake Cumberland is a great spot to enjoy water sports like rowing, kayaking, and rafting.
To discover more about these fantastic lakes read this article on, "The Best Lakes in Kentucky: Where You Should Buy Your Vacation Home." Or with the help of Zook's Cabins build your own dream log cabin home.
C. Your Own Backyard
You are sure to have the exact same experience when you partner with us at Zook's Cabins for your log cabin home, whether its for a vacation getaway, a new permanent residency, or a yearly hunting retreat.
Take a moment to read what other satisfied customers have to say about their log cabin homes.
Log Cabin Homes In Kentucky
Now let's look at some our finest log cabin homes available to you. Remember, you were meant to conquer the ground you walk on, and Zook Cabins is here to empower you in your ability to do so.
The Homestead Modern Cabin
This incredible modern cabin has multiple layout and size options including 26'x36′ and up to 30'x56′. Choose the layout that work best for you, 1-4 bedrooms, and 1 1/2-3 bathrooms, depending on the size you choose. The interior is designed in the modern farmhouse style, with lots of whites and neutrals with wood accents. You can find out more about this cabin by following the link below.
The Tarn Modern Cabin
The Tarn Modern Cabin is a two story modern home measuring in at 30'x52′ with 3 bedrooms and 2 bathrooms. The second floor includes a loft overlooking the main living area, plus an unfinished space that can be converted into a study, office, or extra bedroom. Step outside and enjoy the spacious front porch. The Tarn is a part of our new Modern Country Homes Collection, featuring cabins with beautiful layouts, single story and two story options, etc.
The Frontier Log Cabin Home
The Frontier Log Home is a beautiful cabin with an inviting and cozy corner porch to watch the late evening Kentucky sunsets. It is spacious in its layout which is perfect for hosting your friends and family for a bowl of famous Kentucky burgoo.
The Mountaineer Deluxe
If you love space, this spectacular cabin is a perfect fit for you with its impressive 18' high ceilings and open living space where you can enjoy the sight of your spouse cooking, your children playing, and the dog sleeping at your feet. Enjoy reading while natural sunlight fills the room.
The Chalet Log Cabin Home
One of the special features of this log cabin home is its beautiful deck. Imagine the tranquility of waking up in the morning and enjoying your favorite cup of coffee while the sun rises in the distance. This log cabin is like the Mountaineer Deluxe, which offers you high ceilings and lots of natural lighting.
The Rockwood Park Model
The Rockwood Park Model Home is 12 ft wide x 38 ft long with beautiful single-slope roof, and a stunning front porch. The living area is surrounded by floor to ceiling glass, providing an incredible view of your surroundings. Check out the interior and more here. Park models aren't technically cabins, but actually classed as an RV. However, they make an ideal guest home, vacation home, or cabin in the woods.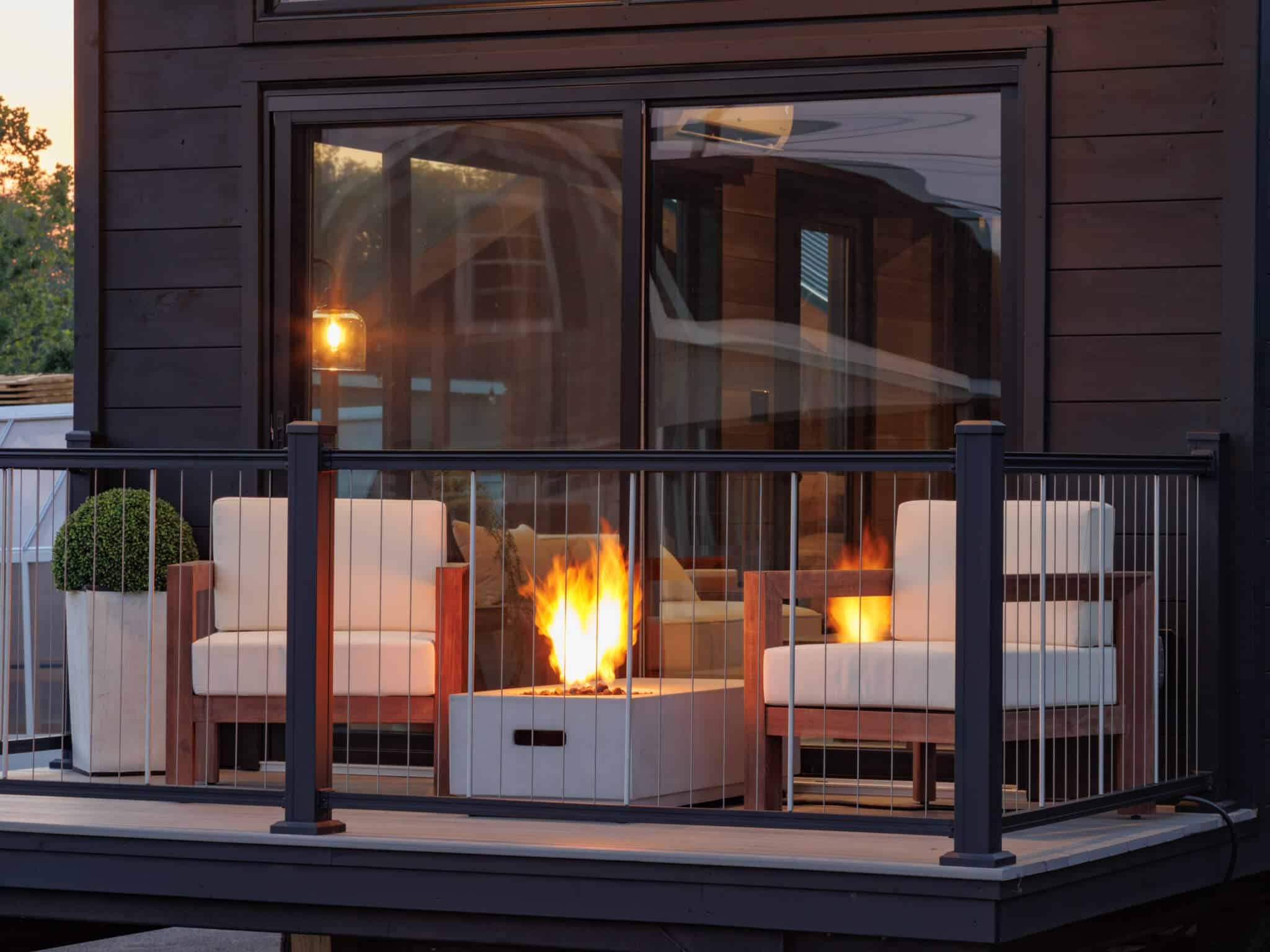 Need More Options?
More log cabin options await you! Whether you are looking for a smaller log cabin home or desire to see all of our available designs, enjoy browsing all our log cabins and remember that each one of these are customizable!
At Zook's Cabins we understand the rigor of building and that is why we prefer to keep it in our shop and off your property. We believe that our log cabin homes are the right choice for your Kentucky backyard. We invite you on the exciting and stress-free adventure of making one of Zook's Cabins your very own.