Modular Log Cabins in Virginia
Are you dreaming of a rustic modular log cabin set in the widely diverse and breathtaking state of Virginia?
Oh Virginia, with its rolling hills for cattle and its wide valleys. Pure beauty.
Then there are the caves, the mountains, the rolling rivers, the quaint towns, the larger cities, and its rich history, all combining for unique scenic beauty!
You undoubtedly know about its beauty firsthand whenever you cruise Skyline Drive and take in Shenandoah Valley. Our modular log cabins in Virginia are stunning. Just imagine sitting in your dream log cabin with rustic wood surrounding you, and listening to this song.
At Zook Cabins You Get What You Want And How You Want It!
If you are seriously considering investing in a modular log cabin, you have landed at the right spot. A Zook Cabin can make your wildest dreams for cabin living into the best of realities for you!
Whether you wish for a small weekend getaway, vacation spot, rental cabin, hunting cabin, or permanent residence, at Zook Cabins, you get what you want, and how you want it. Keep on scrolling to discover the modular log cabin designs we offer in Virginia, along with what a Zook Cabin offers you, customers reviews, and more!
Why A Zook Cabin Is For Lovers ?
A Zook Cabin offers you a modular log cabin home. Each of our modular log cabins are carefully crafted in sections inside a controlled environment and then delivered right to the location of your choice, where it is fully assembled.
If you are looking for the following, A Zook Cabin is for you.
A high-quality modular log cabin
All cabin models are 100% customizable
A stress-free and fun cabin buying experience
Highly responsive customer service – any questions? We answer quickly!
Excellent communication and explanation throughout the entire process.
High quality materials and build.
All cabins are state approved and inspected
Affordable
Luxurious – whether big or small
Time Saver – turnaround build time is quicker than stick-built cabins
Large & Lovely Modular Log Cabins In Virginia
The Chalet
How does a charming, high-rise deck where you can sip your favorite brew sound? Not only does the Chalet come with a stunning deck, but its design also offers you gorgeous Vista glass windows where sunlight can stream into the wide-open living spaces. Plus, enjoy a half loft for more sleeping or storage space! Cabin living is epic inside the Chalet! See for yourself!
The Mountaineer
If you are looking for a lot of space inside your cabin, the Mountaineer provides you a full second floor. Plus, with its beautiful front porch, you can enjoy your mornings and evenings sitting on your favorite rocker as the sun rises or sets. Enjoy inviting all your admiring friends and family over for a night of oysters and blue crab! You have the space inside the Mountaineer!
The Pioneer
Do you want all your living space on one floor? If so, the Pioneer offers you the most living space of all the Zook Cabin's rancher style cabins. Enjoy the open layout where you can invite all your friends for a night of watching the Washington Football Team. Plus, enjoy its darling front porch where you can sit and wind down from an invigorating hike on the Appalachian Trail or walk in a nearby woods. Live the good life inside a Pioneer!
The Frontier
The Frontier presents as the most space available to you at the most affordable price. Enjoy setting up its open living space into the perfect place to call home. The Frontier provides the perfect weekend getaway, rental cabin, or permanent residence. Set this charming cabin by Old Rag Mountain or Massanutten Mountains and you are set to go!
More Large & Lovely Modular Log Cabin Designs Await Discovery!
Perhaps you did not see your ideal log cabin in the above designs. No worries! Take a moment to view all the large and lovely modular log cabin designs awaiting you!
Hear From The Most Reliable Test To The Quality Of A Zook Cabin
Check out all our customer reviews as well as personal customer stories! Enjoy hearing from owners of a Zook Cabin all over the United States.
I have been in my Zook home for 6 months. "Dream It" "Plan It" "Build It" "Love It" That is exactly what happens!!! At the age of 72, widowed for 3 yrs. and having resided in NJ my entire life I made the decision to move closer to my children in Va. Zook's came up on my phone! I had love Log homes since I was a child. The website was so easy to navigate. Could this dream come true at my age? Well, it did! It started with Matt who treated me more like a family member than a customer. My Son and I planned it. They let you move rooms, windows etc. to your liking. Then Zook's builds it to "SHEER PERFECTION!" Micheal, Marvin and Luke stayed for 5 days after it was delivered and built my deck and front porch. An incredible team from beginning to end. Now I am LOVING IT and Living my Dream thanks to Zook's.
-Darla Voss
Small & Stunning Modular Log Cabins In Virginia
The Sedona Cabin
Are you looking to invest in a small rental cabin? If so, the Sedona offers you the perfect little space to turn into either your very own getaway or a small luxury rental cabin. This cabin is irresistible with its small porch begging for a rocking chair, a bag of boiled Virginian peanuts, and you.
The Catskill
If you want a bit more headspace inside your small cabin, the Catskill is your answer! With its 12' pitched roof, you can enjoy the addition of a loft for either extra storage or sleeping space. Coupled with a porch for your favorite chair, this cabin makes the ideal hunting retreat or minimalistic getaway! Check out the "brother" to this cabin, the Plymouth, if you are looking for a bit more style and flair.
A Zook Modern Cabin Might Be Just The Right Fit!
If none of the cabins have caught your attention do not walk away yet! Take a moment to view the following Modern Cabins. Whether you fancy more of a farmhouse style or a modern mountain style of cabin, enjoy viewing these ideal combos in our Homestead and Woodland.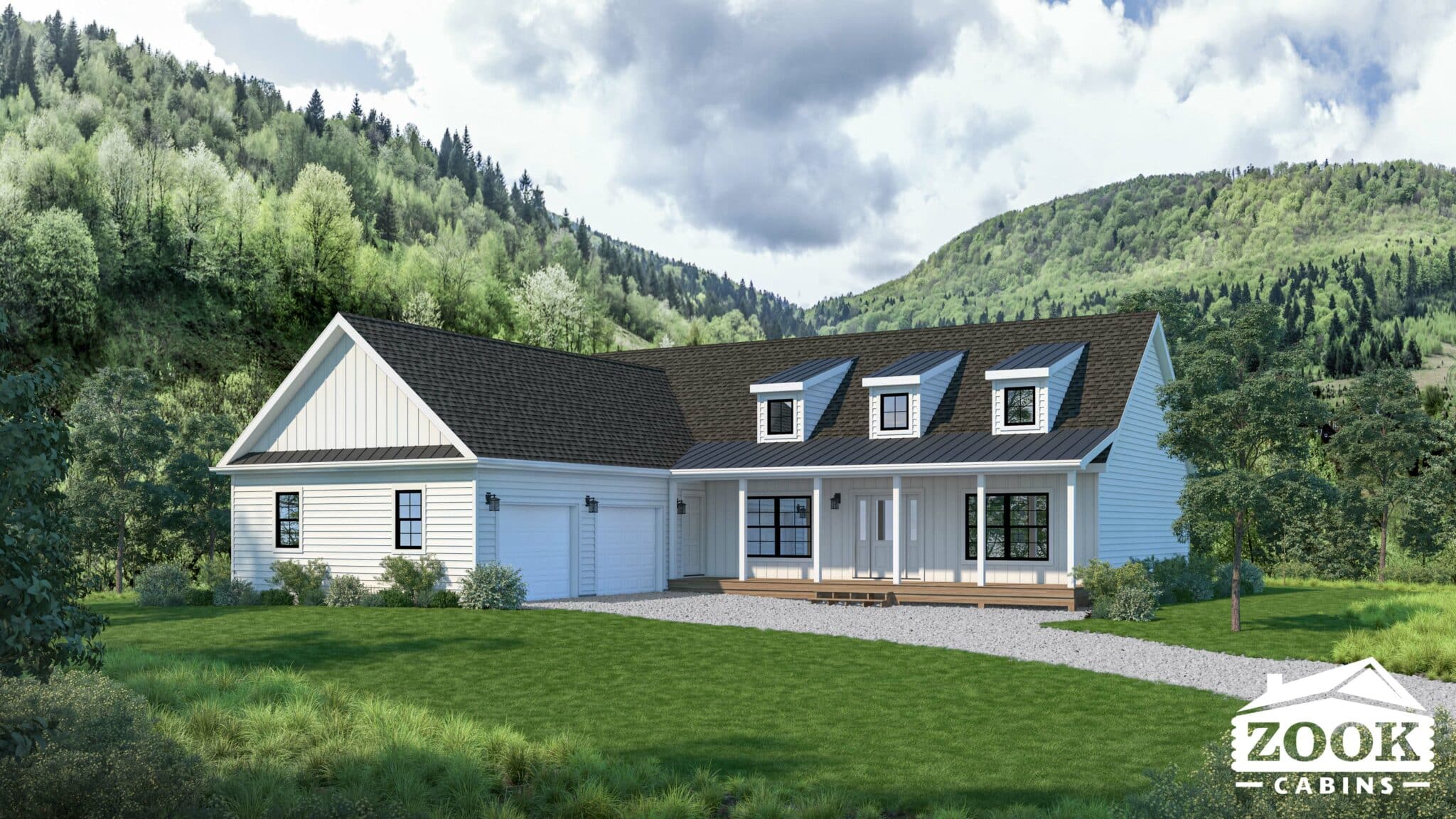 The Homestead Modern Farmstyle Home
With stunning wooden Lap Siding and a Board and Batten porch, the Homestead only gets better as you step inside. Everything you dream about when you think modern farmhouse becomes a reality inside this Zook Cabin. From the natural colors to its open and spacious modern design, the Homestead will not disappoint your dream for a modern farmhouse cabin!
The Woodland Modern Mountain Home
Is your ideal cabin more like the perfect blend between a modern and wooden cabin? If so, meet the Woodland, the modern mountain cabin home! From the inside out, the Woodland showcases the perfect blend of wood and modern touches resulting in classy perfection. Fact. You can live inside a house made of wood without it looking like a tree. Need more proof? See the Woodland for yourself!
Gorgeous Virginian Spots For Your Modular Log Cabin
Perhaps you already know where you want to build your new modular log cabin. If not, take a moment to view these following gorgeous Virginian spots for your new cabin!
Basye or Front Royal, Shenandoah County – Enjoy close access to the Shenandoah National Park and River.
Carrol County – The Blue Ridge Mountains grace this county and its perfect for hiking and viewing from your log cabin.
Roanoke County – Near the Appalachian Mountains, Roanoke offers your cabin breathtaking views, rivers, lakes, countless outdoor activities, and more!
Of course, all of Virginia is yours! Check out land for sale in Virginia if you want more options!
Are You Ready To Start Your Very Own Exhilarating Cabin Journey!?
Are you ready to take the next exciting step to cabin living?
Your dream of sitting inside your very own wooden fortress or stunning modern cabin is no longer just a dream, it is steps away from becoming a reality.
Fact. With your basket of ideas, creativity, and personal tastes, and Zook Cabins' box of tools, materials, and skills, the creation of your dream cabin will be a sure success! Lead the way, your dream cabin awaits!